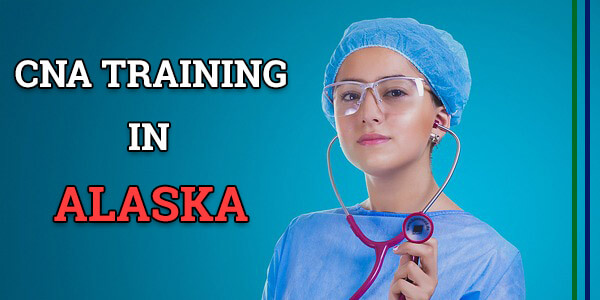 There are several CNA training choices in Alaska State to select from if you want less priced or free training to gain certification as a nursing assistant.
Institutions like residential health care facilities that are in continuous operation and nursing homes allow for training sessions at a much-reduced price or none at all.
After successfully completing the training sessions, chances of being offered employment in the same institutions are possible.
Individuals with financial constrain have good training packages if they look forward to a flourishing career life or for students who are starting up.
Remember that these training courses are not available to the public.
They are open to fresh blood who will later take up stations at the institutions.
However, it varies with the facility.
The U.S Labor Department and Workforce Development have lowly priced options and this is through a number of technical schools in Alaska State.
Tuition fees are very affordable and they offer courses that fully meet requirements of the state for you to get certification.
CNA training in Alaska is much like in other states, although Alaska got some of the best schools for CNA training in the country.
Alaska State – Training Centers That Are WIA Approved
Seward Mountain Haven / Seward Providence– P.O Box 430, 431 First Avenue | Seward, AK 99664 | Phone Number: (907) 224-2900
Alaska's Institute of Technology – AVTEC – Box 889 | Seward, AK 99664 | Phone Number: (800) 478-5389 or (907) 224-6150
Heritage Place / Central Peninsula Hospital – 232 Rockwell Avenue | Soldotna, AK 99669 | Phone Number: (907) 714-5000
Older Persons Action Group (Doesn't offer anymore) – 32E. Third Avenue, Ste 300 |Anchorage, AK 99501
Alaska Job Corps (acceptance is only for high school students)
Corinne Gaither – P: 861-8779 | F:831-8782 | Palmer AK 9965
Certification Procedures for CNA'S
Before being certified as a nursing assistant in Alaska State, you should first have completed GED or high school diploma, undergo the training courses successfully and pass a certification test approved by the state.
Certification is supposed to be viable in nursing homes and health care centers that are in continuous operation.
A good number of clinics and hospitals take in nursing assistants with certification.
CNA training programs in Alaska State are supposed to schedule classroom instructions running for 60 hours and clinician hours taking 80 hours and all clinical practices should be done under supervision.
One should then successfully complete a certification test.
As per Alaska State, all nursing assistants that have been certified and approved should have been given detailed instructions on necessities to carry out duties in all the types of health care facilities that have been licensed.
These are inclusive of hospices, intermediate care facilities, nursing homes, hospitals and home health agencies.
Certification is supposed to work as a nursing assistant in home health care facilities that are on long-term operation in Alaska State.
A good number of hospitals dealing with acute care services and clinics consider hiring nursing assistants with certifications.
However, certification is not always a major requirement.
Anyone getting a transfer from a different state should not provide any tangible services on patients in any facility until they have successfully undergone the Alaska Nurse Aid Registry procedures.
Before the nurse aide registry is eligible for employment the viable condition will have the training issued by the state's program as a determinant and should successfully complete the out-of-state application by Nurse Aide Registry.
Alaska Certified Nursing Assistant Salaries
*Salaries Updated for 2019.

| Location | Avg. Salary |
| --- | --- |
| Anchorage, AK | $36,070 |
| Fairbanks, AK | $35,879 |
| Juneau, AK | $35,498 |
| Palmer, AK | $35,593 |
| Sitka, AK | $35,022 |
| Wasilla, AK | $35,593 |
CNA Training Schools in Alaska
One is termed as a certified nursing assistant in Alaska State after undertaking the course and tests approved by the state successfully.
The training schedules are a way of fully preparing individuals to undertake the examination.
On the lower side training has 140 hours and could be from about one and half months to an entire semester in duration.
The cost of the training sessions ranges from $1,500 to $2,500.
Some of the healthcare facilities on continuous operation offer training at no cost.
Technical institutes have the prices affordable by subsidizing them and programs offered are via the U.S Labor Department.
Basically, for payment options, technical institutes and schools are the only available.
In some institutions and facilities offering training at no cost, during the clinical practices, they receive payment.
Here are CNA programs that are approved in Alaska State:
Alaska Vocational Technical Center
Located on 1251 Muldoon Road, Alaska 99508
Situated in Anchorage, requirements of the certified nursing assistant course are 230 hours.
38 days of classroom training, clinical practice and lab skills acquisition.
The first month entails lab skills and classroom work and Basic Life Support is inclusive.
Classes run from Monday to Friday starting at 8:00 am to 3:00 pm.
The entire course costs $1,840 with books and tuition fee included.
Certification exam may incur additional fees.
In case of any inquiries reach the Admissions Recruiter on (907) 334-2230 at Allied Health Department.
Kachemak Bay Campus
Located on 533 E. Pioneer Avenue Homer, AK 99603
Training is a six credit CNA course that takes 60 hours of classwork and 80 hours of clinical practice to gain skills and knowledge.
The price is $1,518 and is inclusive of books, supplies, tuition, state certification charges and background checks.
Call (877) 262-0330 for more details.
Kodiak College
Located on 117 Benny Benson Drive, AK 99615
The program offered here fully meets the Nurse Aide examination certification as per the state's guidelines.
Not less than 140 hours is to be used to complete the program.
80 hours are for clinical applications that are to be supervised and 60 hours for classwork.
Duration intended for clinical practice will include weekends, weekdays and some evening sessions.
The program costs $1,622 which is inclusive of books, tuition, and fee to cater for other coursework related programs like state examinations.
For further inquiries call (907) 486-9218
Alaska Technical Center
Box 51 Kotzebue, Alaska 99752
Provisions are for both classwork and clinical application and run for three months before students are allowed to take a nursing exam certified by the state.
The program costs $2,050 inclusive of books, tuition, and another course-related fee.
For more information on this program each the center via (907) 442-3733.
The University of Alaska, Bill Ray Center
Located on 1108 F Street on Juneau, Alaska 99801
The program is a 9-credit training course that consists of 75 hours of lectures and 80 hours of clinical practice.
All lectures are undertaken at the Wildflower court clinical applications at the same place and the Juneau Pioneers' Home.
Cost of the program is $2,620 inclusive of books, certification examination, and tuition.
Call (907) 796-6128 for more inquiries.
University of Alaska
Located on 2600 7th Avenue Ketchikan, Alaska 99901
The training lasts for nine weeks.
Classes are twice every week and run from 8:00 am to 5:00 pm.
Classwork is done for the full first six weeks and the rest of the time is spent on clinical practice.
The program costs $2,620 and is inclusive of books, supplies, tuition, and fee for the certification examination.
For more details on the program, call (907) 228-4537
Smaller Programs Available for CNA Training in Alaska
Providence Extended Care – P: 212-0268 4900 | Eagle Street | Anchorage, AK 9950
Caregiver Training Academy – P: 258-0503 | 203 West 15th Ave. no.104 | Anchorage, AK 99501
Fairbanks School District – P: 455-2876 | 520 5th Ave. Fairbanks, AK 9970
Providence Extended Care – P: 212-0268 | 4900 Eagle Street| Anchorage, AK 99504
Still unsure of how to choose a school yourself?
Read this: How to Choose The Perfect Trade School
Final Thoughts
Getting education from the right school for you might be crucial for your future, choose wisely and don't judge a school just because the cost is high/low, remember there are other factors.
Good luck!
CNA Training by State
---