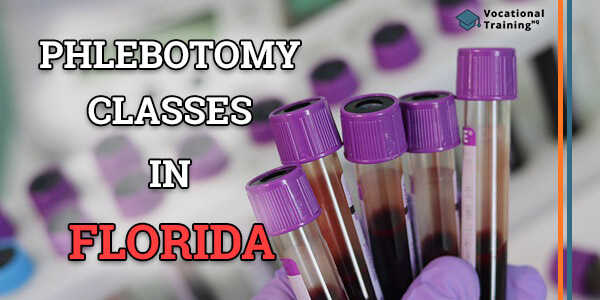 Those who look for an opportunity to enter the healthcare sphere should consider the phlebotomist career.
These specialists draw blood from patients for further lab examination.
You should know that the certificate isn't required for phlebotomists in Florida but still, you'll be able to start your career faster after finishing the training.
If you think that it can be rather challenging, you should know that there are lots of options that allow getting your education for free.
Don't forget to contact some employers in your area to ask them for financial aid.
Some employers are ready to support those individuals who want to become phlebotomists.
Consider the fact that you'll be asked to work for the employer for a certain period of time.
You'll be able to find lots of employers who can help you with the phlebotomy training in Florida.
The reason for such a situation is the fact that there is a shortage of phlebotomists in the state.
One other excellent option is the Department of Public Welfare.
In this case, you can apply for financial aid if you have any need and cannot pay for your education by yourself.
Those individuals that have some social benefits can get significant support through this program.
Available Financial Aid Options for Phlebotomy Training in Florida
Cambridge Institute of Allied Health and Technology Altamonte Springs Campus- 460 East Altamonte Dr. Altamonte Springs, FL 32701
There is the Florida Bright Futures Grant that is available for the phlebotomy students at the Cambridge Institute of Allied Health and Technology.
In fact, this grant is a perfect opportunity to get your education for free.
Just keep in mind that you should complete state and federal financial aid forms to be qualified for this program.
You should know that the grant is available for both degree and certification programs.
It's really important as the phlebotomy training course is on the list of certified programs.
One of the main requirements for this grant is that the students should complete at least 6 credits during the semester.
Also, those students who apply for it should be recently graduated from high school (two years ago at maximum).
You should keep in mind that there is a variety of other grants and scholarships offered at the Cambridge Institute of Allied Health and Technology.
Express Training Services Ft. Myers- 1469 Colonial Blvd., Suite 202 Ft. Myers, FL 33907
Those who want to start their phlebotomy training in the Express Training institute have an opportunity to apply for the Larry and Margherita Ramsay Scholarship.
It was started as a memorial program of the parents of one of the center owners.
This couple was known as a great specialist in the healthcare field.
You should know that this scholarship is one of the financial aid programs offered in the institute.
The main requirement for this program is that students should be the participants of a certification course so they can sit for the certification exam.
Applying for this scholarship you can get up to $800 to pay for your phlebotomy training or some additional expenses.
This scholarship was started to support individuals who want to continue their education in the medical sphere.
The application for the program should be submitted between September 1 and April 15.
You need to provide your personal data and three references to take part in the competition.
Also, you need to provide an essay where you describe why do you need this scholarship.
Phlebotomy Schools in Florida
Sarasota County Technical Institute 4748 Beneva Road, Sarasota Florida 34233
Sarasota County Technical Institute offers numerous training courses including the phlebotomy one.
This program is really intensive as it covers 165 hours of training.
You should know that there is an opportunity to choose day or evening classes that are a good option for both teenagers and adults.
The cost of the phlebotomy course is about $475.
Also, you may need to pay some other fees and tuition expenses.
Consider the fact that the course combines both theoretical classes and hands-on experience.
In fact, there are plenty of lab training courses and supervision in a clinical atmosphere.
City College Gainesville Location 7001 N.W. 4th Blvd. Gainesville, FL 32607
City College has two campuses in the state of Florida and one of them offers phlebotomy training courses.
In fact, it is one of the best phlebotomy courses in the state.
You should know that the course contains both phlebotomy and clinical laboratory procedures, and CPR training.
Completing the course, you'll be able to perform your duties professionally.
Also, the program contains the Medical Law and Ethics classes.
Moreover, there is plenty of hands-on practice as well.
Winter Park Tech 2100 Summerfield RoadWinter Park, Florida 32792
Winter Park Tech has a phlebotomy training course in the list of available programs.
During your training, you'll gain all the skills you need to perform your duties smoothly.
Learning how to be a phlebotomist you'll get a bunch of theoretical classes and a lot of hands-on experience.
The cost of this phlebotomy training program is about $438.90.
Also, you shouldn't forget about some additional fees such as textbooks or lab fees.
If you want to enter this program, you should be a worker of the healthcare sphere.
Florida Phlebotomist Salaries
*Salaries Updated for 2020.
| Location | Avg. Salary |
| --- | --- |
| Jacksonville, FL | $32,192 |
| Miami, FL | $32,701 |
| Tampa, FL | $32,241 |
| Orlando, FL | $31,868 |
| St. Petersburg, FL | $31,580 |
| Hialeah, FL | $32,408 |
| Tallahassee, FL | $30,429 |
| Cape Coral, FL | $31,521 |
| Fort Lauderdale, FL | $32,951 |
| Port St. Lucie, FL | $31,580 |
| Hollywood, FL | $32,951 |
| Miramar, FL | $30,194 |
| Gainesville, FL | $30,516 |
We'll be talking more about the subject at our conference.
Scholarships & Grant Resources for Phlebotomy Training in Florida
Charlotte County Service Center
19500 Cochran Blvd.
Port Charlotte, FL 33948-208
Lake City Service Center

1389 West US Highway 90
Suite 110
Lake City, FL 32055
Charlotte County Service Center
19500 Cochran Blvd.
Port Charlotte, FL 33948-2086
Naples Service Center
4215 Tamiami Trail East
Naples, FL 34112
Phlebotomy Training by State
---