Digital tape measures are designed so that the new models have substituted a laser for the traditional tape, which has increased the range and accuracy at the same time.
This way they can make your job easier and faster, not to mention the accuracy.
However, the buying process of this tool is that fast and easy, being that the manufactures write product descriptions just to be able to sell their merchandise.
So, you hear all the things that are good about a tool, but never any of the bad ones, so we suggest that you take a closer look at users' reviews prior to purchasing the tool.
That is why we have gathered reviews with the aim to give you a complete picture of each digital tape measure.
By reading this article, you will get the information about everything you need to know related to digital tape measures.
Spoiler Alert - Check out my top choice here >>
Top Rated Digital Tape Measures for 2019
* Ratings are based on Editor's own opinion.
5 Best Digital Tape Measures Reviewed
#1. DEWALT DW03050 165-Feet Digital Tape Measure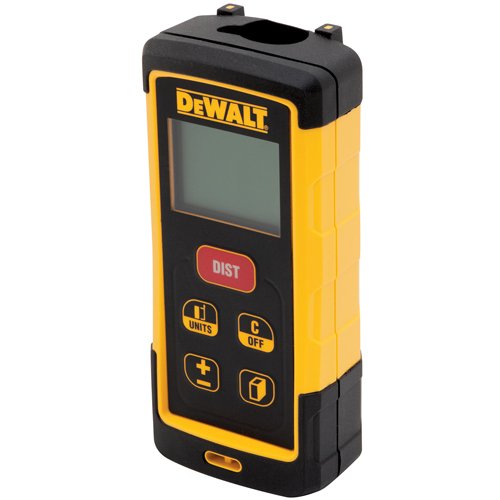 Check Price on Amazon
DEWALT could not but make one more exceptional tool that rightfully deserves the first position.
The DW03050 165-Feet digital tape measure measures out to 165 feet from the unit.
Furthermore, it can triangulate measurements based on positions you do not have direct access to.
The amazing fact about this tool is that it can also do automatic area and volume calculations while storing the last five calculations for easy reference.
There are so many other advantages, such as the display which is backlit, enabling you to work in dim or bright conditions and still see the screen.
You get the measurements in feet and inches, inches-only, or in meters.
Among all these advantages, there is one disadvantage and that is its underwhelming instructions.
The instruction manual is on a CD, but users reported having trouble getting it to run.
The manual can be found on DEWALT's website.
All in all, we can say that this model still works very well and you certainly will not be disappointed with this model's performance.
Check current price on Amazon >>
Pros
Automatic area and volume calculations
Memory storage
Display
Long range
Shop Now
---
#2. Leica DISTO E7100i Digital Tape Measure-Tool

Check Price on Amazon
Our runner up is the Leica DISTO E7100i.
This model measures up to 200ft which is the longest range of any digital tape measurers.
That distance cannot be reached outdoors, but the tool is very useful for measuring the interior of large buildings.
Another advantage is that this tool is Bluetooth-enabled, so that you can import your measurements onto a phone or tablet.
Additionally, it can also do automatic area and volume calculations and it comes with a min-max mode.
The tool itself will determine the closest or furthest point along that line.
Now,  the disadvantages.
Being that it is not on the first position, we have to mention that this model is irregularly-shaped and will not sit flush against a wall.
The people who can make use of the expanded range or Bluetooth compatibility, this is the model which they will want to get.
Check current price on Amazon >>
Pros
Bluetooth
Min-max mode
Area and volume calculations
Long range
Cons
Does not lay flush on wall
Shop Now
---
#3. Bosch GLM 35 Laser-Distance Digital Tape Measure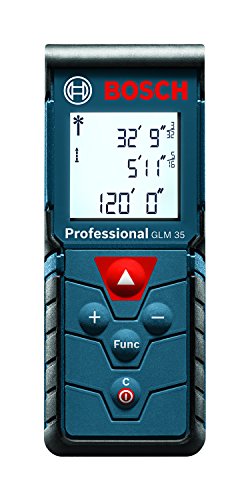 Check Price on Amazon
The Bosch GLM 35 Laser Distance Measure is the model for those people who do not need the measurement of the most distance and at the same time want to save some money.
Being that this model can measure distances up to 120 feet away it makes it not as good as the top two models on our list.
The tool functions with the pressing of a single button and includes the ability to calculate the area and volume of a room.
Additional advantage is a backlit display meaning that the result is readable in both bright and dark conditions.
This model is inexpensive, but effective, even though it requires more steadiness when in operation so as to give a good reading.
If used correctly, it gives good readings, and for the price, it is quite a great deal.
Check current price on Amazon >>
Pros
Affordable
Good range
Simple
Display
Cons
Requires extra steadiness
Shop Now
---
#4. General Tools LTM1 2-in-1 Digital Tape Measurer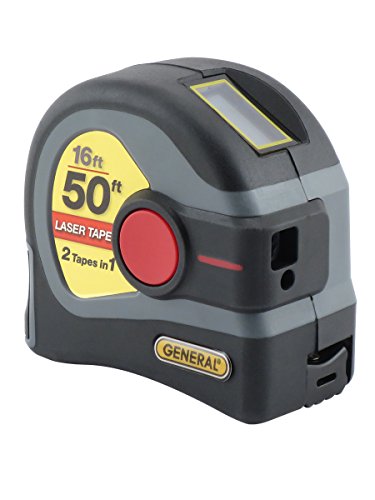 Check Price on Amazon
With the General Tools LTM1 2-in-1 what you get is the functionality of a measuring tape and a laser for digital tape measurements.
The tool is simple to use, by pressing the only button to turn it on and pressing it once again to take a measurement.
The tool can measure out to about 50 feet, so it can be said that it is designed for indoor use.
The negative characteristics are that it is not bright enough to work outside, as well as the narrow real tape which is included in this model.
It is not a full inch wide, meaning that all the markings are squashed down into a tight space.
A wider tape is easier to hold and use, as well.
A laser that is mounted relatively high on the casing, causing it not to work as well as a regular or digital tape measure.
Check current price on Amazon >>
Pros
Dual tape and digital measure
One button
Range
Cons
Narrow tape
Poor laser placement
Shop Now
---
#5. eTape16 Tape Measure (Digital version)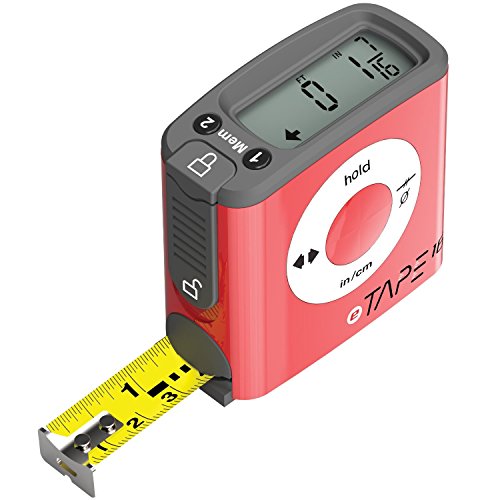 Check Price on Amazon
The last one on our list is the eTape16 ET16.75-db-RP.
This is a digital manual tape measure.
Actually, by pulling the tape out from the unit a digital readout is activated, showing you how far the tape measure has been extended.
This feature is useful for people with bad vision, or people who need a quick readout.
What you get with this tool is the measurement memory and the possibility that the unit automatically calculate a midpoint.
People found this useful for hanging pictures.
Being that it is in the bottom of the list, there has to be something wrong with it.
The tool does not use a laser and can only measure up to 16 feet.
If you do not move it slowly, it starts to lose accuracy.
If you need an accurate device, we suggest you avoid this unit.
Check current price on Amazon >>
Pros
Digital manual measurement
Measurement memory
Cons
No laser
Only 16 feet
Requires slow movement
Shop Now
---
---