As you are reading this article, you are probably in search of the best woodworking vise that can be found on the market, and that is why we are here to help you.
Actually, going through all the manufacturers and their models descriptions can be tiresome and time-consuming, so we did that for you and gathered all the necessary information as well as made the list of the best possible models currently available for you.
If you know what you want to get from a woodworking vise and how much money you are ready to spend on it, your decision will be easily made.
If you are buying it for the first time, our buyer's guide can be of great help being that it is full of great general information about woodworking vises.
Spoiler Alert - Check out my top choice here >>
Top Rated Woodworking Vises for 2019
* Ratings are based on Editor's own opinion.
5 Best Woodworking Vises Reviewed
#1. Wilton 63144 Woodworking Vise
Check Price on Amazon
The first place is always given to the best of the best model and that is the case with the Wilton 63144.
This is considered top woodworking vise, due to its huge capacity which is achieved by jaws that can open to ten inches wide and that are large enough – four inches tall and seven wide.
What you also get is a rapid release, enabling easy opening and closing of the jaws.
The front jaw can pivot up to ten degrees to allow you to securely hold irregularly-shaped parts.
That is why users believe that this is the best vise, as working with more difficult shapes is possible which was not an option before.
What comes with this tool are mounting instructions, so that you can follow them and easily mount this vise.
Additionally, there are maple jaw inserts designed to expand the jaws' capacity even further.
However, some users claim that the magnets used to hold them in place are not of great quality.
All in all, we believe that you will not be able to find a vise with the capacity and gripping power that you get with this one.
Check current price on Amazon >>
Pros
Capacity
Rapid release
Usable for irregular parts
Includes mounting instructions
Cons
Substandard magnetic blocks
Shop Now
---
#2. Eclipse EWWQR7-NA Woodworker's Vise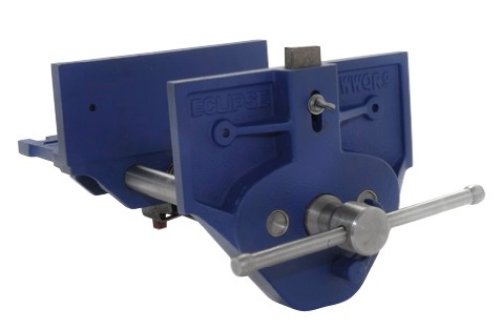 Check Price on Amazon
The Eclipse EWWQR7-NA is a great choice for people who do not want to mount two vises to their workbench.
It can serve both as a tall vise and woodworking vise.
What you get is an adjustable front stop.
This feature is designed so as to make the vise used as a tail vise or you can lower it so as to use it as a normal vise.
The tool comes with a quick-release trigger and has good safety features.
It is designed to bend down the middle, before it reaches the force at which it would snap and become dangerous.
The tool's capacity is a seven-inch jaw width, which users consider a very large clamping capacity.
As it is not our top pick, there have to be some disadvantages.
Actually, it does not come with mounting instructions.
In general, this is a great vise, but it will not be considered the right choice for everyone.
Check current price on Amazon >>
Pros
Size
Quick-release
Good safety features
Cons
Mounting instructions not included
Shop Now
---
#3. Yost M7WW Rapid Woodworking Vise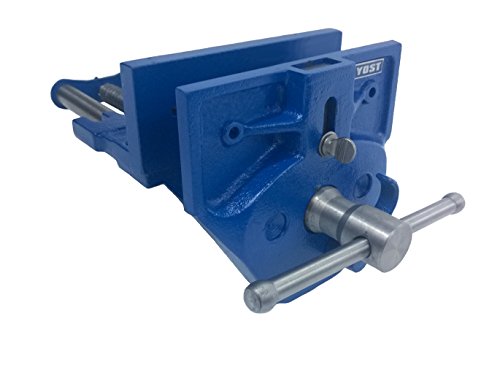 Check Price on Amazon
The price tag is something which was quite high when the first two models were in question.
If you are limited by the budget or do not want to spend too much on vise, take a close look at the Yost M7WW Rapid.
It is ideal, as it has a very similar set of features but is quite less expensive.
The great thing about this vise is that it can be used as either a tail or normal vise.
The mechanism designed to enable users switch between the two modes is very similar to the previous models mentioned.
What you get is a quick-release trigger enabling you to reach the final tightness without having to spin the handle.
Additionally, there is a buttress thread, designed to make the moving of the vise jaws easier.
The major reasons why this model is not better positioned are minor quality control problems.
Overall, it can be said that this is the model for those who want to save a lot of money and still get a quality tool.
Check current price on Amazon >>
Pros
Normal or tail vise
Quick release
Buttress thread
Expensive
Shop Now
---
#4. Shop Fox D4026 Wood Vise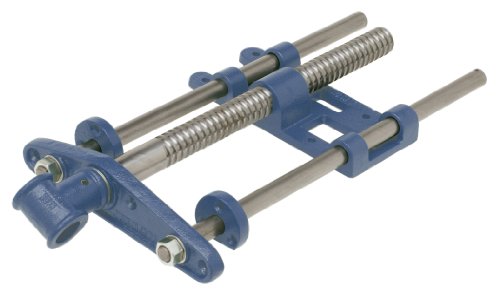 Check Price on Amazon
The Shop Fox D4026 vise is more of a kit that you will use to build your own vise.
What users claim is that the jaws lack a front piece, meaning that you will have to build your own.
It will also allow you to match the wooden jaws to the wood from which your workbench is made, which can lead to a very nice final look.
We can say that this is a set for beginners, being that it will enable you to get experience and provide a nice look without a lot of technical mastery.
However, you have to build your own jaws.
And that is not want experienced users are going to want to do.
Furthermore, you will get the wooden jaws which do not have so much strength as the cast-iron ones that can be found on other vises.
What is even more important,  this model is not cheaper at all, plus the amount of work required to get this model ready for use  makes it less favorable model among users.
Check current price on Amazon >>
Pros
Build your own jaws
Good beginner vise
Shop Now
---
#5. Groz 39006 Portable Vise for Woodworking
Check Price on Amazon
The last on our list is the Groz 39006 Portable vise.
This tool is designed for those users who do not want the vise to be permanently attached to their workbench.
You can use the included clamp to attach it to the side of your table.
What you will get is a toe-in design meaning that the jaws meet only at the top when completely closed.
This can lead to slightly better grips and since you do not have to bolt it down to use it, the portability is achieved.
Actually, you can reposition it as needed and store it when you are not using it.
The other advantage is that the tool is inexpensive and if you are planning to use it from time to time, this is definitely a good option.
However, this is not the greatest woodworking vise for those planning to use it for heavy-duty tasks.
The tool comes with jaws that are on the small side which do not open very wide – only five inches.
So, if you are looking for something portable, this is a good choice, but more experienced workers would rather avoid buying it.
Check current price on Amazon >>
Pros
Cheap
Toe-in design
Portability
Shop Now
---
---