The most important thing that can be found in every woodworking shop is a wood lathe.
It is a tool necessary for woodwork and every carpenter is aware of its significance.
So, the people who are interested in buying a wood lathe, but cannot decide which one is ideal for them should take a close look at the wood lathe reviews and specifications.
And if you find it difficult to understand the technical terms, by looking at the buying guide after the reviews, everything will be clearer.
As there are so many products on offer, you can save a lot of time and effort by going through the top five wood lathes on the market presented on our website.
Spoiler Alert - Check out my top choice here >>
Top Rated Wood Lathes for 2019
* Ratings are based on Editor's own opinion.
5 Best Wood Lathes Reviewed
#1. JET JWL-1221VS Benchtop Wood Lathe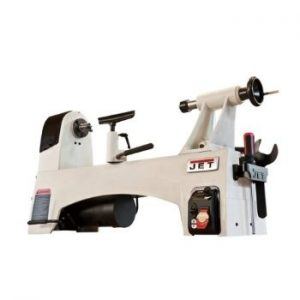 Check Price on Amazon
The first, and at the same time, the best wood lathe to be mentioned is the Jet JWL-1221VS.
You cannot find better than this one on the market.
It is designed for intermediate to expert woodturners and those are its most frequent buyers.
However, the beginners, in the majority of cases, cannot afford buying it, due to its high price.
What makes this model more attractive than the others is the speed control, which can be either continuous control or discrete control.
The discrete control allows you to determine the spindle speed but only at fixed RPMs, while the continuous control allows you to set the spindle speed at any RPM.
The 1221VS model cones with a digital readout so that you can see the speed at any moment.
Besides its advantages, there are two disadvantages of this model and one of them is the center-to-center distance which requires a bed extension for pieces longer than 21 inches.
Another weakness is its weight, as it is 120 pounds.
Still, it is considered one of the best wood lathes on the market.
Check current price on Amazon >>
Pros
Long warranty period
Speed control
Easy transition
Cons
Expensive
Bed extension should be there for pieces longer than 21 inches
Shop Now
---
#2. Grizzly H8259 Wood Lathe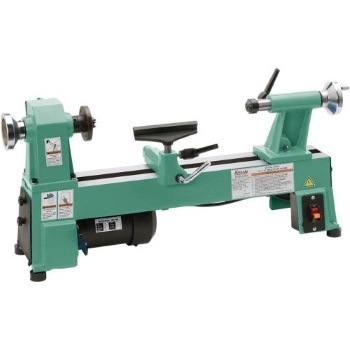 Check Price on Amazon
The 1221VS is definitely an extraordinary wood lathe, but its price is quite high and unaffordable to many woodturners.
So, they decide to choose a low-cost solution, and one of the great ones is surely the Grizzly H8259.
This is the best buy when the quality and price are in question.
Grizzly has 60% lower price than the 1221VS.
As it is this much cheaper, you cannot expect to have the same features in the H8259's as they are in the 1221VS.
There is no continuous speed control, but what the Grizzly model offers are 5 discrete speed settings: 826, 1205, 1713, 2422, and 3337 RPM.
If we compare these two models, we can say that the H8259's swing over bed is 20 percent less than the 1221's and that the H8259's center-to-center distance is 12 percent less than the 1221's.
If you buy the Grizzly H8259, you will get a one-year warranty.
Check current price on Amazon >>
Pros
Affordable
Weight
Capacity
Cons
Warranty period
Speed control
Shop Now
---
#3. RIKON 70-100
Check Price on Amazon
The third model on our list is the RIKON 70-100.
Even though it is considered a mid-range wood lathe, it is our top pick when it comes to swing over bed.
This model is quite affordable, so you can expect to have some weaknesses.
The RIKON 70-100's RPM can be set to 810, 1230, 1810, 2670, and 3900 RPM, but the center-to-center distance is only 16 inches.
Still, there is a possibility of adding an extension bed and that way this problem can be solved, as this will increase the machine's swing.
The warranty period is 5 years and the products offered at such a low price usually do not have such a long warranty.
But, RIKON is sure of its products quality and if you are looking for the best budget friendly machine, this is the one you should buy.
Check current price on Amazon >>
Pros
Number of speeds
Affordable
Warranty period
Cons
Speed control
No bed extension
Shop Now
---
#4. Delta Industrial 46-460 Wood Lathe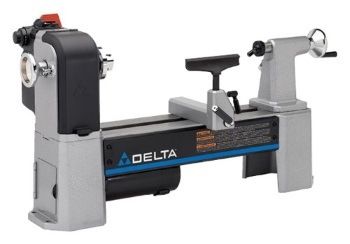 Check Price on Amazon
If we compare the 1221VS and the 46-460, which is the fourth on our list, we can say that the 46-460 also comes with continuous speed control, meaning that you can set the speed at 250 to 750 RPM, 600 to 1800 RPM, and 1350 to 4000 RPM.
The main difference is that the 1221VS provides low RPM while the 46-460 provides more high RPMs.
This means that the 46-460 is a great tool for large pieces of wood.
The drawback is that the 46-460 comes without a digital readout so you cannot know the speed.
Furthermore, this machine does not have sufficient center-to-center length, as it would be necessary to add a bed extension for pieces longer than 16 inches.
The 46-460's offers 12.5 swing over bed and if you are not working on longer pieces, you would not mind this weakness at all.
Finally, it can be said that this machines quality is in line with its price and for those who do not have the budget for the 1221VS, the 46-460 is the best substitute.
The fact that it comes with a 5-year warranty makes it even more attractive.
Check current price on Amazon >>
Pros
Ideal price in line with the quality
Swing over bed
Great speed control
Long warranty period
Cons
No possibility of speed readout
Extension is necessary for pieces longer than 16 inches
Shop Now
---
#5. Powermatic 1352001 Wood-Lathe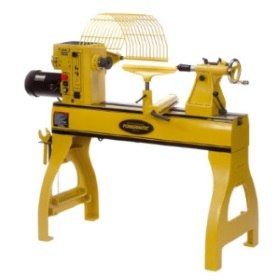 Check Price on Amazon
For the woodturners whose income depends on this work, a commercial wood lathe is necessary.
So, the one that is best among a commercial wood lathes is definitely the Powermatic 1352001.
Professional wood turners' choice comes with a 2 hp motor which allows you to choose between two ranges: 125 to 3500 RPM and 50 to 1500 RPM.
What makes it different from all the above mentioned models is the fact that the 1352001 is a full-sized wood lathe and not a bench top lathe as all the others.
The variable-speed controls and the digital readout are also some of the great features that this model possesses.
The swing over bed is 20 inches and when it comes to the center-to-center distance it is 36 inches.
This proves the fact that this machine is designed for massive projects and it meets the professional requirements.
The only disadvantage is its portability in line with its weigh.
Being that it is large and heavy, it requires a large room in your workshop and it cannot be taken anywhere.
A 5-year warranty is definitely another advantage, but a high price tag makes it affordable only to professional woodturners.
Check current price on Amazon >>
Pros
Readout possibility
Great warranty period
Shop Now
---
---