Those people who are into woodworking are aware of the fact that the lathe is one of the most valuable tools.
It is true that the projects can be finished without it, but you will not get the same level of smooth results, or you will need to invest much more time and effort to reach it.
However, those who want to achieve a professional finish a lathe is essential and buying the right one requires a lot of research among the reviews made by both satisfied and dissatisfied users.
This is the reason why we decided to make this quick and short guide related to the best options on the market.
Spoiler Alert - Check out my top choice here >>
Top Rated Wood Lathes For Turning Bowls for 2019
* Ratings are based on Editor's own opinion.
5 Best Wood Lathes For Turning Bowls Reviewed
#1. Delta Industrial 46-460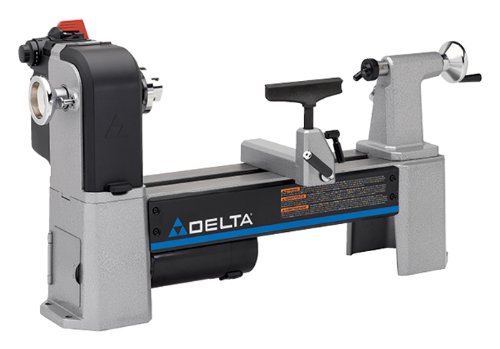 Check Price on Amazon
The first model on our list is the one which is great for both bigger projects, such as a sculpture, or a smaller one, like a bowl.
The Delta Industrial 46-460 is a midi lathe which is an extremely versatile tool with an adjustable speed setting that tops out at 1725 RPM.
The power will definitely not lack.
This unit is special due to its swing capacity of 12.5 inches.
But that is not all, as there are even more fantastic features.
Being able to throw it into reverse by just flipping the switch is something users find outstanding, as they do not have to adjust the project so that they can make a smooth finish.
The uniqueness of this model is in the belt tensioning system allowing the user to change speed without having to reset the belt first.
The tool boasts a cast iron base, so we can say that it is durable and the producers believe in this, as they offer a 5-year warranty.
Check current price on Amazon >>
Pros
Design
Construction
Full reverse mode
Changing speeds is easy
Great warranty period
Cons
Pricey
You must pay shipping costs if it has to go in for repairs
Shop Now
---
#2. Jet JWL-1015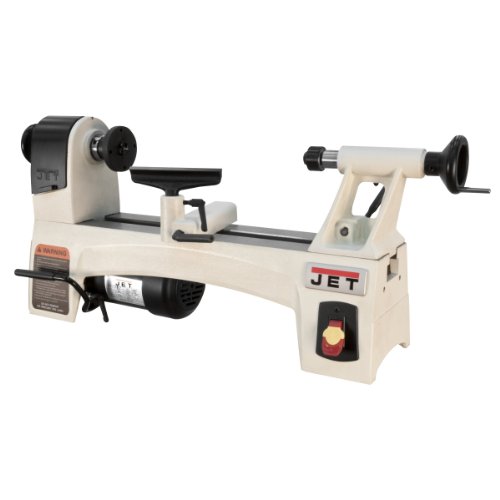 Check Price on Amazon
The Jet 1015 is a second best lathe which is very affordable.
Even though the price is reasonable, we cannot say that the performance of this unit is worse due to the lower price.
Quite contrary, this is a mini-lathe designed for small or medium sized projects and it does is perfectly.
What you get with this tool are six different speeds with the maximum being 3975 RPM.
This means that it can spin faster than our top pick, but a standard tension belt requires readjustment when you change speeds which is not considered useful.
The producer offers a five-year guarantee, so we can say that the tool will be durable.
Our runner up differs from the first pick as it does not have the reverse feature so what we suggest is to save some money and get the more expensive version if you need a tool for more demanding and extensive work.
This is a really good model for beginners.
Check current price on Amazon >>
Pros
Price
Quality
Good for beginners
Power
Great warranty
Cons
Limited range of projects
No reverse option
Shop Now
---
#3. RIKON Power Tools 70-105
Check Price on Amazon
The third models on our lists are usually tools which are good enough and affordable at the same time.
If you want to get a great lathe, and a good price, you should go for the RIKON Power Tools 70-105.
It is not only that it comes at a great price but there are other positive features of this model.
It is a mini-lathe designed for smaller projects.
The highest speed that it can achieve is 3200 RPM but it does not come with a tension belt that automatically adjusts or the reverse option which made it our third pick.
If we compare it to our second pick, it can be said that it has a much better price and has almost the same features but is just not as fast.
This model is ideal for a person who is starting out, or will be using it for smaller projects.
Good characteristics are that the bed, tailstock, and headstock are all cast iron in order to minimize vibrations and ensure durability, but at the same time increasing the weight of the unit.
Check current price on Amazon >>
Pros
Value for the money
Quality
Good starter option
Power
Construction
Great warranty period
Cons
Lacks frills and special features
Shop Now
---
#4. Shop Fox W1758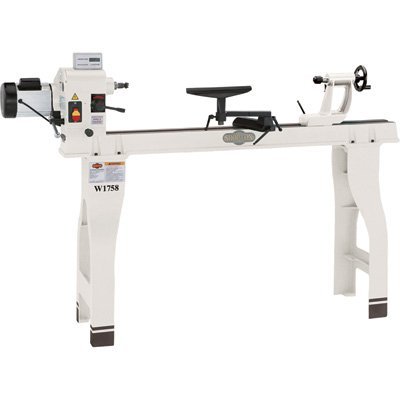 Check Price on Amazon
The fourth one on our list is a midi lathe which the producers claim to be able to handle larger projects.
You will be paying as much as you would for the Delta if you decide to buy the Shop Fox W1758 but you will not get that many features.
One more thing users do not like about this tool is that the warranty is only two years.
They claim that the unit is well-made and solid but it lacks reverse feature, and the belt must be adjusted with the speed change.
The positive features are the powerful motor capable of a maximum speed of 2400 RPM, but the experienced users know that speed is not the most important specification when it comes to lathes.
The versatility is not its characteristic, especially when it comes to smaller projects due to the larger plate size.
Check current price on Amazon >>
Cons
No reverse
Non-standard fittings are difficult to replace
Short warranty period
Not good value for money
Shop Now
---
#5. Grizzly G0462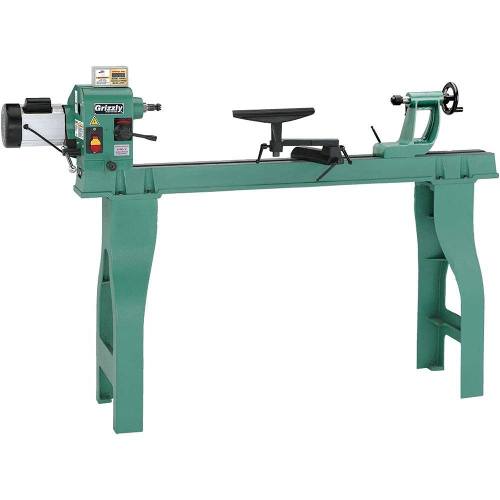 Check Price on Amazon
If you want to accept our opinion, we need to say that this model does not deserve our attention, as it is not built to last and is not the tool we would like to recommend.
This is not the tool even for the beginners as it has one of the weirdest speed changing system.
You will need to exert pressure on the lever and you can never really be sure that the speed is consistent.
We have to add that the design is terrible for the belt, and it requires constant change.
The spacing of the legs is also very bad, so we can only say that this tool should be avoided.
Check current price on Amazon >>
Cons
Unstable
Lacks durability
Pricey
Tailstock does not line up properly
Shop Now
---
---