Finish nailers are not considered as versatile tools as they actually are.
Their usages are numerous, and they can be used on trim, to put furniture and cabinets together, to attach door and window moldings and thick baseboards and many more.
A finish nailer cannot be used for thin pieces of wood instead of a brad nailer, but in cases when a brad nail is not going to stay fastened, finish nailers would do the job.
The finish nailers models can be powered either pneumatically and with fuel cartridges. However, we have decided to give you a list of the best cordless finish nailers available on the market and discuss the benefits that go with them.
The aim of this article is to help you find what you are looking for and be sure that you have made the right choice.
By picking the right cordless finish nailer your work will be easier and more efficient.
Spoiler Alert - Check out my top choice here >>
Top Rated Cordless Finish Nailers for 2019
* Ratings are based on Editor's own opinion.
5 Best Cordless Finish Nailers Reviewed
#1. DEWALT DCN660B 20V Cordless Finish Nailer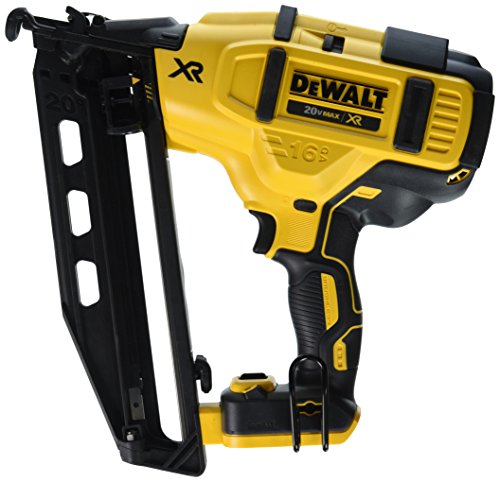 Check Price on Amazon
As we will start with the most famous and at the same time the best possible model of a cordless finish nailer, we want you to take a look at features and impressive characteristics that the DeWalt DCS660B has to offer.
By knowing all the advantages of this model, you can determine whether other finish nailer's models are worth the price.
Besides its compact design, great weight and angled head, this device is fully battery operated and what is even better, it boasts with a long lasting battery.
There is no need for compressor hoses or gas canisters, and this does not diminish its power.
This finish nailer has enough capacity to do is expected and, what might come as a surprise to you, the price is also a good value for money.
What is noticed as its drawback is the tendency to jam, but still this tendency does not happen so frequently that we will regret buying this model.
Maybe it happens more often than we would like it to happen, but when all the other impressive features are taken into account, this model is definitely one of the best.
That is why it is our top pick among amazing finish nailers.
Check current price on Amazon >>
Pros
Power
Battery
Great features and angle
Good value for money
Shop Now
---
#2. Hitachi NT1865DMA Lithium-Ion Finish Nailer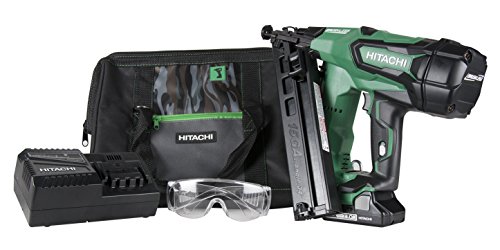 Check Price on Amazon
The second best among finish nailers is definitely the Hitachi NT1865DMA for many reasons.
Not only does it possess great power and that much attention was paid to its design, but also it has some of the best features that a finish nailer can have in order to make your job easier, safer and efficient.
It is angled well so that you will be able get it into spaces which cannot be reached easily with not much trouble.
What makes the NT1865DMA model different from some other devices is the fact that it is cordless, but not entirely battery powered.
It still saves us from air hoses and compressors, and whether you will choose a finish nailer powered by compressed gas or purely through batteries is completely a matter of personal choice.
This model did not deserve the first place due to some drawbacks and one of them is that it is not comfortable to operate with due to the fact that it is quite heavy.
Check current price on Amazon >>
Pros
Design
Great when in operation
Cons
Weight
Lack of ergonomic features
Shop Now
---
#3. PORTER-CABLE PCC792LA Cordless Finish Nail Gun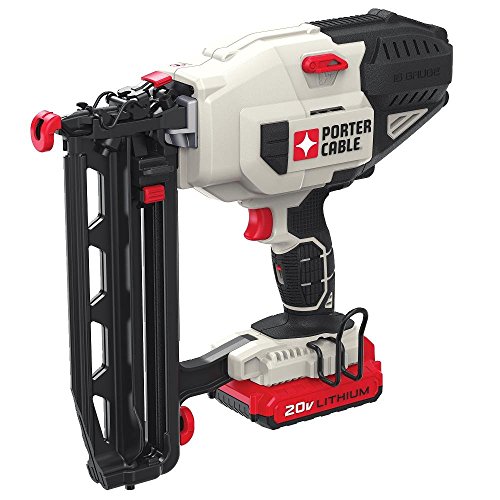 Check Price on Amazon
It is true that we put it in the third place, but the Porter-Cable PCC792LA model is definitely a budget-friendly one as it is best option for the money.
Being that it is quite cheaper than most of the other models, people often think that it has more weaknesses than advantages, but that is not the case.
The quality of the device is not in question and consumers will not feel cheated.
The device is completely battery operated so no need to worry about compressor or canister of butane gas.
The model boasts with a long lasting battery which will allow you to work without breaks in the middle of your work to charge the device up.
Among all the advantages, there are also drawbacks – its straight-head construction. Devices with the angled head enable you to slide your nailer in and fasten the end securely in place.
The Porter-Cable's straight head would leave the edge hanging a little bit.
Check current price on Amazon >>
Pros
Gas free
Good value for money
Shop Now
---
#4. BOSTITCH BCN650D1 Cordless Finish Nailer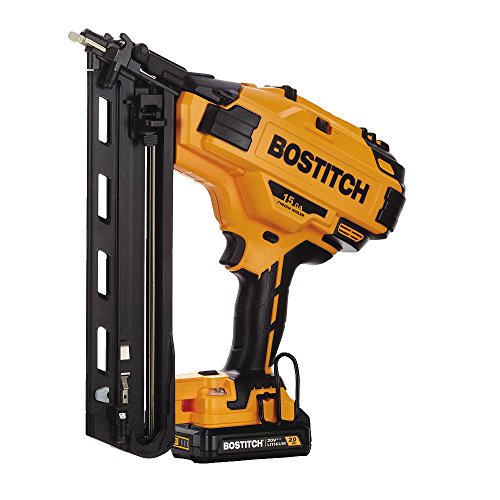 Check Price on Amazon
The Bostitch BCN650D1 got the fourth place on our list and with a reason.
It is a powerful, completely battery-powered finish nailing which is proud of its long-lasting brushless motor.
Nevertheless, wherever there are advantages, real limitations and budget considerations come as drawbacks.
This means that even though the BCN650D1 is a great finish nailer, its price is so high that you would think like you have to spend a fortune to have it.
Its features are in line with the price and people who are really into this field would consider it amazing to possess.
So, this model definitely deserves higher position on this list, but being on number four is just due to its price tag.
Check current price on Amazon >>
Pros
Battery powered
Power
Impressive motor
Cons
Price
Not good value for money
Shop Now
---
#5. Hitachi NT65GAPR Finish Nail-Gun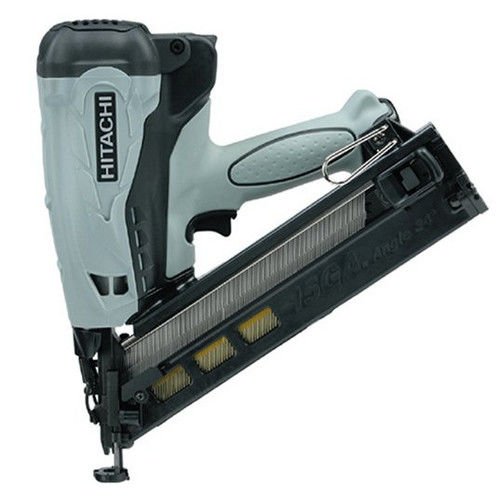 Check Price on Amazon
As some of the models have to be the last, we have chosen the Hitachi's NT65GAPR model.
Among advantages that should be emphasized, the Hitachi's NT65GAPR is lightweight and affordable finish nailer.
Being that it is designed for a single job and doing heavy-duty jobs would cause it to simply stop working.
The fact that it is the lightest model and it makes it easier to finish these jobs on unapproachable or difficult to reach places, such as the ceiling.
In the majority of cases, the device would not stop working before you are done, meaning that this is definitely a model worthy of consideration.
The fact that it is not as durable as you might expect can be overcome by its great capacity when large nails are in question.
People who cannot afford buying more expensive models should certainly take this one into consideration, as it is budget friendly, but they need to have in mind that the device has limitations in terms of nail size and durability.
Check current price on Amazon >>
Pros
More than affordable
Light
Cons
Lacks durability
Gets stuck with bigger nails
Shop Now
---
---