In case you are interested in repairing old bolts and nuts what you will need is a great tap and die set.
No one of us want to make a bad decision and pay quite an amount of money for something not worth it or something that will stop working or break after a short period of time.
We know how important it is to get familiar with the significant features related to each tool, so we have created a short guide which will make you a well-informed buyer prior to purchase the tap and die set and we believe that you would not regret that decision.
Manufacturers only emphasize the good things about their products and avoid mentioning the downsides, so we have gone through the reviews of both satisfied and dissatisfied users and make a list of top five tap and die sets available on the market.
Spoiler Alert - Check out my top choice here >>
Top Rated Tap and Die Sets for 2019
* Ratings are based on Editor's own opinion.
5 Best Tap and Die Sets Reviewed
#1. GearWrench 82812 114 Piece Tap and Die Set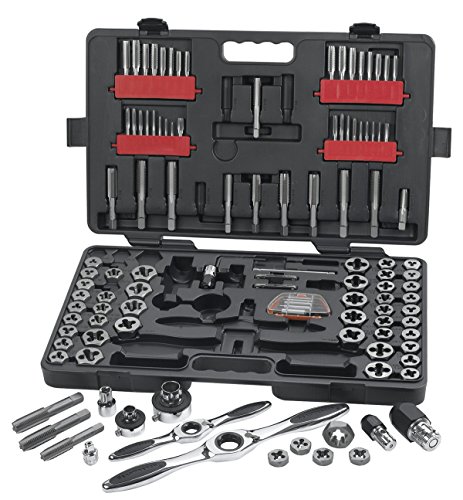 Check Price on Amazon
Number one and definitely the best model is the GearWrench 82812 114 Piece Set.
Once you get this set, you will be able to create or repair just about any nut or bolt.
As the manufacturer has emphasized the number of pieces included it can be said that 48 sets of taps and dies represent a good number of useful parts.
What this model further has are two great ratcheting T wrenches, which have a 5-degree ratcheting arc, designed to be used in areas when you do not have a lot of space to move around.
The taps and dies are made from carbon steel, making them the most durable and strongest, so purchasing them you will be sure to have tools that will last a long time. The taps come in plug and taper configurations.
There is also one and only problem with this set – it comes with a cheap and not so strong case, but this is not so important, as the tools inside are of great quality.
Check current price on Amazon >>
Pros
48 taps and dies
Carbon steel
5-degree ratcheting arc
Plug and taper taps included
Shop Now
---
#2. IRWIN Tools 117 Piece Tap & Die Set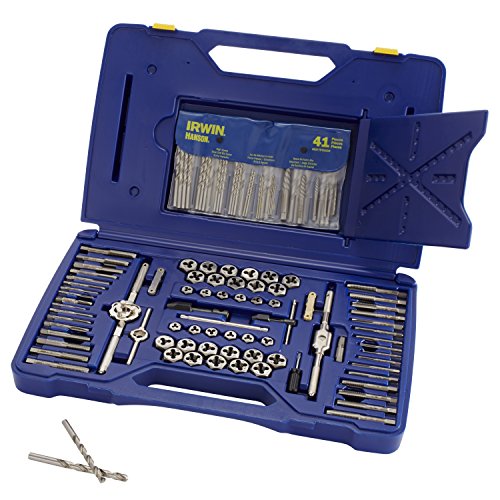 Check Price on Amazon
The runner-up on our list is the IRWIN Tools 117 Piece Set 26377.
This is a quality tap and die set, but it has to have some small problems which affected our decision to put it on the second place.
The great thing is that taps and dies are made from carbon steel, making these tools strong and durable, which would thus lead to high-quality nut and bolt machining being that this is the aim of your work.
The IRWIN Tools 117 Piece Tap & Die Set This set include sizes for both metric and customary sizes, as well as a great set of spiral screw extractors.
This makes this model a great value for the money and you will certainly not regret buying it.
What makes it less great than the first model on our list is the fact that it has fewer taps and dies and the ratchets in this set are not as good as GearWrench's.
This model is expensive and if you know that the tool has some quality control problems, you might consider purchasing the first one.
Check current price on Amazon >>
Pros
Carbon steel
Spiral screw extractors included
Durability
Works with metric and customary
Cons
Poor quality control
Price
Shop Now
---
#3. GearWrench 3887 75 Piece Set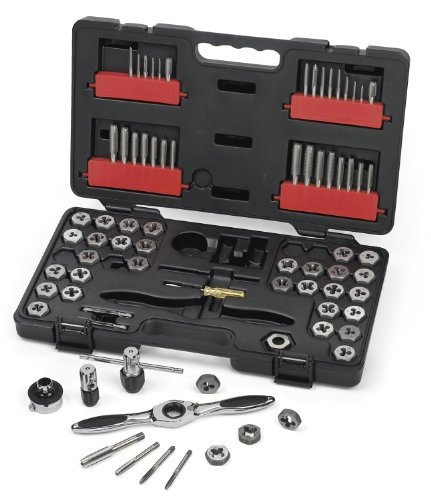 Check Price on Amazon
The GearWrench 3887 75 Piece Set is made by the same manufacturer as our top pick, and we can just say that it is almost as good as the first one.
Being that it is on the third position, there has to be something wrong with it.
It comes with many of the same parts as our top choice, but has less of them.
Furthermore, it comes with one of the same great ratchets included in our top model with as little as a 5-degree twist.
This makes this model easy to use, especially in tight situations.
This model also comes with both plug and taper taps and you would think that there is nothing more you can expect from a tap and die set.
But, you are wrong.
The absolute best thing about this set is its price as it is twice less expensive than our top two models.
The disadvantages of this model are that it is missing some common sizes so does not offer that great variety as larger sets, but the majority of people will be happy with this model.
Check current price on Amazon >>
Pros
Great ratchets
Plug and taper taps included
Affordable
Shop Now
---
#4. Neiko 00912A 40-Piece Tap-Die Set Set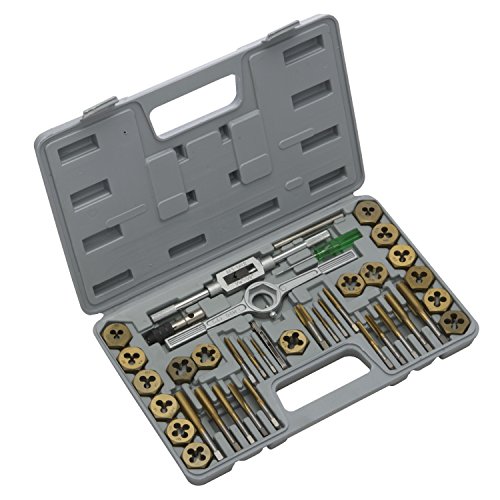 Check Price on Amazon
The Neiko 00912A 40-Piece Set is considered great set for beginners.
It is a good choice for those who cannot spend too much money on more expesive tool, but still want a quality set to purchase.
There are only 40 pieces inside, but the price is quite lower than the price of the third-place model on our list, so you will be getting more pieces per dollar than in any other set on our list.
We consider it an amazing starter kit as beginners would not need so many parts, being that they will just be trying the tools out and experiment with them.
The disadvantages of this set are that it only contains metric-sized tools and the pieces are made from alloy steel instead of carbon steel, which causes them not to be as durable as the others on our list.
The set comes in a cheap case which will not hold up well in the long run.
All in all, this is the best set for the money if you are not looking for a lot of variety or something that will last for a long period of time.
Check current price on Amazon >>
Pros
Designed for beginners
Affordable
Rethreads well
Cons
Only metric
Case
Cheap metal
Shop Now
---
#5. TEKTON 7559 39-Piece Set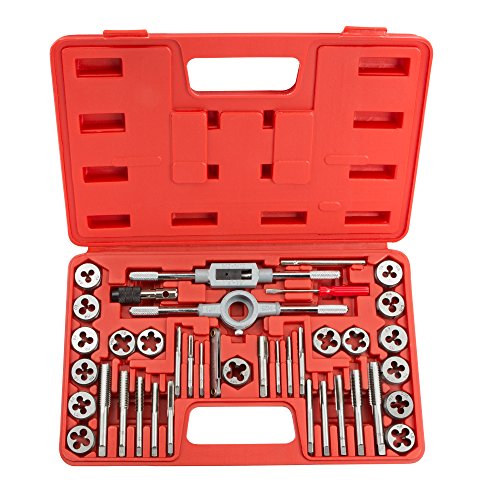 Check Price on Amazon
The last on our list is the TEKTON 7559 39-Piece Set.
It comes at a very low price, which means that we cannot expect too much from it.
Actually, it is the cheapest on our list, and the price equals both its quality and quantity. When it comes to quality, this is the set which should be avoided if you are serious in working with this set frequently and for a longer period of time.
The only real reason to buy this set, as it is more economical, is that you need it for some simple occasional tasks at home.
It can be useful for you if you are not going to use your tap and die set all that often, as it will not cost you a lot of money and if it breaks after a while, you will not regret spending too much on it.
The parts are made of steel whose quality is overall very low, and there are quality control problems in the casting, causing that parts break randomly.
Check current price on Amazon >>
Pros
Affordable
Useful only for occasional use
Cons
Alloy steel
Only metric
Poor quality control
Shop Now
---
---