A variable speed bench grinder is something that is not necessary to everyone, but among artisans this is such a popular tool.
For those who want to achieve the highest level of quality in their work have to possess this versatile tool.
The unit is so great that it can be used for numerous different projects.
Not only does it perform a job of buffing and sharpening tool tips and edges, but it is also very capable of removing paint, stripping rust, polishing and heavy-duty cleaning.
A variable speed bench grinder that meets your needs and requirements is difficult to find, so we decided to help you speed up the process.
We have made a list of the best tools and included various key considerations you should take into account before buying a variable speed bench grinder.
Spoiler Alert - Check out my top choice here >>
Top Rated Variable Speed Bench Grinders for 2019
* Ratings are based on Editor's own opinion.
5 Best Variable Speed Bench Grinders Reviewed
#1. Shop Fox W1840 Variable-Speed Bench Grinder
Check Price on Amazon
Number one on our list is the Shop Fox W1840.
It deserves this position due to the fact that it boasts of a beautiful sleek design and is powered by a ¾ HP motor.
Furthermore, it has a 5/8¨grinding wheel bore and a 3,600 Rpm grinding wheel speed.
What we really appreciate about this model is its dual aluminum oxide grinding wheels, directional LED work light and large eye shields.
Additionally, we cannot but mention how it is easy to use, that it is vibration-free with smooth rpm changes across the variable speed range.
Its variable speed control is also an outstanding feature and we highly suggest you get this model.
Check current price on Amazon >>
Pros
Easy to use
Affordable
Versatile
Shop Now
---
#2. Delta 23-198 Variable Speed Benchgrinder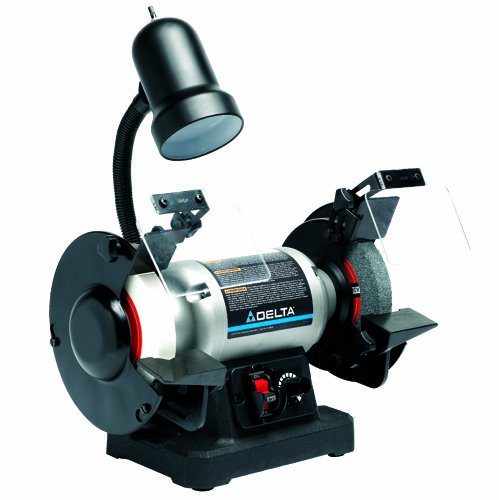 Check Price on Amazon
The second one is the Delta 23-198.
This model is fully capable of supporting variable speeds, easily moving from 2000 to 3400 rpm.
It comes with the variable speed feature which is designed to allow users to do a wide variety of tasks including grinding, polishing, buffing, and sharpening.
The Delta 23-198 has slow variable speed capability for specific tasks that require particular specifications.
What users found useful is its tool rests, a platform for sharpening drill bits.
The manufacturers paid special attention to the design of this product and made it of solid cast iron which both improves durability and minimizes vibrations.
Small additional features are a water cup for cooling the material.
All in all, we can say that if you get it, you will not be disappointed with this product.
Check current price on Amazon >>
Pros
Vibration
A spot-on alignment
Ideal for sharpening materials
Cons
Adjustment is necessary to prevent it from wobbling
Shop Now
---
#3. WEN 4276 Bench Grinder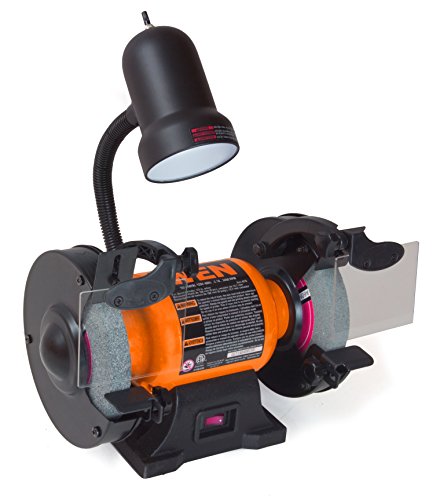 Check Price on Amazon
The third position is usually given to the tool which is the best value for money, and in case of variable speed bench grinders we advise you go for the WEN 4276.
This is the grinder which boasts of a 2.1-amp motor and operates a speed of 3450 rpm.
The users appreciate the fact that it operates very quietly and smoothly making working with it more pleasant.
The WEN 4276 has compact and sturdy design and despite being rather lightweight the tool does not vibrate too much.
Furthermore, this model has smartly integrated a flexible work lamp allowing user to work even in dark conditions.
Check current price on Amazon >>
Pros
Light
Compact
Two wheels
Price
Quiet
Cons
Designed for lighter work
Difficult assembly
The spark shields fall off
Shop Now
---
#4. Craftsman 9-21154 Bench Grinder with Variable Speed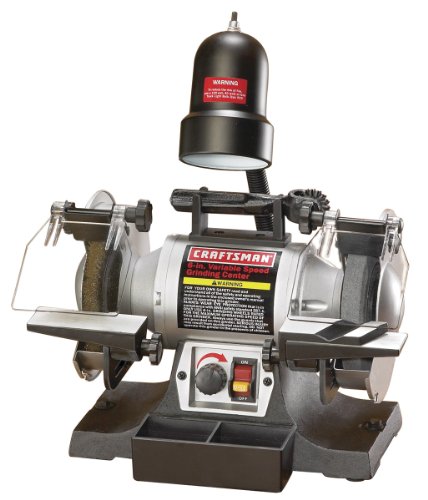 Check Price on Amazon
The Craftsman 9-21154 cannot be considered one of the best grinders on the market, but it is also not the worst.
There are numerous advantages and disadvantages of this model.
Let's start with positive sides.
The product boasts of a sturdy design and has a water cooling tray.
It is excellent when used to sharpen tools.
This model is powered by a 1/5 horsepower motor, fully capable of supporting variable speeds, varying from 2000 to 3400 rpm and usable when grinding applications are in question.
What you get with this unit is a work light, large spark guards and a wheel dressing tool.
The Craftsman 9-21154 is fairly safe to use due to the great number of safety features such as durable spark guards, wide clear eye shields and oversized cast iron base.
Check current price on Amazon >>
Pros
Safety features
Quiet motor
Water cooling tray to prevent overheating
Cons
1/5 HP motor
Not designed for heavy-duty work
Shop Now
---
#5. Porter-Cable PCB525BG Bench-Grinding Machine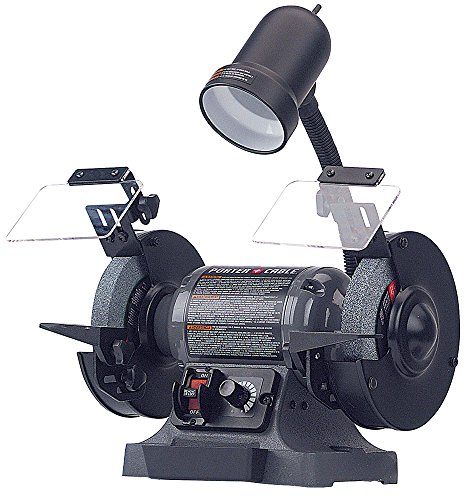 Check Price on Amazon
It can be said that we expected more from Porter Cable, but it did not deserve better position.
The Porter-Cable PCB525BG is the worst bench grinder due to the fact that it does not offer the performance as advertised.
There are a few positive features such as the fact that it is powered by a 5.0 Amp motor and it can support variable speeds, varying from 2000 to 3400 rpm.
These allow users to use it for shaping, grinding, and sharpening.
Additional useful features include a retractable wheel dresser, a work lamp, and a removable quench water tray.
The reasons why this is not the perfect bench grinder are that there is no means of locking the shift when changing wheels and there is not a notch to hold the wheel into position with a screwdriver.
Check current price on Amazon >>
Pros
Work lamp,
Retractable wheel dresser
Removable quench water tray
Cons
Not safe to use
Poor build quality
Shop Now
---
---