Woodworking fans would know how significant it is to have a good set of blades so that your work can be done easily and efficiently.
If you do not want to get irritated by low quality blades, we suggest you to go through our reviews, based on experiences of both satisfied and dissatisfied users and decide which model is the best for you.
We offer you top 5 best dado blades on the market, and if you are still unsure about which one to choose after you have taken a look at the various options of blades, we have also included a helpful buying guide detailing everything you should know prior to purchasing a Dado blades set.
Spoiler Alert - Check out my top choice here >>
Top Rated Dado Blades for 2019
* Ratings are based on Editor's own opinion.
5 Best Dado Blades Reviewed
#1. Oshlun SDS-0842 8-Inch 42 Tooth Dado Blade Set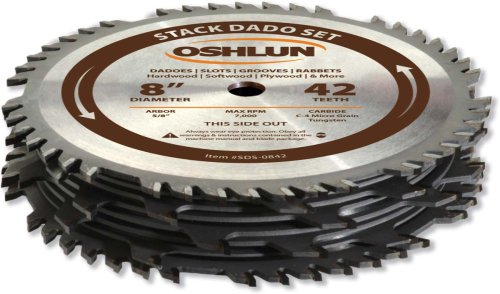 Check Price on Amazon
The best of the best and rightfully put on the first place is the Oshlun SDS-0842 8-Inch 42 Tooth Dado Blade Set.
Among many of the quality and excellent features that this model distinguishes from the others and that we could not but mention are its teeth, meaning that this dado blade has the most teeth of all the blades – 42.
This results in fast and accurate cut from, ¼" to 29/32 inches.
Furthermore, the blade is 8 inches long, designed for deep dadoes and it is very useful for all kinds of wood, even the hardest one.
Last, but not the least advantage is the instructions manual.
It is done well, and the steps to set up this product are explained in detail so you would not have trouble setting it up.
What people found as a weakness is the packaging, which is quite poor.
Check current price on Amazon >>
Pros
Designed for great cuts
Usable for all types of wood
Great value
Shop Now
---
#2. DEWALT DW7670 8-Inch Stacked Dado Blade Set
Check Price on Amazon
When the well-known brand is in question, you cannot but expect the excellent tools.
DEWALT did great once again and made an amazing Dado blades set.
DEWALT DW7670 was 8 inches stacked dado blade, which is very well made, resulting in accurate, fast and deep cuts.
It is true that it has only 24 teeth, which is not as many as with our top pick, causing it not to be that fast.
Another issue that caused it not to be on the first position is that the two outermost blades are at an angle so you do not get a perfectly straight cut.
The set comes in a fantastic case for storing safely unlike the previous model.
Check current price on Amazon >>
Pros
Quality
Case
Useful for all woods
Cons
Slight angle on the dado blade
Shop Now
---
#3. MIBRO 416381 8″ Carbide Dado Blade Set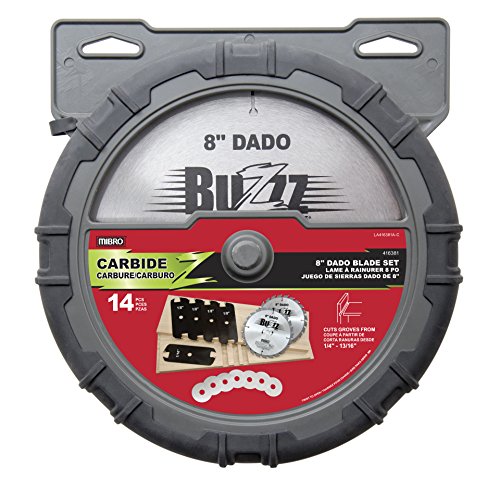 Check Price on Amazon
The MIBRO 416381 8″ Carbide Dado Blade Set is available in both 8-inch and 6-inch.
We will speak about the 8-inch blade.
What is included in this set are two outside blades 4 ⅛" chippers, one 1/16" chipper and 7 shims.
This results in this blade set being very versatile.
It has a patented anti-kickback feature resulting in the smoothest possible rivet.
The product is designed to cut grooves between 1/42" to 13/16" and it boasts a fantastic plastic case for storage.
Now, there are disadvantages which had a great role in determining its position on our list.
Some of the blades would not lock easy and you will have to readjust them before cutting again.
Due to the fact that this is a well-made set of blades, we consider it the best dado blade for the money.
Check current price on Amazon >>
Pros
Versatile
Best value
Case
Shop Now
---
#4. Freud SD208 8-Inch Dado Blade Set
Check Price on Amazon
The Freud SD208 is not a low quality set, but considering its producer, which is a very well-known and respected company, users expected a better product.
However, the producers have made a model for DIY use, thus not be able to fulfill heavy-duty tasks.
The set has two eight-inch outside blades, a set of steel shims, three 1/8-inch chippers, and three 1/16-inch spacers.
This tool allows you to handily sharpen all the blades making them as good as new.
With this tool, you will produce grooves from 1/4″ to 13/16″ in 1/16″ increments.
There has to be some weakness as it is on the fourth place.
The drawback of this model is that the two end blades end up cutting more profound than the chippers in the middle, which results in an uneven groove.
This is a very important issue and our suggestion is to avoid this model, as you would end up struggling with cuts and that is not what you want from a dado blade set.
Check current price on Amazon >>
Pros
Price
Blades are easily sharpened
Shop Now
---
#5. Oldham Adjustable Dado Blade Set
Check Price on Amazon
The last one on our list is the Porter-Cable 7005012 Oldham.
Unfortunately, we had a very disappointing experience with this set.
First and foremost, the instructions were poor and difficult to understand as they were translated from Chinese to English very badly.
The producer claims that the Porter-Cable 7005012 Oldham is able to cut dado's 3/16″, 1/4″, 3/8″, 1/2″, 5/8″, 3/4″ and 13,16″ in length.
However, users had trouble attaching it to the table saw.
Once you take a look at customers' reviews, you can conclude that the majority of users experienced this problem.
Furthermore, there were also no adjustment marks on the blades themselves.
This will result in measuring your dadoes purely by eye which will take you a lot of time.
Additionally, the blades would cut all different sizes, making the grooves uneven.
We suggest you avoid this product.
Check current price on Amazon >>
Cons
Cannot be attached to the table saw.
No adjustment marks on the blades
Instructions
Shop Now
---
---