What is a Carpenter?
Carpenters build a wide range of things.
From furniture to doors and windows, carpenters are constantly creating.
Carpenters can work independently, in a factory, through a union, as well as for a general contractor.
The job typically entails repairing, constructing, creating and planning different types of structures.
It's amazing the different structures that carpenters can build.
As you drive through your town or city, take a look at all of the different buildings, you could be building those as well!
Duties
Understand drawings and technical plans
Create doors, windows, walls, furniture etc.
Install flooring and staircases
Create homes and buildings
Build stages and film sets
Hang doors, skirting boards, cupboards
If you can put a nail to it, you'll probably build it as a carpenter.
---
Average Salary
The average salary for a carpenter is around $47,000 a year.
Before you complete your apprenticeship, you will make less than this.
Experience and education will give you the opportunity to make more, up to $69,000 a year.
If you work for yourself, you could possibly make more money.
Depending on how much experience you have, you could earn much more than average.
Average National Salary:
$47,000
*Salary information last updated 2020
Average Annual Salary by State
| State | Avg. Annual Salary |
| --- | --- |
| Alabama | $50,153 |
| Alaska | $60,736 |
| Arizona | $52,442 |
| Arkansas | $49,883 |
| California | $59,948 |
| Colorado | $53,720 |
| Connecticut | $59,861 |
| Delaware | $58,506 |
| Florida | $51,620 |
| Georgia | $51,728 |
| Hawaii | $56,963 |
| Idaho | $50,719 |
| Illinois | $53,339 |
| Indiana | $51,492 |
| Iowa | $50,264 |
| Kansas | $51,940 |
| Kentucky | $49,968 |
| Louisiana | $50,743 |
| Maine | $51,844 |
| Maryland | $57,764 |
| Massachusetts | $58,909 |
| Michigan | $53,107 |
| Minnesota | $52,658 |
| Mississippi | $48,407 |
| Missouri | $52,917 |
| Montana | $48,607 |
| Nebraska | $49,744 |
| Nevada | $55,190 |
| New Hampshire | $56,632 |
| New Jersey | $61,803 |
| New Mexico | $49,648 |
| New York | $57,183 |
| North Carolina | $51,635 |
| North Dakota | $49,539 |
| Ohio | $52,341 |
| Oklahoma | $50,282 |
| Oregon | $54,077 |
| Pennsylvania | $53,476 |
| Rhode Island | $58,130 |
| South Carolina | $51,110 |
| South Dakota | $46,858 |
| Tennessee | $49,865 |
| Texas | $51,740 |
| Utah | $50,793 |
| Vermont | $54,421 |
| Virginia | $53,786 |
| Washington | $56,748 |
| West Virginia | $49,879 |
| Wisconsin | $52,689 |
| Wyoming | $49,821 |
Annual Average Salary: Top 5 States
The top earning state in the field is New Jersey, where the average salary is $61,803
These are the top 5 earning states in the field:
---
How to Become a Carpenter
Step 1
Get Your Education
In order to become a carpenter, you first need to graduate high school or get your GED.
Some programs allow high school students to begin apprenticeships when they are close to graduation, as long as they get their diploma.
Some of the classes that you are going to want to take in high school include math, drafting, and carpentry of course.
Once you begin your apprenticeship with this knowledge, the training should run smoother for you.
After you graduate high school, you can go on to trade school, community college, or start your apprenticeship right away.
Step 2
Become an Apprentice
You can find apprenticeships through many employers, and you may even be able to find one sponsored by the US government.
Being an apprentice gives you the skills and tools needed to do your job correctly.
Exposure to different types of construction will give you a broad range of knowledge, and lead to different career paths.
You can even get paid while doing your apprenticeship.
Step 3
Equip Yourself with Experience
It can take around 4 years to complete an apprenticeship program.
Through the apprenticeship program, you can receive a carpenter certificate, allowing you to become certified in this career.
After you complete the apprenticeship, you will be considered a journey worker.
---
Education
You can either graduate from high school and start your apprenticeship, which can take up to four years, or you can go to community college or trade school, which can add another two years.
Both pathways are just fine, as long as you are able to get the experience and knowledge that you need for the job.
Those that get into an apprenticeship out of high school get hands on experience, while those that take formal classes typically work an apprenticeship on the side.
Video About The Career
---
Certification
Some states may require a carpenter to get a certificate. You can either get an associate's degree, that will be the equivalent of a certificate, or through a carpentry program.
This type of certification will require you to understand structural design, carpentry techniques and tools.
It is possible to get scholarships in order to decrease the cost of the program.
Check out your local carpentry foundations or The Associated General Contractors of America for more information.
Certification Example: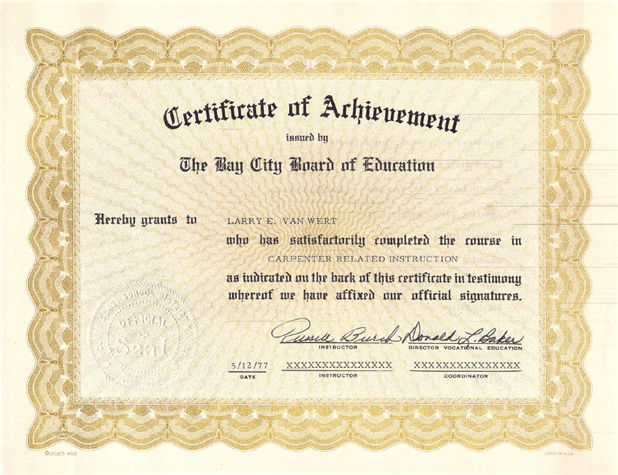 Average Training Program Duration:
3-4 Years
It can take about four years to complete an apprenticeship program.
An associates degree takes roughly two years.
You can do an apprenticeship and get your associates degree simultaneously, which means it can take less time!
You'll be able to start your career earlier than you thought possible.
---
Popular Degree Programs
---
Job Outlook
The employment for carpenters is expected to rise about 8% in the next ten years.
The reason for this is new home construction, factories and other businesses.
Construction activity should continue to grow in the next decade, which is good news for carpenters!
Employment Growth Projection:
8%
That's a higher than average projected growth of 83,800 jobs.
Carpenter: Interest Over Time
---
Should You Become a Carpenter?

Overall Satisfaction:
Medium
The job satisfaction for this career is average.
There is plenty of opportunity for upward mobility, and the stress level is decent.
Working hours are flexible, and the work/home life balance is quite even.
People that like building and using their hands have the most satisfaction in this job.
Creating and using wood and other materials to make masterpieces can be rewarding.
Average Salary:
High
The average salary for a carpenter in the United States is around $54,000 a year.
Some carpenters make around $47,000 a year and can even get up to around $63,000 a year.
Depending on education, additional skills, certification, and experience in the field, you could possibly make more or less than average.

Job Growth Outlook:
High
The growth outlook for this career seems to be pretty decent in the next 10 years.
The constant construction of new homes and businesses will keep carpenters employed.
Upgrades in homes and businesses will also give carpenters plenty of work.

Education Duration:
3-4 Years
An apprenticeship can take up to four years.
If you want to get an associate's degree, this will be around 2 years.
You can sometimes begin an apprenticeship in high school, with the promise that you will obtain a diploma.
Employers may also pay for education while working an apprenticeship, so talk to the company that you work for.
Personal Skills Needed
Creativity
Independence
Patience
Technical skills
Understanding of mathematics
Customer Service skills
---
Frequently Asked Questions
Q. What is the average salary of a carpenter?
The average salary for a carpenter is around $47,000.
With education and experience, you can make up to $69,000 a year in this career.
Q. How long does it take to become a carpenter?
An apprenticeship can take up to 4 years.
It's possible to start an apprenticeship while still in high school.
This is a paid position, but you won't be making as much as the average salary.
Q. What does a carpenter do?
A carpenter builds, repairs, and creates furniture, doors, windows, wall framings, fence, and so much more.
Using their hands and other machinery, carpenters can create masterpieces out of seemingly nothing.
There are even special carpenters that create baseball bats, and other really cool pieces of art.
Q. What is the demand for carpenters?
Demand for carpenters is average compared to related careers.
There will be many new homes and buildings erected within the next ten years, so carpenters are needed.
Q. How much does it cost to become a carpenter?
If you want to get an associate's degree, it can cost up to $3,000.
Those that go the route of the trade program will typically pay around $1,000.
Doing an apprenticeship may cost you between $0-15,000 depending on where you go for the experience.
At the Madison Area Technical College in Wisconsin, the carpentry apprenticeship program lasts four years and costs $13,370.
---
Similar Careers