Some workers do not use aprons during their work and it is more likely that their clothes are destroyed.
On the other hand, there are those who wear aprons in order to protect their wear.
That is why many producers have created modern aprons designed not only to protect your clothes from damage, but also for enabling you to put tools in the pockets when they are not needed.
Nowadays, in almost all woodworking shops worldwide you can see workers wearing aprons.
Now, you probably think why you should have to deliberate on such a simple piece of equipment.
Even though these clothing-protectors are simple, there are a lot of differences between them and prices vary.
Spoiler Alert - Check out my top choice here >>
Top Rated Woodworking Aprons for 2019
* Ratings are based on Editor's own opinion.
5 Best Woodworking Aprons Reviewed
#1. Hudson Woodworking Apron HDG901W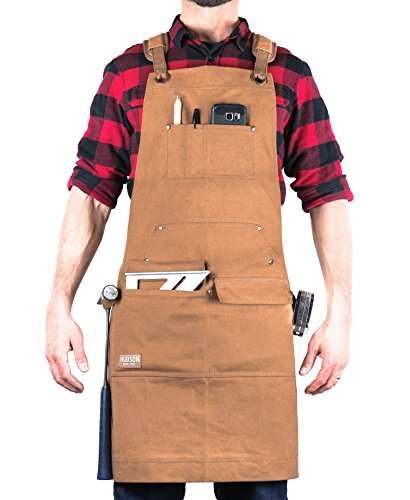 Check Price on Amazon
As we are accustomed to making a list of the best products, we did the same with aprons.
Number one on our list is the Hudson Apron HDG901W.
This is definitely the best-made apron, and one of the reasons why we think that is due to its adjustable size.
Most frequently, aprons do not fit everyone, so the producers invested a lot of effort in creating a model which will fit a wide range of people.
Furthermore, there is a quick-release buckle on the back, resulting in fast and easy apron putting on and taking off.
The padded straps cross in an "x" formation on the back.
This is important because the weight would rest evenly on the shoulders instead of around the neck.
Additionally, it has sawdust flaps, designed to keep dust out while you work and numerous pockets for tools.
This model boasts a pair of hammer loops and three smaller pockets for screwdrivers, knives, chisels, or your phone.
The only suggestion to producers is that there can be even more pockets.
Check current price on Amazon >>
Pros
Size is adjustable
Quick release buckle
Straps are padded
Sawdust flaps
Shop Now
---
#2. Texas Canvas Wares TCW9001 Apron for Woodworkers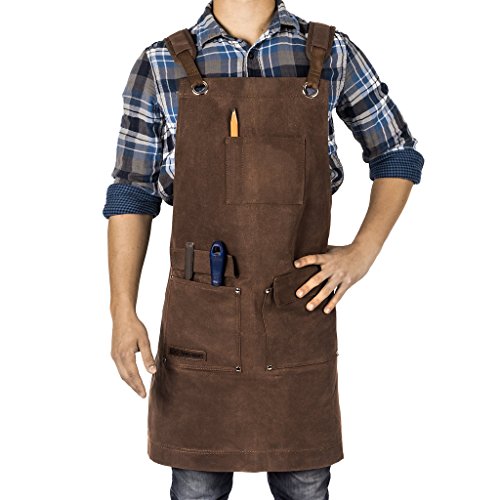 Check Price on Amazon
The runner-up is the Texas Canvas Wares TCW9001.
Even though it is not our top pick, this is a quality apron which comes with cross-back straps, designed to take weight off of your neck.
You might not think about it as a heavy thing put on you, but there is also a difference in weight and for people working long hours, it is important not to have a lot of weight on their shoulders.
Large tool pockets for supplies are also a very significant part of this apron.
Additionally, this apron is water-resistant.
Now, as it is not our top pick, there has to be something wrong with this model.
Firstly, it does not fit a great range of people as our first model even though it fits both genders, and it comes with finicky apron ties.
This means that some people cannot tie it well behind their back causing misalignment and the shoulder straps fall off his/her shoulders.
Check current price on Amazon >>
Pros
Cross-back straps
Pockets for large tools
Water-resistant
Shop Now
---
#3. GIDABRAND GDAP001 Woodworking Apron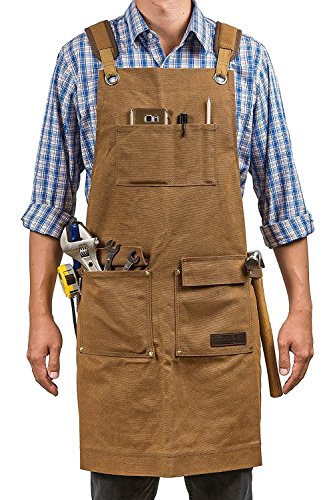 Check Price on Amazon
The GIDABRAND DDAP001 is a high-quality apron which deserves attention, but it is not the best one.
When compared to the previous two, it can be said to be a good choice.
It comes with large centered pockets, which on not the case with pockets on other aprons.
Centered pockets are designed rather due to aesthetics than usability, as some people prefer offset pockets which are easier to reach with your dominant hand.
Great features about this apron are that it is water-resistant and fits well the majority of people.
The only problem with this apron is that it is difficult to put on and take off, which is probably due to the design.
If this was not the case, this model would certainly be better positioned.
Check current price on Amazon >>
Pros
Great pockets
Water-resistant
Shop Now
---
#4. Bucket Boss Bucket Boss 80200 Apron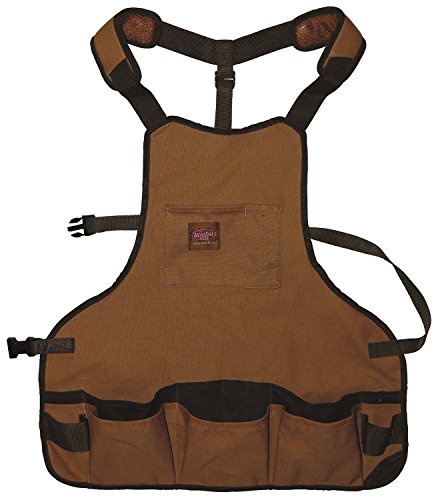 Check Price on Amazon
The Bucket Boss Bucket Boss 80200 is the apron which is not too expensive, but the low price does not reflect the quality.
It is true that the very best thing about it is its price, especially when compared to our top pick.
Additional advantage is that it is light, weighing around 13 ounces.
This is quite significant for people working long hours as with a weight that small, they are not going to be tired when using this product.
Unlike the previously mentioned model, this one is so easy to put on.
Due to these two advantages, you will be able to use the apron as much as you want, meaning you will get great value for the price.
There are a huge number of pockets for both small tools and other devices you need on hand while you work.
One weakness of this model is that there is no good leg coverage which is not important to many workers, but can be taken as weakness according to some users.
Check current price on Amazon >>
Pros
Affordable
Light
Easy to put on
Pockets
Shop Now
---
#5. KNG Adult Apron 1176 Apron
Check Price on Amazon
The last one on our list is the cheapest of the aprons.
The KNG Adult Shop Apron 1176 does not have as many pockets as the previous model, but comes with four pockets.
The fact is that those pockets are not durable, meaning that they would tear just after a few months of use.
As the price is the lowest of all the aprons on the market, you cannot expect high quality.
The apron is mad of the cheap cotton material causing it to tear after a short period of usage.
Furthermore, the straps are not strong and prone to tearing as well.
There are so many weaknesses of this product, and we will mention all the drawbacks the users have noticed.
The apron is not water-resistant, it lacks hammer loops, and durability is questionable causing it to be among the worst aprons on the market.
Our suggestion is to avoid this model and spend a bit more money on a model that will last you much longer.
Check current price on Amazon >>
Cons
Flimsy straps
Made of cotton
Not water resistant
Shop Now
---
---