Plunge routers are used to produce fine results and when you are buying a plunge router, the results are what you should have in mind.
This tool is very versatile, but considering the fact that you will be using it in the middle of a material's surface, the control and precision as well as a good quality tool is very important so as not to destroy the work.
There is a huge number of competing models with various features, advantages and disadvantages and it is difficult to decide which one to buy.
As we have gone through the reviews of both satisfied and dissatisfied users, we are offering you useful information to simplify your decision-making process.
Spoiler Alert - Check out my top choice here >>
Top Rated Plunge Routers for 2019
* Ratings are based on Editor's own opinion.
5 Best Plunge Routers Reviewed
#1. Triton TRA001 Plunge Router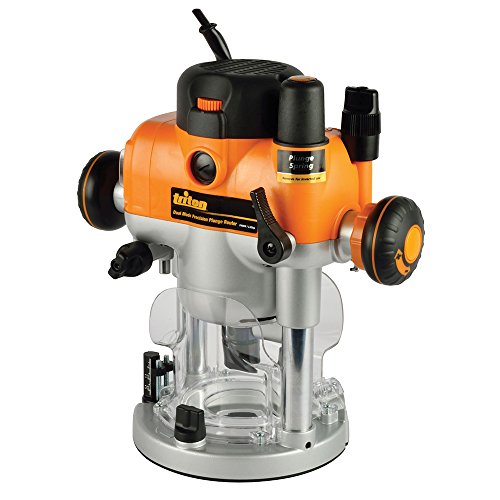 Check Price on Amazon
The best of the best is definitely the Triton TRA001 Plunge Router.
This router has 13-pound workhorse and is big and heavy with power to burn.
You can use it either a fixed-base or plunge router, so you do not have to buy two routers.
This is considered its huge advantage.
It can be a little bit complicated to get used to working with it, as it is all built into one base instead of the normal two, but you will soon realize the ease of switching from one mode to the other is a great plus and getting used to a better tool is not such a difficult task.
The tool has easy set up and the adjustments are precise.
You will change bits quickly and easily as well.
What you get with this tool is the soft start and variable speed reduce kickback, which is very important when precision when beginning your cuts is in question.
The users claimed that only disadvantage of this model are dust collecting and building up on the shields, but these issues cannot diminish the fact that this is the greatest plunge router which you can get.
Check current price on Amazon >>
Pros
Power to spare
Fixed-base or plunge
Easily used
Precise adjustments
Numerous features
Shop Now
---
#2. Bosch MRP23EVS Plunge Router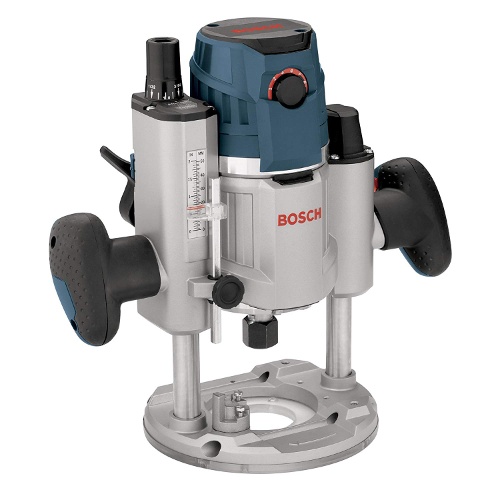 Check Price on Amazon
The Bosch plunge router is our runner-up with 18 pounds deserves the second position, being that it is too heavy for hand routing.
It comes with threaded holes for router table mounting and the controls are well located.
Furthermore, there is a lockable power switch in the handle which is considered as an advantage.
Additional advantages are that the plunge mechanism feels smooth, the ergonomic grips are comfortable, and the micro adjustments are easy to read and use.
If it was not for the weight issue, this model could be considered to be our top pick.
What users found very negative characteristic of this model is that it lacks a plastic shield on the operator side, and being that dust collection is an issue with all routers, this makes this model even worse.
What you get is a router capable of delivering outstanding performance and it is definitely worth consideration.
Check current price on Amazon >>
Pros
Lockable power switch
Excellent plunge mechanism
Ergonomic grips
Performance
Shop Now
---
#3. Makita RT0701CX7 Plunging Router Kit
Check Price on Amazon
The third position on our list is given to the Makita RT0701CX7 Plunging Router Kit.
The first advantage of this router which has to be mentioned is that it weighs under 4 pounds and it is useful for hand use.
Its compact size makes it ideal for smaller, detailed projects, and furthermore it is very comfortable in the hand and unexpectedly quiet.
Unfortunately, there has to be something that is not taken as advantage.
This tool heats up quickly, the grips are small which can lead to some burns and the plunge base works for the first few times and then starts sticking and jamming.
The price is affordable considering the famous brand Makita, but you do not get the expected quality from this producer.
You have to be careful about the heat issue so this tool should be avoided by professionals, while for the household tasks it can be satisfying.
Check current price on Amazon >>
Pros
Light
Performance
Not noisy
Cons
Small grips
Heat problems
Plunger base sticking
Shop Now
---
#4. DEWALT DWP611PK Plunge Wood Router Kit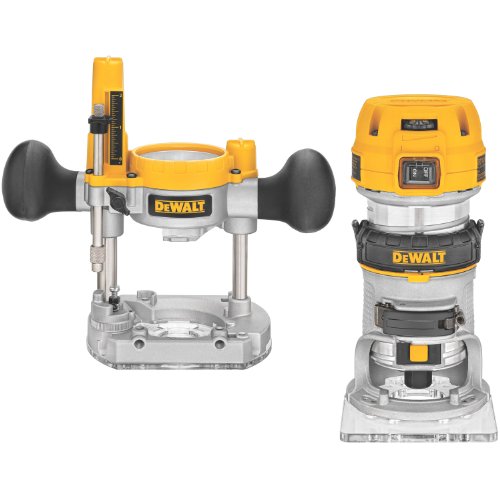 Check Price on Amazon
It rarely happens that DeWalt' model of a tool is not among the first two on our list, but it is the case with the plunge router that it did not deserve a better position.
It is true that it is a compact tool with some nice features, and users said that it works well, but after about 10 hours of use the motor shut down.
The motor starts sounding weird and just stops working which is not what you expect from DeWalt.
Another problem is the heat, as the tool melted a rubber bushing and destroyed one of the brushes.
There are even more disadvantages – the power switch is hard to move and it can cause the burning of your hand.
Power tools need to be quick and easy to shut off, which is not the case with this model.
The power cord causes the issues related to moving it around.
Even though it is a tool that is light and easy to use, the motor and heat issues are reasons good enough to avoid this model.
Check current price on Amazon >>
Cons
Motor issues
Heat issues
Difficult power switch
Shop Now
---
#5. Ryobi RE180PL1G 2HP Plunge-Routing Tool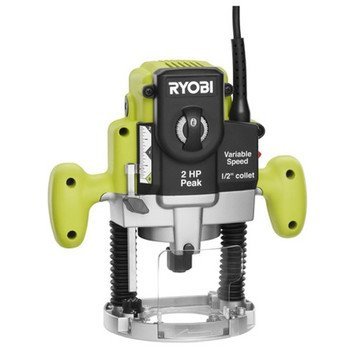 Check Price on Amazon
The Ryobi model is on the last place on the list, due to the fact that the only good thing about it is that the power switch is nicely placed.
No more positive reviews did we encounter.
After only a few hours of usage of this tool, its parts began vibrating off and even though they were tighten up again, they were constantly coming loose.
The springs are too strong and it cannot be pushed down with the handles.
In order to push it, you have to use your body weight and this is not what you expect from a plunge router.
Once the plunge lock vibrates off, it causes muscle strain holding it in place and you need to invest a lot of effort which causes fatigue.
Due to the overly stiff plunge springs, weak plunge lock, and small base, this model is best to be avoided.
Check current price on Amazon >>
Cons
Stiff plunge mechanism
Vibrating parts tend to become loose
Weak plunge lock
Base
Jerky plunge motion
Shop Now
---
---