People who work with wood know that a sander is a tool that you need to buy at certain moment to make your work more efficient and easier.
It is not only designed for a hardcore woodworker, but also for workers that do simple tasks at their households.
There are lots of jobs that require the assistance of a sander, and if you have made a decision to buy one, you need to be careful which one you are going to get.
Being that a palm sander makes direct contact with your workpiece you have to find a tool which will not damage it at any cost.
We are here to help you find both efficient and affordable palm sander available on the market.
Spoiler Alert - Check out my top choice here >>
Top Rated Palm Sanders for 2019
* Ratings are based on Editor's own opinion.
5 Best Palm Sanders Reviewed
#1. DEWALT DWE6411K 1/4 Palm Sander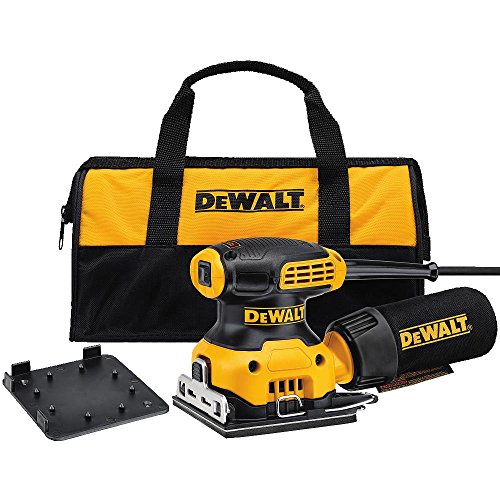 Check Price on Amazon
The DeWalt could not but make one more ideal tool.
Number one on our list is the DeWalt DWE6411K, according to the majority of uses the best hand sander on the market.
It deserves this position because it is comfortable, powerful, and easy to use.
The model boasts 3.2 amp motor which can reach up to 14,000 orbits per minute.
This means that users will get the powerful tool which can do a wide range of jobs.
The design of the DWE6411K is also attractive and considered very useful, as the tool is made for heavy use, but at the same time comfortable enough to be used for many hours.
What it also possesses is a heavy-duty paper clamp which is making your sanding material secure while you work on it.
The only disadvantage of this model is the dust bag, being that it lets a lot of dust out.
Not only will it make a mess, but also can be bad for your health, especially if you work long hours.
It is suggested to wear a mask while working with this tool.
Check current price on Amazon >>
Pros
14,000 OPM
2 Amp
Design
Heavy-duty paper clamp
Shop Now
---
#2. Makita BO4556K 4-1/2-Inch Palm-Sander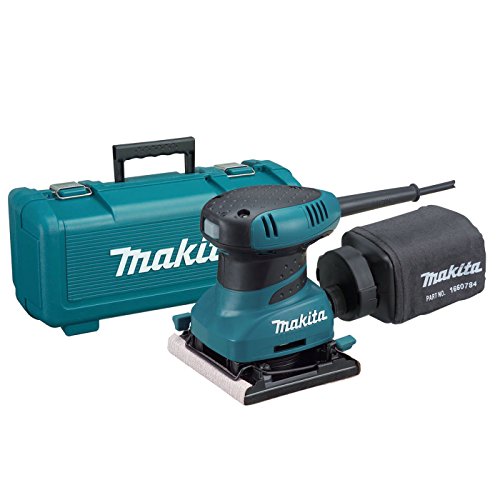 Check Price on Amazon
Makita, also a very well-known brand, famous for its great and high quality tools has made a palm sander which is quite similar to DeWalt's in terms of features.
It includes a tough build, an impressive 14,000 maximum OPM, and a nice and comfortable rubber designed to make users comfortable as they work with the tool for a longer period of time.
There is also a clever layout, being that the on/off switch is located in a place on the grip.
This enables the user to immediately deactivate the sander with the same hand he/she is working it with.
You will get a tool case which is both strong and big enough to store the tool and its accessories.
Being that the Makita is our runner up, there has to be something wrong with it.
This sander is expensive and users have noticed a problem with the clamping mechanism.
The clamps that hold the sandpaper are not secure causing uneven wearing and potential errors in your work.
Check current price on Amazon >>
Pros
Case
Rugged
Great Grip
14,000 OPM
Cons
Not secure clamps
Expensive
Shop Now
---
#3. BLACK+DECKER 5-inch Palm/Hand Sander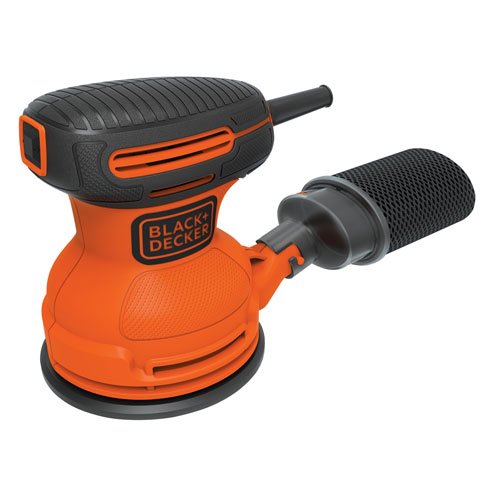 Check Price on Amazon
Now, if you are interested in getting a good palm sander and, at the same time, save some money, the Black and Decker tool would be ideal for you.
We claim that it is the best palm sander for the money, being that it has a fair price combined with an impressive performance.
We want to emphasize the great characteristic related to a design element of the tool's sealing.
The sander is designed so as to keep the dust out of the tool.
This makes its life longer and not only improves its durability but its efficiency as well.
What you get with this tool is the "hook and loop" paper changing system.
This makes the changing out of the sandpaper faster and easier.
As it is on the third position, we cannot but mention the two issues that users claim to came across while using this tool.
The first one is that the dust collection system does not work very well and makes a huge mess.
The second is the durability, as many users claimed that it only worked for around year and a half.
You do not want a sander that will not last for a long time if you plan to work with it frequently.
That is why we can say that the Black and Decker is a tool for beginners.
Check current price on Amazon >>
Pros
Price
Dust Seal
Paper Change is easy
Cons
Not quality dust collection system
Durability
Shop Now
---
#4. SKIL 7292-02 1/4 Sheet Palm Sander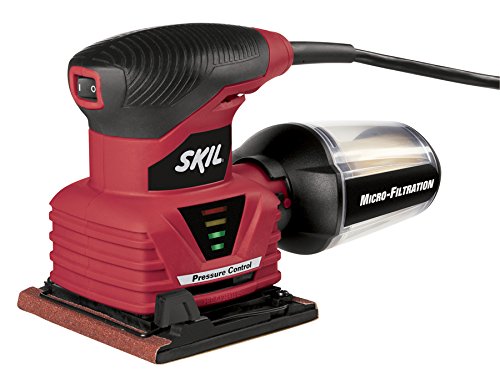 Check Price on Amazon
If your budget does not allow you to get a sander belonging to a higher quality category, you can think about the SKIL 7292-02 1/4 Sheet Palm Sander.
This is an affordable tool quite similar to the Black and Decker.
It features a dust seal, an easy paper changing system and a handy pressure sensor.
The sensor is there to inform you if you are pressing down too hard on your work surface.
If we speak about its weaknesses we have to say that its handles are flimsy and you have the feeling that they will easily break off and the dust collection system is not great.
This is due to the fact that the bag does not fit very well on the dust port.
We can conclude that this is also a tool for beginners.
Check current price on Amazon >>
Pros
Price
Pressure Sensor
Dust Sealed
Cons
Dust bag does not fit well
Flimsy build
Shop Now
---
#5. Hi-Spec DT40261 Palm Sanding Machine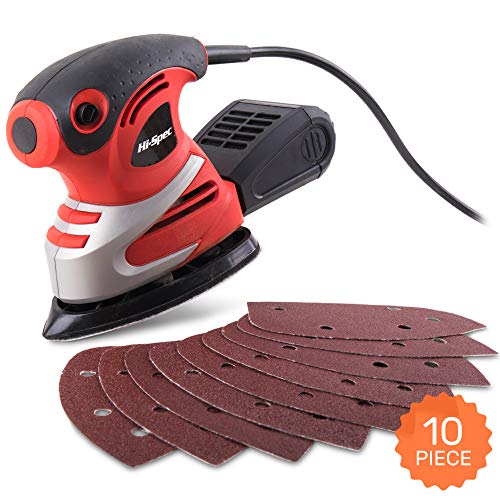 Check Price on Amazon
Even though it is the last palm sander on our list, we wanted to take a look at the Hi-Spec DT40261 Finishing Sander, being that it is an affordable option.
The tool features a powerful motor, able to generate 15,000 orbits per minute making it the most powerful of the above mentioned options.
However, in the case of palm sanders, speed is not of crucial importance.
This model has some weaknesses and one of them is the dust collection system which leaves a mess and the dust can affect the worker's health, it is difficult to change the paper, and it has an awkward interface.
A better option for rarely done small jobs is definitely the Hi-Spec.
Check current price on Amazon >>
Cons
User interface
Paper is difficult to change
Not quality dust collection system
Shop Now
---
---