As DEWALT has shown itself as an amazing power tool producer, we decided to make a list of Dewalt table saws with all the reviews to help you determine which one is the most suitable for your tasks.
To help you out, we have tested some of DeWalt's table, compare the users' reviews and made our buyers guide with all the necessary information related to this power tool.
We believe that after reading this article, you will be able make the smartest choice possible.
Spoiler Alert - Check out my top choice here >>
Top Rated DeWalt Table Saw for 2019
* Ratings are based on Editor's own opinion.
3 Best DeWalt Table Saw Reviewed
#1. DEWALT Table Saw DWE7491RS
Check Price on Amazon
Number one on our list is the DWE7491RS.
The reason why it is considered the best of the best is that it has the power to cut anything you throw at it.
It will even cut the really hard stuff, but little slower.
What you get with this tool is the power, accuracy, and attitude, and what is even better, the average person can afford it, which is not very common with DEWALT tools.
The tool is compact, so that it can easily fit into a tight workshop space and it would be easier to transport it.
We have to mention some of the negative comments on this tool.
The miter gauge is not well enough as it is flimsy, poorly-marked, and not very accurate.
Users claim that it is prone to popping out at very inconvenient times.
Our suggestion is to buy this unit, but get a compatible new miter gauge from a different manufacturer, so as to get the best of it.
Check current price on Amazon >>
Pros
Power
Built for small footprint storage
Usable for larger cut pieces
Shop Now
---
#2. DEWALT Table Saw (DW745)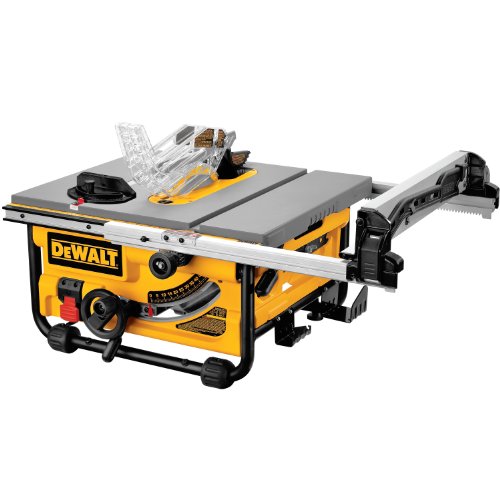 Check Price on Amazon
The second place is taken by the tool which is considered the best value for money.
It combines power and portability and is very similar to the DWE7491RS.
However, what makes it different is the rip capacity, being that the DW745 has a smaller one which affects the flexibility of use.
There is a difference in price between these models as well, and that is the reason good enough to make the DW745 our "best for the money" choice.
We can say that it is good, portable, powerful job site saw.
The rip capacity of this tool is 20 inches, compared to 32.5 inches for the DWE7491RS.
The DW745 has the same issues related to its miter gauge as our top pick.
Users cannot understand why such an amazing produced does not manage to fix it.
Check current price on Amazon >>
Cons
Bad miter gauge
Smaller rip capacity
Shop Now
---
#3. DEWALT Table Saw (DCS7485B)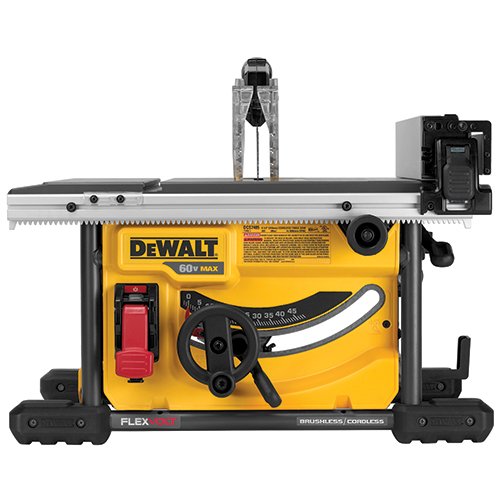 Check Price on Amazon
The last one on our list is the DCS7485B, which is a lightweight, portable, battery-operated model.
DeWalt has created a tool which will not be difficult to move, and at the same time, you will feel well while working with the DCS7485B as it is very quiet.
The disadvantages of this model are that it cannot do hard work for a longer period of time, due to the fact that it is battery powered.
You cannot expect too much from this unit to cut through, but you can upgrade the battery and improve the functionality of the tool.
Check current price on Amazon >>
Shop Now
---
---