No matter whether it will be used for small DIY project or some major and more demanding tasks, a rotary tool is extremely useful to have in your house.
It enables you to do sanding, cutting, polishing and more additional task in case your tool comes with a few attachments.
Not only is the tool versatile, compact and works at high speed, but is also very easy to use.
Now, you are wondering what the best rotary tool is that you can get.
The next step you should take is to explore the market and take a look at other user's positive and negative reviews.
As this research would take a lot of time, we decided to help you by offering you a list of the best rotary tool in combination with its advantages and disadvantages.
So, you can save time and effort and successfully chose which rotary tool is the most convenient for your needs.
Spoiler Alert - Check out my top choice here >>
Top Rated Rotary Tools for 2019
* Ratings are based on Editor's own opinion.
5 Best Rotary Tools Reviewed
#1. Dremel 4000-6/50 Rotary Tool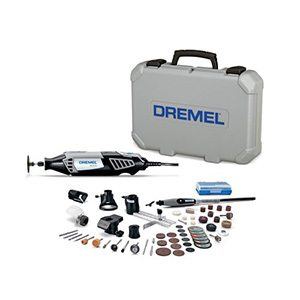 Check Price on Amazon
The model that deserves the first position is definitely the Dremel 4000.
Not only is it a high-performance rotary tool, but it also has accessories for every application that you can imagine.
It offers you the chance to do everything, from carving to cleaning, sharpening and sanding.
Its amazing features include the 1.6 amp motor producing speeds between 5,000 and 35,000 RPM with auto adjustment of the power and speed.
That way you get greater precision and control.
As there are numerous accessories, the changing of them is quick and easy due to the integrated nose cap wrench which simply twists.
The Dremel 4000 is compatible with all Dremel rotary tool accessories and attachments.
When it comes to comfort, producers have also thought about this, so they made a tool with a slim and ergonomic body with excellent grip.
And, when we take into consideration that this tool kit comes with 50 accessories and 6 attachments we can say that there is no better rotary tool when it comes to versatility.
If we speak about the weaknesses, there were a few comments on motors burning out and switches failing but this cannot diminish the quality of this unit.
Check current price on Amazon >>
Pros
Performance
Amazing accessories
Price
Cons
A few complaints on motor and switch faults
Shop Now
---
#2. DeWalt DW660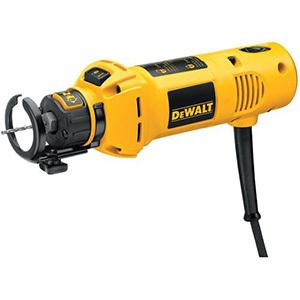 Check Price on Amazon
DeWalt thought about everything, as with every tool, and did its best to make the most efficient rotary tool possible.
The durable and compact design of the DeWalt DW660 is excellent when it comes to its usage in unreachable places.
The great feature of this model is the 5.0 Amp motor with its max speed of 30,000 RPM.
This is a huge power when cutting.
Its weight is only 3.2 lbs and it has the slim body design, making it an ideal tool for long hours of work, as it would not cause too much fatigue of your hands.
While you are working, the dust can enter the switches and that can cause problems.
However, with the DeWalt DW660 that would not be the case due to the dust-sealed switches.
You will not have trouble when changing bits, as it is designed to be fast with the tool-free bit change.
The reason why it is highly positioned on the list is the fact that the DW660 is the best rotary tool for the money, has excellent cutting ability, durability and a powerful motor. The only disadvantage is that the motor is too powerful, thus harder to be controlled.
Check current price on Amazon >>
Pros
Durability
Power
Excellent for cutting
Shop Now
---
#3. Dremel 4200-8/64 Rotary Tool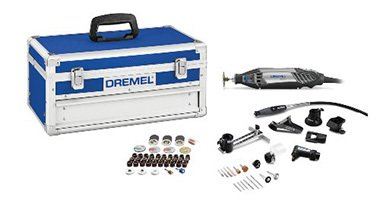 Check Price on Amazon
A rotary tool that offers great number of attachments and accessories is definitely the Dremel 4200-8/64.
77 pieces that come with this tool are surely worthy of your consideration.
You get a sturdy metal case so that you do not lose or damage the accessories.
When we speak about its outstanding features we cannot but mention the patented, tool integrated EZ change mechanism.
It makes changing accessories quick and convenient, without a wrench.
This mechanism sometimes struggles to hold the bits that have been attached, which was noticed by some of the users.
The Dremel 4200 has consistent performance, its motor is 1.6 Amp and variable speed allows for better overall control.
Its weight is 11.4 lbs due to the sturdy construction, so it is not among the lightest of the units available.
The comfort is achieved by an excellent grip all around the handle and an ergonomic design.
Check current price on Amazon >>
Pros
Accessories
Ergonomic design
Cons
EZ change mechanism
Weight
Shop Now
---
#4. Hitachi GP10DL Rotary-Tool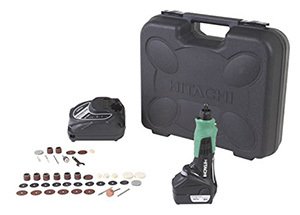 Check Price on Amazon
Two most important features of a rotary tool that Hitachi emphasizes is the comfort and control.
That is why they have created the Hitachi GP10DL model.
When it comes to comfort, it is achieved by the slim soft grip handle which will reduce hand fatigue.
Furthermore, the anti-vibration system also delivers comfort, as well as a greater degree of control.
The best of all the features of this model is the battery, being that the tool is powered by a 1.5 Ah Lithium-Ion battery, so that a prolonged usage and a very steady level of power is achieved.
The battery is light, so the overall weight of the Hitachi GP10DL is just 1.1 pounds, making it ideal for long hours work.
There is a variable speed dial which allows anything from 5,000 to 35,000 RPM.
The unit has a built-in LED light in case you work in dark areas.
As it is on the fourth place, there have to be some disadvantages.
One of the few disadvantages of the GP10DL has bad quality attachments.
Check current price on Amazon >>
Shop Now
---
#5. WEN 2307 Rotary-Tool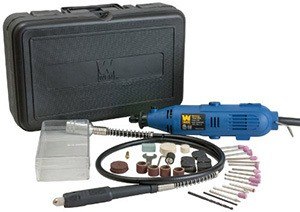 Check Price on Amazon
.Even though it is the last one on our list, The Wen 2305 is the number 1 best seller on Amazon.
This is a versatile rotary tool which can be used for many operations such as cutting, sanding, polishing and more.
It comes with the amazing 100-piece accessory set.
The Wen 2305 has a variable speed of 8,000 to 30,000 RPM which is easily adjustable.
It is not heavy, weighting 3.5 lbs making the long hours job easier to handle.
However, it is not the lightest of rotary tools on the market.
Another great thing about this rotary tool is that it is affordable and offers good quality for the money.
Besides the huge number of accessories and attachments available, we have to mention that they are not of the highest quality.
Some of the drawbacks are that the unit is getting too hot and sometimes overheats.
This is a tool for those people who are on the budget and cannot afford buying the more quality one.
Check current price on Amazon >>
Pros
Solid quality
Variable speed dial
Cons
Strong vibration
Occasional overheating
Shop Now
---
---