Trim routers are tools designed for both professionals and home users, and how powerful tool you will need depends on the size of project you are planning to do.
If you will do huge projects, investing in a quality trim router is considered a wise decision.
Every one of us wants to get a good deal when shopping and manufacturers tend to emphasize the products advantages and try to hide its shortcomings.
We know that you do not want to buy a tool that you will not be able to use, so we decided to make a list of the best trim routers and enable you to make a wise decision more easily.
What we also offer you is a buyer's guide, which is extremely useful for those who have never shopped for trim routers before.
Spoiler Alert - Check out my top choice here >>
Top Rated Trim Routers for 2019
* Ratings are based on Editor's own opinion.
3 Best Trim Routers Reviewed
#1. DEWALT DWP611 Compact Trim Router
Check Price on Amazon
DEWALT could not but make one more perfect power tool.
Our top pick when the trim routers are inn question is the DEWALT DWP611.
This tool is ideal solution for people who want to trim quickly and accurately.
It features a powerful 1.25hp motor, which enables you to do the job fast, while a variable speed control keeps the bit spinning at the same speed, even when comes tto different resistances.
This is considered great as it makes it easy to do complex cuts or change between different kinds of wood.
What you get is the soft-starting motor, being that the producers thought about safety and comfort.
Users really appreciate a pair of bright LEDs and a clear sub-base.
This means that when you do the trim work, you will see better.
The negative sides of this tool are that it is a bit heavy, but some people find it as a good thing, as there will be a good amount of resistance as you move it and less mistakes.
However, the truth is that you will wear out your hands and arms faster.
All in all, this is definitely the best compact routers on the market.
Check current price on Amazon >>
Pros
Powerful
Variable speed control
Soft-starting
LEDs
Shop Now
---
#2. Makita RT0701C Trim Router
Check Price on Amazon
The Makita RT0701C comes as a second best.
This tool is ideal for shopper who is also looking for a powerful and precise router, but do not want to spend a fortune on it.
You will get variable speed control, allowing you to set the speed to the task at hand.
Additionally, the tool has electronic speed control so that the speed will remain where you set it.
A soft-starting motor that the unit has is considered good when it comes to safety and comfort.
The Makita RT0701C has powerful motor packing in 1.25hp.
Furthermore, you will get a very precise depth adjustment on this model for the exact cuts without worrying too much about mistakes.
Now, the shortcomings.
This model has the plunge base which is not compatible with standard templates,.
This means that you will need to spend some extra money to get an adaptor.
We can say that this is a great router for trim work, that can be gotten at a low price.
Check current price on Amazon >>
Pros
Variable speed control
Precise depth adjustment
Soft-starting
Power
Shop Now
---
#3. Bosch Colt PR20EVS Palm Trim Router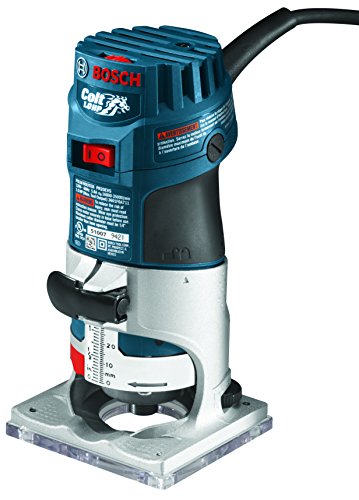 Check Price on Amazon
Number three on our list is the Bosch Colt PR20EVS – a model worth considering if you want to get a router with a straight-edge guide.
This model's edge guide can guide the router parallel to the edge of a piece up to 3-5/8-inches away from the edge which is considered even too much and it will give you the ability to make more complicated and beautiful cuts.
The tool possesses a 1hp motor, precision depth adjustment, so that you can set the proper depth easy and quick and fast and easy bit changes.
This feature is something that you should always be looking for in a router, being that the job will be done quicker and with less frustration.
If we have to mention some negative sides of this model, we have to say that it comes without a plunge base, meaning that you will have to purchase a compatible one separately which causes additional expenses.
There is also finicky speed adjustment that does not hold as consistent as the other models.
This model is something you should get only if you need an edge guide and do not mind paying extra for a plunge base.
Check current price on Amazon >>
Pros
Power
Straight-edge guide
Precise depth adjustment
Fast bit changes
Cons
Lacks plunge base
Poor speed adjustment
Shop Now
---
---