In the woodshop, where workers tend to dry their own wood, wood moisture meters are essential.
The drying of wood can be troublesome if you cannot find the moisture meter that is right for your project.
What you need to do before shopping, is check the features and qualities of the device.
That is why we have created this article, with all the tips and tricks related to wood moisture meters and their specifications.
The aim is to help you easily solve this challenging problem by taking a look at the users' reviews of the best moisture meters for wood currently available on the market.
Spoiler Alert - Check out my top choice here >>
Top Rated Wood Moisture Meters for 2019
* Ratings are based on Editor's own opinion.
5 Best Wood Moisture Meters Reviewed
#1. Wagner Meters Orion 910 Wood Moisture Meter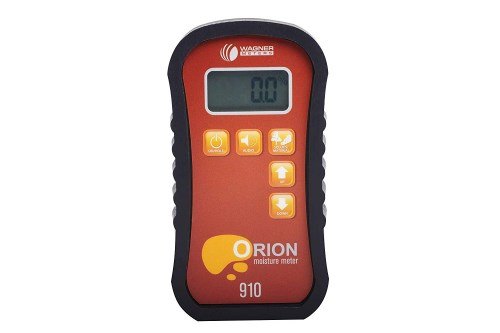 Check Price on Amazon
Number one on our list, upon quality and features consideration, is the Wagner Orion 910.
This excellent model is designed for people who are in need of the most accurate results.
Many people might think that the design of this model is a little bit out of date, as it has not been changed in years, but the producers are satisfied with its performance, which is of the vital importance.
So, why should they change something that is famous for its efficiency?
The great feature is that it is a contactless moisture meter, meaning that the inserting pins into the wood is not necessary.
What you need to do is to lay the meter on the wood.
Being that it is a very precise meter, it can measure moisture content in .1% increments.
Furthermore, it would save you a lot more time, as it works faster than pin meters.
What is even better, it can be used with all kinds of woods and can scan down .75-inches, giving you a more accurate representation of the moisture content at the center of the wood.
The only disadvantage is that it is difficult to learn how to use it.
Check current price on Amazon >>
Pros
Contactless
Fast
Can be used with all woods
Deep measurements
Shop Now
---
#2. Lignomat Mini-Ligno E/D Wood Moisture Meter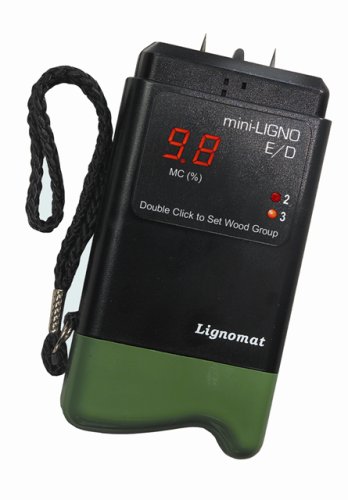 Check Price on Amazon
The second best on our list is the Lignomat Mini-Ligno E/D.
It is not a contactless, as our top pick, but a pin moisture meter.
In this category, the Lignomat Mini-Ligno E/D is incomparably the best.
When we compare the price of the Wagner pinless meter and this model, what you will notice is that this model is a good choice if you are not ready to give such an amount of money for the Wagner pinless meter.
Its great characteristics are that this model can measure from 6% to 45% moisture content, in increments of .1%.
This data proves the fact that it is very accurate.
In order to measure, you will have to insert pins into the wood and the device comes with 3/16" and 7/16" pins.
The difference in pins is due to the fact that the wood of various thicknesses would require different pins for inserting and reading.
Unlike the first on our list, this model is very easy to operate.
However, it comes with only two settings and can be applied only to domestic, American woods.
Another weakness is that pin meters leave little holes in the wood after the measurement, which has a huge impact on the price.
Check current price on Amazon >>
Pros
Wide measurements
3/16" or 7/16" measurement depth
Easy to use
Price
Cons
Only can be used for domestic species
Shop Now
---
#3. General Tools MMD4E Moisture-Meter for Wood
Check Price on Amazon
When we speak about more models belonging to the category of pin moisture meters, we cannot but mention the General Tools MMD4E pin moisture meter.
This device is designed for people who need ballpark readings but at the same time, do not want to spend too much on it.
Its price is three times lower than the one of the second model on our list.
If we take a look at its advantages, we have to mention the best thing related to it – it is not designed only to work with wood.
The producers created a drywall measuring function which enables you to measure the moisture of subflooring.
Additional advantage is a bright, easy-to-read display.
On the other hand, there have to be some drawbacks, so that we put it on the third place.
The first problem is inaccuracy, as this model manufacturers state that it is within ±3%. So, the device is good enough if there is too much water, but it is not usefeull for drying wood.
If your device shows 10% water, but it actually is 13% water, your flooring would crack and split as it dries.
If accuracy is not of crucial importance for you, this model is certainly worth buying.
Check current price on Amazon >>
Pros
Price
Can be used for drywall and subflooring
Display
Shop Now
---
#4. Sam-Pro Tools Dual Moisture Meter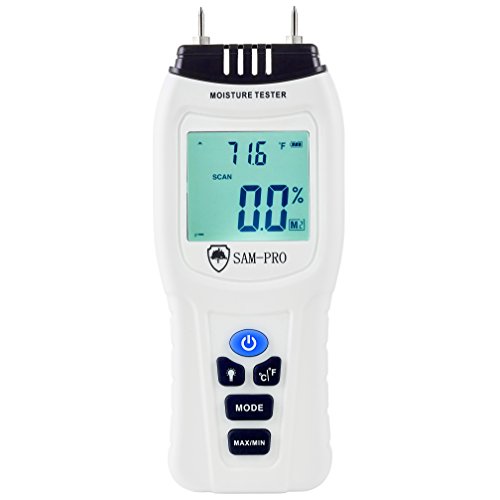 Check Price on Amazon
The Sam-Pro Tools Dual Moisture Meter takes the fourth place on our list and this device is designed for people who need an outstanding measurement range.
Being that it can measure between 0% and 70% moisture, it makes it the most efficient of all the other moisture meters.
Its additional advantage is that it can be applicable to any kind of wood, fiber boards, particle boards, and even concrete.
The device is the most versatile moisture meter on the market so it can be your only choice if you are working with different kinds of materials.
Furthermore, it measures temperature which is great for tasks that involve drying.
Its accuracy is not the best one, but at the lower range, this device is immaculate.
There is a safety cap which is difficult to remove and can be annoying, but all the advantages make it a model worth consideration.
Check current price on Amazon >>
Pros
LCD screen
Can be used for 4 material groups
Wide measurement range
Shop Now
---
#5. General Tools MMH800 Woodworking Moisture-Meter Tool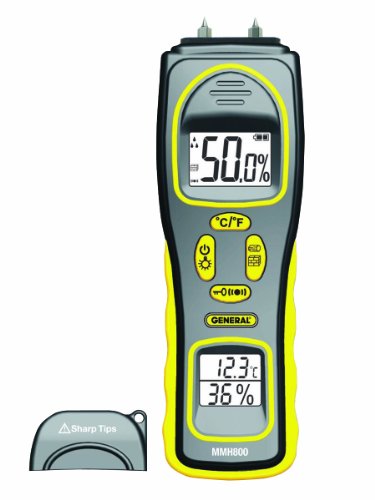 Check Price on Amazon
Last, but not the least on our list is the General Tools MMH800.
This device is interesting, dur to the fact that it is both a pinless and pinned meter.
Users are able to choose which means of measurements to use depending on what makes the most sense at the time.
This kind of versatility would not be found on more expensive models.
Additionally, all the readings are recorded, so you do not need to write down the result if you do not have a chance to do it and can reference them later.
The downside of this meter is that it is unreliable.
Just saying whether the wood is wet or dry is inaccurate and unacceptable for serious wood workers.
The device has a poor-quality control and it can get stuck making you unable to get any reading at all.
Being that it is not the cheapest model and its quality is not satisfactory, you should take a look at a better moisture meter even though you will need to spend slightly more.
Check current price on Amazon >>
Pros
Dual pin and pinless
Possibility to save readings
Cons
Price
Reliability
Poor quality control
Shop Now
---
---