People who are already using shop vacs know that many of them are huge machines that they just do not have space to store.
However, the things have changed.
Nowadays, there are numerous smaller shop vacs that are suitable for home use.
If you want to shop for these products online, you might find out that manufacturers will tell you everything that is good about their products and would miss what is wrong with them.
But, with our reviews and buyer's guide, your chances of making a well-informed decision are higher.
We have gathered the list of reviews of the best mini shop vacs with all the pros and cons of each model.
You will be walked through everything you need to know about these products before you buy.
Spoiler Alert - Check out my top choice here >>
Top Rated Small Shop Vacs for 2019
* Ratings are based on Editor's own opinion.
5 Best Small Shop Vacs Reviewed
#1. Vacmaster VFB511B Mini Shop Vac 0201 Beast Series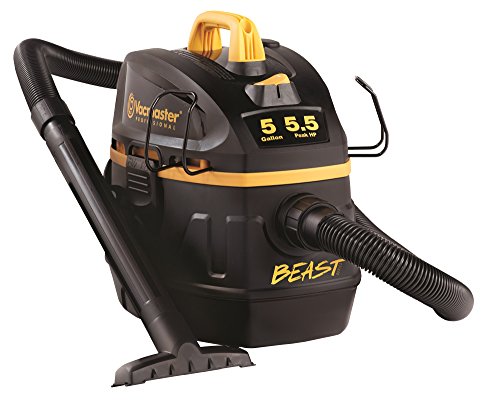 Check Price on Amazon
The Vacmaster VFB511B 0201 Beast Series is really a beast as its name suggests.
This shop vac provides up to 102 CFM and up 82.6 inches of water lift.
This is ideal for cleaning up wet and dry places.
Users appreciate having a long reach, as the power cord is 18 feet long, and the hose adds seven feet.
What you get with this unit is a lot of accessories, such as a car nozzle, crevice tool, extension wand, filters for dust and water and a noise diffuser.
This powerful machine deserves the first place as it only weighs 13.5 pounds, it is easy to move around the place.
The only drawback of this model is that it does not come with any wheels.
But, being that it is light, you can carry it around without too much trouble.
We assure you that this is the best small shop vac on the market today.
Check current price on Amazon >>
Pros
Suction
Long reach
7-foot hose
Accessories
Shop Now
---
#2. Shop-Vac Small 2030100 1.5-Gallon
Check Price on Amazon
Our runner up is the Shop-Vac 2030100 1.5-Gallon, a unit which can be mounted on the wall.
This is one of very few models at this price which can boast that feature.
You can get this machine for a half price of our top model, we can just say that it is the best value for the money model on our list.
Its weigh is only six pounds, you can carry it around easily and without much fatigue.
You also get a hose, and it is important to point this out – this model only comes with a four-foot hose, unlike our top pick which offers a seven-foot one.
Now, we need to speak about some disadvantages as well.
The biggest problem is that this unit lacks onboard hose or accessory storage.
The included hose cannot be secured on the model while in transit and you will need to hold the hose with one hand while carrying the unit with the other.
When the price is in question, you cannot find a model that works this well.
Check current price on Amazon >>
Pros
Wall mountable
Light
Hose
Affordable
Shop Now
---
#3. Stanley SL18123P Mini Shop Vacuum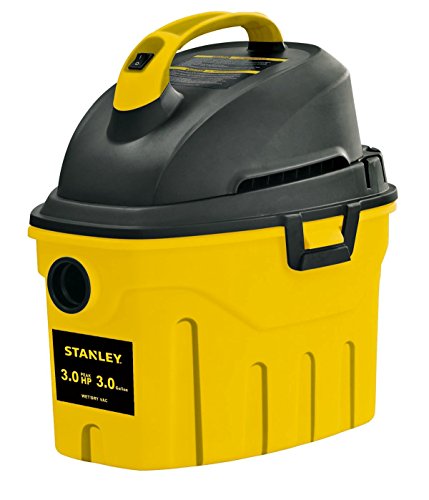 Check Price on Amazon
The Stanley SL18123P works well if this is the only thing you expect out of your shop vac.
Let's start with advantages.
A good suction makes it ideal for cleaning out cars and cleaning up major water spills.
A three-gallon tank allows you to clean for a significant amount of time without stopping to empty out the unit.
A four-foot hose comes with the machine so you do not have to buy it and have additional expenses.
On the other hand, the weight of this model is eight pounds, which is 60 percent more than the previous model.
Furthermore, it does not have great overall part quality.
Being that it is very cheap, you cannot expect it to last forever.
Check current price on Amazon >>
Shop Now
---
#4. Armor All 2.5 Gallon AA255 Compact Shop Vac
Check Price on Amazon
The Armor All 2.5 Gallon AA255 shop vac is designed for small and simple tasks.
Being that it is small and cheap, you cannot expect it to be used for heavy duty tasks.
This tool can be a good choice for cleaning out cars, as it comes with a 2.5-gallon tank, able to store a lot of debris or water.
Furthermore, you will get a six-foot hose, which is longer than those that come with more expensive models.
Now, we have to mention that the tool comes with the shorter power cord, only ten feet long meaning that you will need to be near an electric outlet or have an extension cord handy to use this model.
What people like about this model is that it is cheap, but they have to know that the low price comes with the poor quality control.
What users have noticed is that the tool randomly turns off, the accessories fall off the hose and it is underpowered.
This means that serious cleanup jobs cannot be done with this tool, but if you are doing light work, you will be satisfied with this model's performance.
Check current price on Amazon >>
Cons
Short power cord
Poor quality control
Shop Now
---
#5. VViViD REV Small Shop Vacuum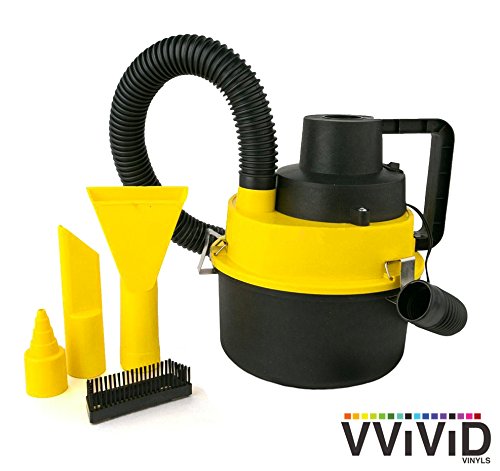 Check Price on Amazon
The last one on our list is the VViViD REV Mini.
This device is designed for car cleaning projects.
What makes this model good is that it uses at 12-Volt adapter to get its power.
Now, you are wondering what that means.
Actually, you can plug it into a cigarette lighter in your car, but you will not be able to use it with a standard power outlet.
The price of it is overall very low, and you cannot expect too much from it.
You will get a three feet long hose, which may be just enough to use in your car, but the majority of users will claim that this is a short hose.
The suction is not great so you can use it only for the lightest cleanup.
Users claim that this tool can lead to a frustrating experience and you do not want to be unsatisfied with your purchase.
Check current price on Amazon >>
Shop Now
---
---