Many people do not consider having mini mills at home, being that they are quite expensive investment,.
A mini mill is an industrial-style machine and having those capabilities at home can be a huge advantage, if you are into that field.
Mini mills are designed to take a piece of raw scrap and turn it into a useable part.
They possess the great power to do such a heavy tasks, but at the same time are quite expensive.
Being that they can cost hundreds or thousands of dollars, making the right decision about which one to buy would be of crucial importance.
So, we are offering you a pretty detailed review of the best mini mills available on the market, while making a strong emphasis on what makes a good mini mill.
Spoiler Alert - Check out my top choice here >>
Top Rated Mini Mills for 2019
* Ratings are based on Editor's own opinion.
5 Best Mini Mills Reviewed
#1. JET JMD-18 350018 Mini Mill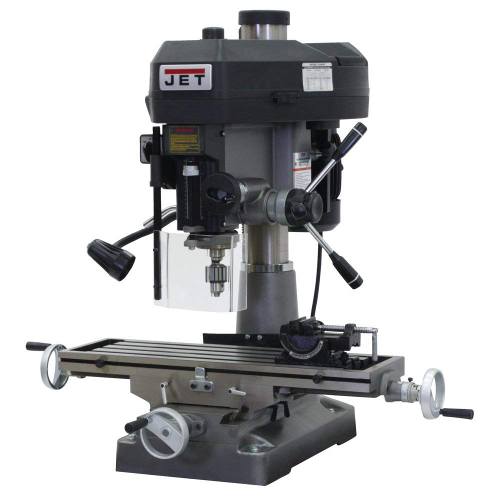 Check Price on Amazon
Number one on our list is the JET JMD-18.
If you are looking for an excellent mini mill and your budget is not a limitation for you, this is the right solution.
Besides having the largest worktables on the market, which is very positive thing as you will be able to work with larger pieces, it is also the most powerful machine with 2 horsepower.
The fact that it has extra power means that you will be able to make much faster cuts, thus saving you a lot of time.
The extra power can also be used to make bigger bits, reducing the number of operations.
Additional excellent feature is that the speed can be set in 12 increments from 15 to 3,000 RPM.
This means that you will have the control that is not that great with other machines.
The only complaint about this tool is that you will sometimes need to rezero it before making your next cut.
Check current price on Amazon >>
Pros
Large table
Power
RPMs
Light
Cons
Vertical moves require rezeroing
Shop Now
---
#2. Grizzly G0704 Mini Milling Machine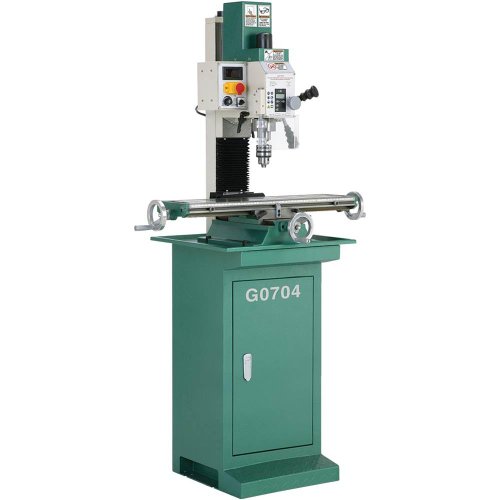 Check Price on Amazon
The second best is the Grizzly G0704.
Unlike the JET, this tool has 1 hp, a smaller table and a smaller range of RPM, which goes from 50-2250.
It is true that this model is not as great as the top pick, but it is still above-average for the other models available.
The Grizzly is a really good quality machine which is less expensive than the JET.
Furthermore, it has features which are not found on other models, such as a safety shut off switch and a clear guard on the spindle.
This safety features prevent getting hurt with dangerous chips that get launched across your shop.
The only weakness is that its drilling is not that great as with other machines, and this is attributed to some plastic gears which can be replaced, but people would rather not to deal with it.
Check current price on Amazon >>
Pros
Powerful
Large table
Safety
Shop Now
---
#3. Erie Tools ETD-SM-MILL Small Mill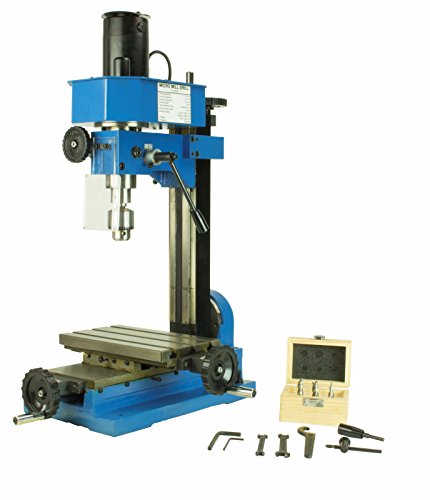 Check Price on Amazon
If you are looking for a less expensive, but still worth considering mini mill, then the Erie Tools ETD-SM-MILL is the best value.
You cannot expect to have as much power as the first two models on our list being that it is significantly cheaper, but there are some great characteristics of this tool as well,
Its RPM is up to 2000, meaning that the job will be done efficiently, but the time necessary to be finished will be longer.
This machine can do both drilling and milling and includes important safety features, which users find very positive and important.
Those features include a clear spindle guard and a safety shut off switch to protect you from dangerous chips.
One of its drawbacks is that it possesses smaller tables than other models on the list, but it is still considered the best value for money as it comes with a more reasonable price than more powerful mini mills.
Check current price on Amazon >>
Pros
Powerful
Useful for drilling and milling
Safety
Shop Now
---
#4. Klutch 2706S009 Mini Mill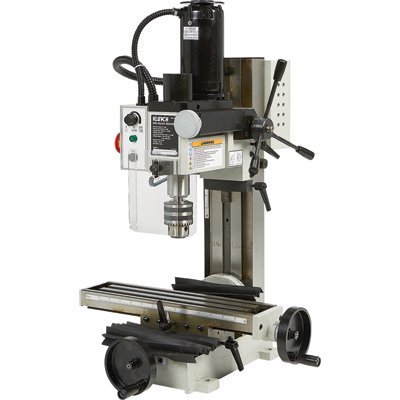 Check Price on Amazon
As we go down, the least quality products are listed.
The fourth position is given to the Klutch 2706S009.
This is a low-vibration mini mill, making you quite sure that your alignment is correct when making cuts.
Unfortunately, this is the only positive thing related to this machine.
It does not have much power, so some heavy-duty tasks would be impossible to do with this unit.
If you do some less demanding projects, it would take much more time than with a better machine.
Furthermore, what the Klutch mini mill lacks is the low end of RPM, starting at 100.
What users found bad with this unit are some speed control issues and that it comes with cheap, low-quality chucks.
All in all, there are much better models to consider than this one.
Check current price on Amazon >>
Cons
No low RPM
Bad included chucks
Speed control problems
Shop Now
---
#5. Proxxon 37110 Portable Mill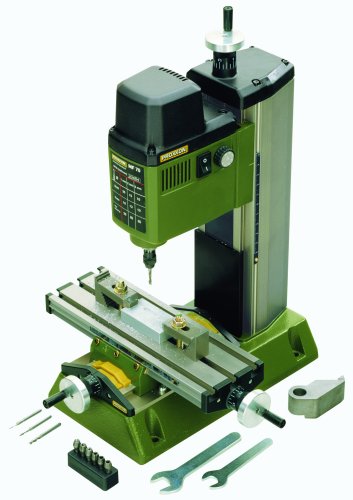 Check Price on Amazon
Last, but not the least is the Proxxon 37110.
Some users call it a "micro mill" which is found to be very accurate.
It is true that the smallest table would make you struggle with some larger pieces, so if you are planning to do the greater size projects, maybe this is not the ideal one for you.
What is very attractive is that it is the cheapest model on our list.
The higher price sometimes means the better quality, and this is the case with this product.
Being that it is cheap, it comes with some serious problems.
The Proxxon 37110 has vibration issues, causing problems with precision.
The wheels used to adjust the table are of poor quality so you would have to be very careful when making your cuts.
This is not the mini mill that you should consider buying, even if your budget is limited.
Check current price on Amazon >>
Cons
Vibration
Size
Imprecise
Small table
Shop Now
---
---