Firstly, sanders have been popular for bar tops, but throughout the years of use the sander next found itself resurfacing desks for schoolchildren.
Nowadays, the sander is popular both with woodworkers and luthiers – craftsmen who make instruments.
No matter if you are a professional or a hobbyist, you might need this amazing tool in your workshop.
But, prior to buying it, be sure to read our reviews and buyer's guide to help you find the right drum sander which will both suit your needs and budget.
Spoiler Alert - Check out my top choice here >>
Top Rated Drum Sanders for 2019
* Ratings are based on Editor's own opinion.
5 Best Drum Sanders Reviewed
#1. Powermatic PM2244 Drum Sander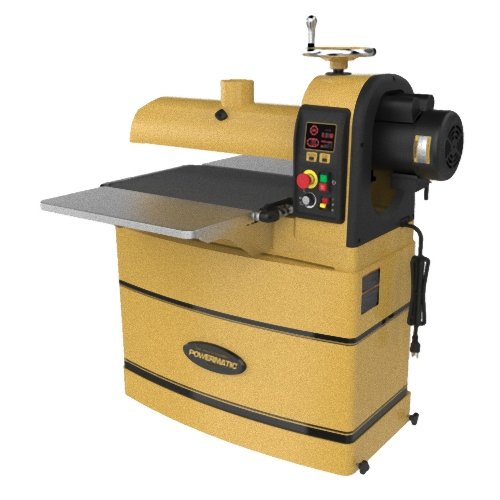 Check Price on Amazon
The first sander on our list is the Powermatic PM2244.
If you are able to afford it, you cannot find better one, as this is such a great machine which comes with a 1.75HP motor and a 22" drum.
You will be able to put pieces up to 44" through here which are up to 4" thick.
Furthermore, what you get with it is a digital depth display, meaning that you will be able to measure out to the thousandths of an inch, for maximum precision.
Also, you will get a digital readout on feed rate as well.
This machine would arrive assembled with wheels.
Setting it up is so easy that you will be able to start working with it in less than 15 minutes.
This is a drum sander for serious workers which will do satisfying job when the large-scale woodworking is in question.
Check current price on Amazon >>
Pros
Digital readouts
Handles both large and thick pieces as well as small and thin wood
Can be used as a planer
Easy set-up
Shop Now
---
#2. JET 649003K Drum Sander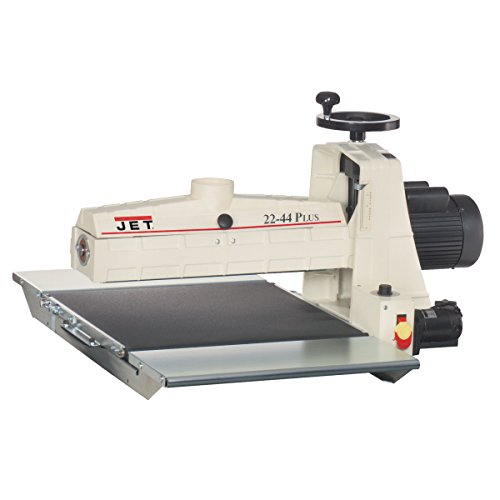 Check Price on Amazon
The JET 649003K is very similar to our first choice.
The device has 1.75HP motor can also handle wood up to 44" wide and from 4" down to 1/32" thick.
There is auto control of the variable feed rate designed to make sure that your dander will not over-work.
Being that it is a benchtop sander, it is smaller and lighter.
What makes it even more attractive is that it comes with a noticeably lower price tag.
This JET sander has two drawbacks noticed by the users.
Firstly, it lacks the digital readouts and the in and outfeed tables are difficult to take off and put on.
Still, we assure you that this can be a perfect sander for both professionals and hobbyists.
Check current price on Amazon >>
Pros
Lower price
Smaller
Lighter
Can handle large or thin wood
Shop Now
---
#3. JET 628900 Mini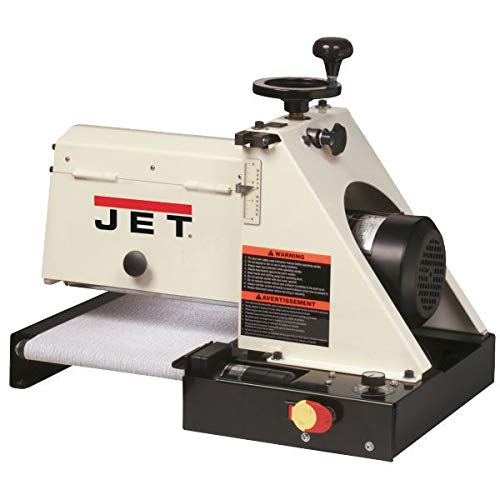 Check Price on Amazon
JET has to offer one more model which deserved the third place on our list.
It is the JET 628900 Mini.
Again, this is a benchtop model and as its name suggests, it is smaller, lighter, and cheaper than other drum sanders mentioned above.
The tool is designed for hobby woodworker, being that it can handle wood up to 20" wide and 3" thick.
When the disadvantages are in question, we have to mention that the sandpaper can be difficult to change, the conveyor belt is a little quirky, and it shuts off.
It is true that this is a very cheap drum sander, but it is not suggested for professional use.
Check current price on Amazon >>
Pros
Affordable
Smaller
Lighter
Can handle thin sheets
Cons
Sandpaper changing is difficult
Conveyor belt might demand extra TLC
Auto shut-off
Shop Now
---
#4. SuperMax 19-38 Drum Sander Tool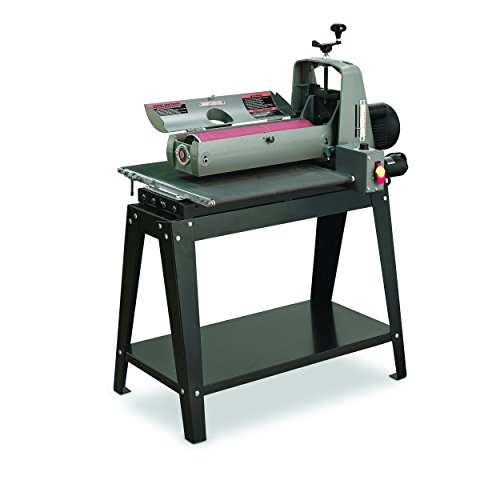 Check Price on Amazon
Number four is the SuperMax 19-38.
It is a huge drum sander, coming with nearly 4'x5' and over 300 lbs.
The first thing that users noticed about this device is the difficult set up, which will take a long time and require two people.
Furthermore, you will have to add your own wheels since it does not come with any.
The positive side of it is the digital depth indicator.
The wood feed rate is automatically slowing to a crawl.
However, users are frustrated by burn marks showing on your wood and the professionals are not satisfied with the performance of this machine.
Check current price on Amazon >>
Pros
Digital depth indicator
Affordable
Cons
Difficult set up
Bulky
Heavy
Auto-slowing 
Shop Now
---
#5. Grizzly G0716 Drum Sander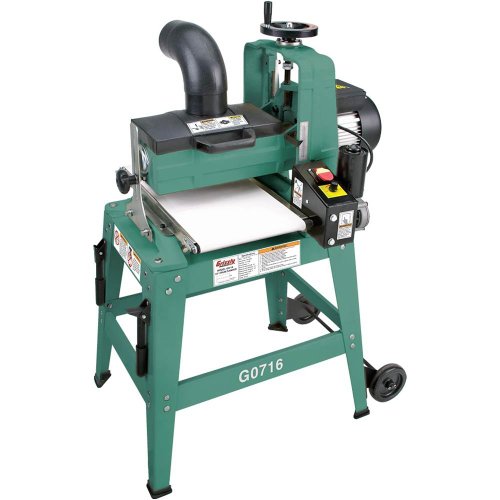 Check Price on Amazon
The last one on our list is the Grizzly G0716.
It has 1.5 HP motor which is designed so as to handle boards up to 9.5" wide and 3" thick.
We have to say that this tool is not suitable for veneer or instrument projects.
First, the weaknesses.
The device is heavy and only offers manual control of its variable speed conveyor belt.
You will get a stand, which is unexpected at this price point, but users complain that it is too short.
Besides being dissatisfied with its height, everyone is frustrated by the sandpaper changing which is quite a challenge.
We can conclude that even the people who plan working with it occasionally in their basement have no reason to buy this sander.
Check current price on Amazon >>
Cons
Minimum thickness of ¼"
Stand is too short
Sandpaper changing is difficult
Shop Now
---
---