The experienced workers know when they should use a pin nailer and when a brad nailer is the ideal solution.
Pinners are used in cases where glue would be used to join two pieces of lightweight wood together.
The pins are ideal being that there are no heads and they become virtually invisible on the surface after it is painted or treated.
Now, as we know that determining which pin nailer is the best for you can be troublesome, we have done the research which included the examination of the various models and made this list of reviews to help you make the right decision.
Spoiler Alert - Check out my top choice here >>
Top Rated 23-Gauge Pin Nailers for 2019
* Ratings are based on Editor's own opinion.
5 Best 23-Gauge Pin Nailers Reviewed
#1. Hitachi NP35A Pin Nailer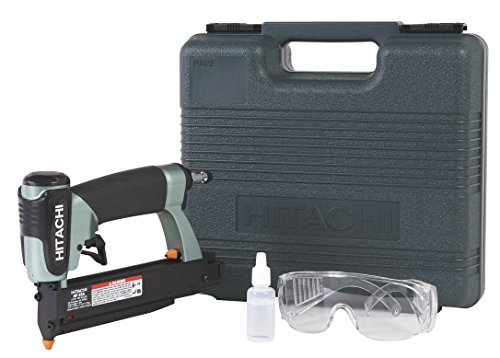 Check Price on Amazon
When we speak about the best of the best, we concluded that our top pick has a lot to show.
This is this two-pound Hitachi pin nailer which offers the effortless pin loading, which does not jam and is comfortable to hold and use.
Additionally, it comes with a good range of fasteners that you can use.
Plus, you get a nice dual trigger safety and the rear exhaust port which directs oil and other debris away from you.
The users say that the wrench for making depth adjustments is stored right on the tool.
This is considered ideal as you will not have to hunt around for it prior to the depth change
The manufacturer offers five-year warranty and you can be sure that buying this model would not make you regret.
The result is a pin nailer with little or no impact, great flush pinning, and hardly any marring of the material.
What we did not like about this model is the case which looks good but is very cheap and flimsy.
Besides this, this nailer is definitely the winner.
Check current price on Amazon >>
Pros
Dual trigger safety
Five-year warranty period
Light
No jams
Great
Shop Now
---
#2. BOSTITCH HP118K 23-Gauge Pin Nail Gun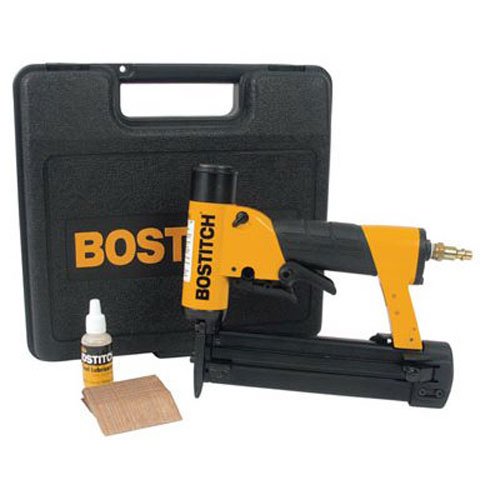 Check Price on Amazon
We will compare our second best with the Hitachi pin nailer.
The Bostitch model is light and comfortable to hold and use.
Just like our top pick it does not jam, has a dual trigger safety and uses a wide range of pins.
The warranty period is even better, as the manufacturer offers the seven-year warranty for the Bostitch model.
The reasons why this tool is not our top pick has to do with marring and countersinking.
Few pin nailers come with non-marring tips because of their bulky sizes.
It was harder than it needed to be to keep from marring the material.
Plus, it would not countersink pins in hardwoods such as oak and maple.
The differences between our top two picks are not so huge and both models can be said to be excellent choice.
Check current price on Amazon >>
Pros
Dual trigger safety
Light
Seven-year warranty period
Nice case
Belt hook
Cons
Leaves marks on softwood
Bad countersinking on hardwood
Shop Now
---
#3. Freeman PP123 23 Gauge Pin Nailer
Check Price on Amazon
The third place is taken by the Freeman pinner.
The positive sides of this pinner are that it weighs only three pounds, it is small, easy to use, and the manufacturer offers buyers a seven-year warranty.
What users like about this model are the reversible belt hook and the pin size selector switch.
The reasons why this model is only the third one are numerous.
Firstly, it does not have a wide range of pins, only 1/2″ to 1″.
And it is always good to have options no matter what you are doing.
The trigger safety works, but it has to be rotated to the side.
This results in no safety at all.
It is prone to jams more than it should be.
There were situations when it shot double nails or missed them.
You do not even get the case, so the storing of it is requires additional investment.
The only positive thing about this model is the price.
Check current price on Amazon >>
Pros
Amazing seven-year warranty
Reversible belt hook
Pin size selector
Cons
Awkward safety
Shoots double nails
Prone to jamming
Shop Now
---
#4. NuMax SP123 Pin Nail-Gun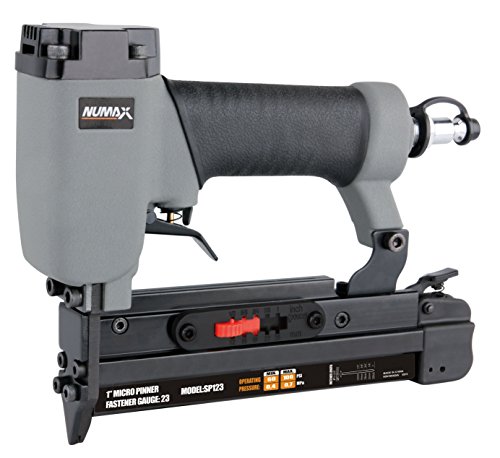 Check Price on Amazon
The NuMax SP123 Pin Nail-Gun uses 1/2″ to 1″ pins.
It has a reversible belt hook and rotating trigger safety, along with a decent pin size selector and these are all amazing features.
The negative sides are numerous.
Firstly, buyers get only a one-year warranty on the gun body and 30 days on wearable parts.
This is not satisfactory and proves that the company has no faith in this tool.
Secondly, the firing pin is prone to jamming and breaking.
Even though so many users have been complaining on this issue, NuMax is not willing to fix this.
Finally, the tool misses and shoots double nails which user claim that is happening right out of the box.
If you buy this model, you will feel very disappointed.
Check current price on Amazon >>
Pros
Reversible belt hook
Light
Cons
Awkward safety
Warranty
Firing pin sticks and breaks
Jamming
Shop Now
---
#5. Makita AF353 Pinning Nailer
Check Price on Amazon
We have expected much more from Makita, but it seems that they failed to make a good product when it comes to gauge pin nailers.
There are not so many positive things to be said about this model.
A good thing about it is that it is light weight.
Users also said that the case was good, but that is not enough to make this model better positioned.
The tool is prone to jamming which is a huge problem with pinners.
Those who used it claim that it jams the first time out of the box.
Pins are not shot correctly and it has an internal problem with the plunger breaking down.
Makita offers a three-year warranty on this pinner, but what they need to do is to improve the design flaws.
We suggest that you avoid this model, as you will only be wasting your time and money.
Check current price on Amazon >>
Cons
Prone to jamming
Do not shoot pins correctly
Missed pins
Bad pin feed
Plunger breaks
Shop Now
---
---