If you are person who is doing woodworking, you are aware of the importance of having a good clamp, especially when gluing wood together or holding something down so you can safely work on it.
As you are reading this, you probably have dilemma which model is right for you.
And, we assure you that you are at the ideal place, as we are not going to speak about the products' best features, but would emphasize its disadvantages so that you can know which one is not suitable.
A well-informed buyer will be able to choose the ideal tool and we hope that you will use these reviews to find a model that suits your needs.
Spoiler Alert - Check out my top choice here >>
Top Rated Woodworking Clamps for 2019
* Ratings are based on Editor's own opinion.
3 Best Woodworking Clamps Reviewed
#1. Bessey 2.5-Inch Clutch Style Woodworking Clamp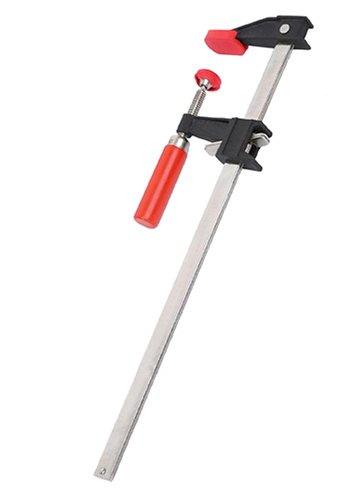 Check Price on Amazon
The best of the best woodworking clamps is the Bessey GSCC2.524.
This is a 2.5-Inch clamp designed for people who value quality but do not want to spend too much either.
You will get a tool with a sturdy cast-iron frame and great protective pads, which keep the clamp from scratching your project.
With the 24-inch clamping range the woodworker will be able to deal with medium-to-large pieces of wood.
Furthermore, they will be kept secure during heavier cuts or other intense processes.
What users appreciate much about these clamps is that they are easy to use and quick to reposition.
The little time is spent on assembling them, and you can immediately start your business.
We have to mention that these are not heavy-duty clamps for industrial work, but the very efficient tool which should be included in woodworker's collection.
Check current price on Amazon >>
Pros
Cast iron frame
Protective pads
Clamping range
Easy to use
Cons
Not designed for heavy duty
Shop Now
---
#2. IRWIN Tools Quick-Grip Wood Clamp Set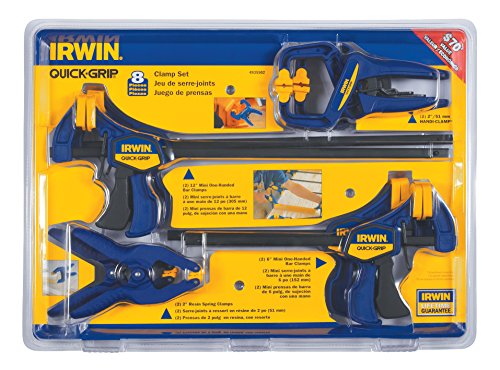 Check Price on Amazon
Our runner up is the IRWIN Tools Quick-Grip 4985502.
This is a powerful set of clamps, designed for small and medium-sized projects.
What users appreciate is that the tool comes with eight clamps in four different models usable for variety of tasks.
Additionally, it has quick releases, so that you can easily and fast set your clamps.
Nevertheless, not all of the clamps in the collection are useful.
Four of them are hand clamps, designed to work on thinner woods while two are 6-inch clamps and two are 12-inch clamps, which are not that large.
The tool is not suitable if you are looking to work with a very tall or very think stack of lumber.
Check current price on Amazon >>
Pros
Power
Easily used
Comes with four models of clamp
Shop Now
---
#3. Bessey LM2.004 LM Woodworking Clamp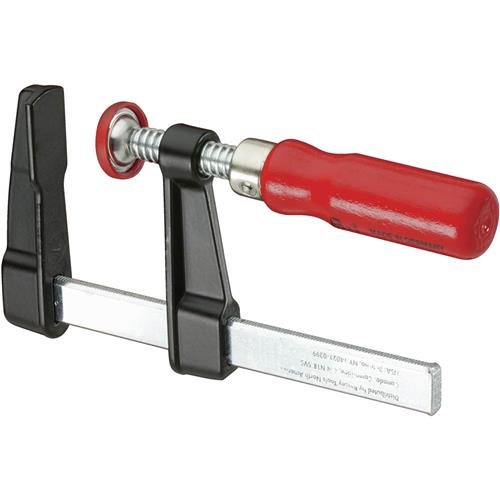 Check Price on Amazon
The Bessey LM2.004 LM General is also the model worth consideration.
You should know that not all clamps do well with oddly-shaped materials.
The model boasts slim design enabling you to work on the most-awkwardly shaped pieces.
What you get is a sturdy wooden handle, nicer than a plastic equivalent.
The tool comes with a sturdy steel frame, making this tool powerful despite its small size.
There is no need to worry about it breaking if you drop it.
Also, the frame cannot come apart due to overtightening.
As it is the last on our list, there have to be some downsides.
Actually, it only has about 4-inches of nominal capacity.
This means that you are limited in what you can clamp down with it.
It is definitely not a tool for heavy- duty construction, but it can be a great choice for small to medium tasks.
Check current price on Amazon >>
Pros
Wooden handle
Fast
Steel frame
Size
Shop Now
---
---