Whether you need an inverter generator or not depends on your needs for portable power wherever you go.
The characteristics and advantages that inverter generator users emphasize are the freedom of movement, reduced noise and flexibility.
These are only just a few of the many things that an inverter generator offers and this reliable source of power might be a good tool in each person's household.
Being that the limitation on power is unacceptable nowadays, you can choose among some of the best inverter generator for your needs that are reviewed in the following lines.
Spoiler Alert - Check out my top choice here >>
Top Rated Portable Inverter Generators for 2019
* Ratings are based on Editor's own opinion.
5 Best Portable Inverter Generators Reviewed
#1. Honda EU2000i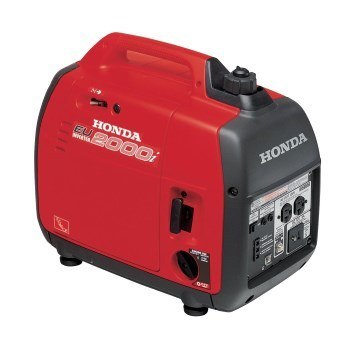 Check Price on Amazon
The first one on the list of the best inverter generators is the Honda EU2000i.
It is the portable inverter generator which is more expensive than others, but its long lasting and frequent performance justifies the high price.
The reason for higher prices is the fact that it is made of durable material and has a superior design, it is easier to maintain and it comes with a 3-year limited warranty.
Another advantage, in case something happens to it, is that it is supported by a network of nationwide service centers.
Furthermore, the EU2000i boasts fuel economy as it runs for 8.1 hours at 25 percent load and 3.4 hours at the rated load and the tankful is estimated to be 0.95 gallons.
Your cost per hour is estimated to range between $0.58 and $0.88.
Other advantages are that it is not a loud generator, it possesses overload and circuit protection.
There are one 12-Volt (8 A) DC receptacle and two 120-Volt (13.3 A) AC receptacles that go with it.
Check current price on Amazon >>
Pros
Durability
Design
Fuel economy
Service and protection
Shop Now
---
#2. WEN 56200i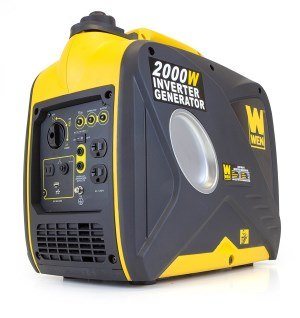 Check Price on Amazon
People like to compare tools, so we will offer you the main similarities and differences between the two top ranked portable inverter generators.
The second best is the WEN 56200i which has equal run time per tankful and fuel capacity as Honda EU2000i.
However, the difference is the price, as the WEN 56200i costs half the price of the Honda EU2000i. The reason for this price difference is the fact that WEN sourced the design from another manufacturer, meaning that it did not invest time and money in the research and development.
So, the buyers of this generator get the same quality tool at half the price, but they will get only 2 years warranty of it.
When it comes to a long-term and frequent use, the Honda model should be your choice, but if you only use it a few times a year, the 56200i is the better and more affordable option.
Check current price on Amazon >>
Pros
Price
Fuel economy
Great performances for that price
Cons
Purchase protection
Warranty period
Shop Now
---
#3. Champion Power Equipment 75531i
Check Price on Amazon
When we compare the EU2000i and 56200i with the 75531i, we can say that the main difference is the power.
Among all three of them, the 75531i provides a maximum wattage of 3100 Watts and a rated wattage of 2800 Watts which proves the fact that it can handle heavy loads, including refrigerators, dryers and coffee makers which is not possible with the two previously mentioned ones.
The 75531i can handle the high amount of power necessary for the activation of these appliances.
It has a built-in 30 A outlet, meaning that the generator can be connected to your RV without any adapters.
The disadvantages are that its weight is 83 pounds and that it is not easily carried, but the advantages surpass the weaknesses as it provides clean output supply, it does not produce too much noise and uses fuel efficiently.
The price is affordable and a 3-year warranty period is sufficient and reasonable.
Check current price on Amazon >>
Pros
Capacity
Purchase protection
Cons
Noise
Not so popular brand
Shop Now
---
#4. Westinghouse WH2200iXLT
Check Price on Amazon
When you hear the brand name Honda and Yamaha you know that they are the leaders in inverter generator technology and that their prices are in line with their products.
However, there are not so famous brands that also produce quality inverter generators and one of them that you might consider buying is certainly the Westinghouse WH2000iXLT.
Its peak wattage is 2200 Watts and rated wattage is 1800 Watts, which means that it generates more power than the Honda and WEN models.
Furthermore, it has a better fuel economy and greater fuel capacity and the noise it produces is also under 60 dBA.
After all these positive characteristics, there come the negative ones.
Westpro Power Systems which produces this model is a new company which is owned by Fusheng Industrial Co. and it offers only a 2-year warranty.
So, the WH2000iXLT is for those who are on the budget and do not mind buying not so famous model of inverter generator.
Check current price on Amazon >>
Cons
New brand
Purchase protection
Shop Now
---
#5. Briggs & Stratton 30651 P2200 PowerSmart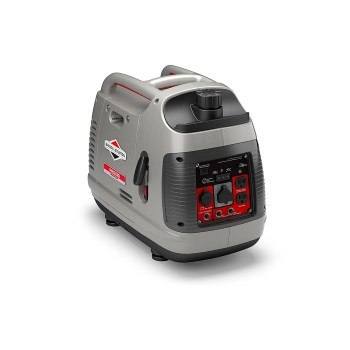 Check Price on Amazon

While the Westinghouse WH2000iXLT is manufactured by a licensee and can be bought at the low cost, the Briggs & Stratton P2200 inverter generator which delivers 2200 starting Watts and 1700 running Watts is maybe a better option.
It runs for 8 hours at 25 percent load, produces noise that is less than 60 dBA loud and produces a clean sine-wave output.
The additional characteristics are that is has a variety of outlets – one DC, two AC, and one USB.
The drawback is related to its weight, which is 54 pounds, meaning that it is heavier than the above mentioned models.
Still, this model is designed for those who cannot afford buying a Honda EU2000i.
Briggs & Stratton offer 2-year limited warranty, as well.
Check current price on Amazon >>
Cons
Weight
Durability
Purchase protection
Shop Now
---
---