Benchtop belt sanders are tools designed to make most sanding jobs faster and easier and your work more efficient.
As you are reading this, you are probably eager to find out more about various models of belt sanders and we are offering you descriptions in great detail, so as to help you choose the ideal tool for your needs.
The selection process is quite troublesome and difficult, especially of you are not so involved into certain field.
Manufacturers tend to hide the product weaknesses and emphasize insignificant characteristics.
According to reviews made by the users of the benchtop belt sanders, we have made a list of top five sanders available on the market.
Spoiler Alert - Check out my top choice here >>
Top Rated Benchtop Belt Sanders for 2019
* Ratings are based on Editor's own opinion.
5 Best Benchtop Belt Sanders Reviewed
#1. JET J-4002 Bench Belt Disc Sander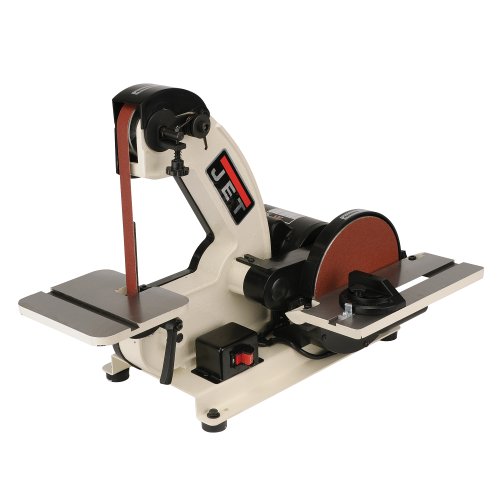 Check Price on Amazon
The first one is usually the best one, and when benchtop belt sanders are in question that is definitely the JET J-4002.
This tool is both a great belt sander and a disc sander.
Many people found this characteristic amazing, as you get two tools in one unit.
This model has a 1/3-horsepower motor, powerful enough for even the trickiest surfaces.
You can choose whether you want to use the belt sander or the disc sander, depending on your needs at a given moment.
Furthermore, this model has a miter gauge, that can turn up to 45-degrees in either direction and a removable platen, as well.
Some users complained that the slot for the miter gauge is 5/8-inches instead of the standard 3/4-inch but that is not such a great disadvantage.
The issue that you might have is that this model is tricky to put together, but that problem appears just at beginning of the usage, as once you have assembled it, you can enjoy your work on the best benchtop belt sander.
Check current price on Amazon >>
Pros
1/3 horsepower
Good miter gauge
Platen can be removed
Disc sander
Cons
Difficult to put together
Shop Now
---
#2. Kalamazoo 1SM 1″ Belt Benchtop Sander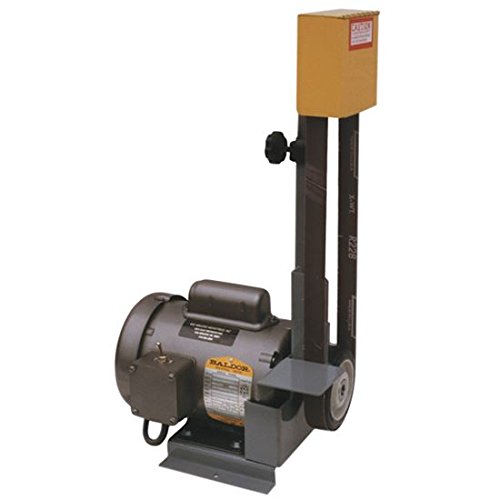 Check Price on Amazon
The second one that deserves our attention is the Kalamazoo 1SM Belt Sander.
This sander gets the job done and users especially like this model due to the fact tthat it runs quietly and smoothly.
The noise is the most frequent characteristic of benchtop belt sanders, and it is considered great that this model run much more quietly than the competition.
This model boasts easy belt changing, resulting in very easy setting of the machine for different tasks.
The easy tracking adjustment is also a great feature, meaning that you can set a belt in the correct alignment so as to produce the best sanding experience.
This model of belt sanders is great for knifemaking.
This is due to 1" x 42" belts, which are designed to be used for anything and the knives as well.
There is one disadvantage of this model – the platen is awkwardly-placed and small.
This means that you will not be able to work with a piece larger than four or five inches across, because it will bump into the motor.
This is the only reason why this model is on the second place.
Check current price on Amazon >>
Pros
Quiet when working
Belt changing is easy
Can be used for knife making
Easy tracking adjustment
Shop Now
---
#3. WEN 6502 Bench Belt & Disc Sander
Check Price on Amazon
The WEN 6502 is a good belt sander, even though it is not our top choice.
It is designed for workers who need a tool that will perform a variety of tasks.
The tool uses 4 x 36-inch belt, a common belt type, resulting in an easy replacing when needed.
Furthermore, this model boasts a large sanding area that makes it good for larger projects.
Great characteristic of this model is that this belt sander comes with a disc sander.
Users found it great that the main belt on this model can be rotated from zero to 90 degrees.
That way you will be able to achieve the best sanding jobs done on any piece.
The greatest thing about this model is the price, making it the best value buy on our list.
These quality control problems caused this model to be put only on the third position.
Check current price on Amazon >>
Pros
Affordable
Wide belt
Disc sander
Adjustable angle
Shop Now
---
#4. RIKON Power Tools 50-151 Benchtop Belt Sander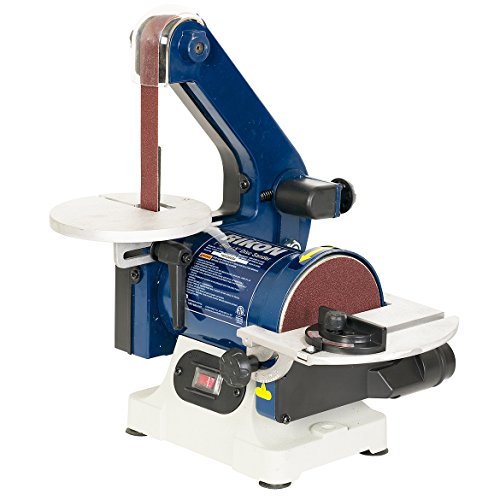 Check Price on Amazon
The fourth one is the RIKON Power Tools 50-151.
What you get with this model is the adjustability at a low price.
This model boasts a 1" x 30" belt, and a 5" disc sander.
This means that it has very same features and usages that you can find on more expensive models.
There are also two platens, saving you from switching one back and forth, and the platen on the main belt also adjusts up to 45-degrees, which means that you can sand angled pieces easily.
Additional advantages of this unit are 1/3 horsepower and a 2" dust port.
This makes the tool quite powerful and allows easy clean up.
When disadvantages are in question, we have to mention that the belt tracking system works strangely, it is not easy to make a good alignment and the quality control problems result in some units not working from the very beginning of the usage.
Even though this is a decent choice for people looking for something inexpensive, they do not want to buy the product which will not work once it is put into usage for the first time.
Check current price on Amazon >>
Pros
Adjustable angle
Dust port
1/3 horsepower
Cons
Poor quality control 
Belt tracking system
Shop Now
---
#5. Rockwell RK7866 Bench Belt Sanding Machine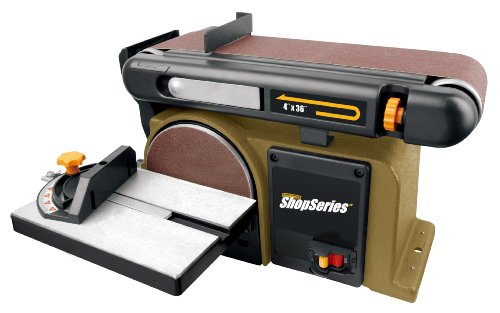 Check Price on Amazon
The last model on our list is the Rockwell RK7866.
This benchtop belt sander is not the ideal choice, as it has a number of problems.
Most frequently, these kinds of downsides lead to users' frustration and people avoid buying it.
Even though its build is quite similar to the third sander on our list, considering the fact that it has a belt that can adjust from zero to 90 degrees and allowing a sanding from a variety of angles, this model is not of such a good quality as this belt sander suffers from low power.
You will also get a disc sander that has a platen that can adjust up to 45-degrees, but the lack of power makes it useless when it comes to a heavy-duty work.
What is even worse, the sanders that do not have enough power wear our more quickly and even if you do only the basic tasks their performance would quickly decrease.
The durability is questionable due to the plastic parts which are prone to quick failure,.
Besides the fact that this belt sander is inexpensive, we do not suggest you purchasing it.
Check current price on Amazon >>
Pros
Belt and platen are adjustable
Easy belt changes
Shop Now
---
---