Woodworking is a task during which a lot of dust is produced and it is usually spread all over the workshop.
This dust is harmful to your tools, but what you need to have in mind when working is that it is damaging your life, as well.
Many woodworkers do not think about this, but there are those who want to cut down on the amount of dust they bring in and stay healthier.
As you are reading this, you are probably among them, and you know how important the dust mask is to help you breathe better and it certainly worth the cost.
Spoiler Alert - Check out my top choice here >>
Top Rated Respirators & Dust Masks for Woodworking for 2019
* Ratings are based on Editor's own opinion.
5 Best Respirators & Dust Masks for Woodworking Reviewed
#1. GVS SPR457 Respirator
Check Price on Amazon
As always, we put the best of the best in the first position.
This time it is the GVS SPR457, a device which boasts both quality and price.
The important characteristic is the weight and this model weighs less than half a pound.
It would not be heavy to wear and what is even better, it is designed to work against wood particles, making it ideal for the shop use.
Additional great feature is that it comes with a large central non-return valve, allowing you to exhale easily.
It is very useful in a wide temperature range, so you can use it indoors or outdoors without issues.
The only weakness of this model is easy-to-use straps that will eventually wear out before the other components in this mask.
However, this respirator is fairly cheap while at the same time offers excellent performance.
Check current price on Amazon >>
Pros
Compact
Lightweight
Large central non-return valve
Adjustable
Shop Now
---
#2. RZ Dust/Pollution Dust Mask M1 for Woodworkers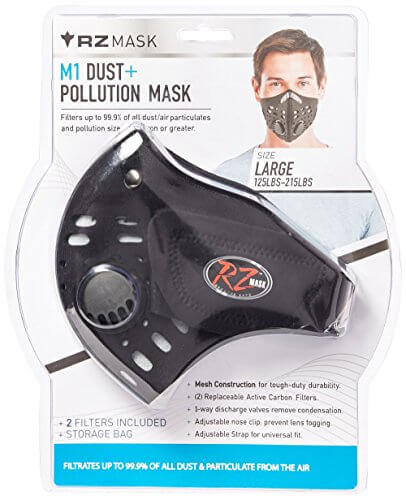 Check Price on Amazon
The RZ Dust/Pollution Mask M1 is our runner-up.
Its design is what makes it different from most masks.
Actually, it comes closer to your face, but still has the protective power that you need.
This is achieved due to dual exhalation valves which prevent moisture buildup in your mask.
Additional advantage is that it is lightweight while the weight is distributed around the sides and back.
It will not be heavy to wear it for a longer period of time.
Furthermore, we have to mention more positive features of this model.
It comes with five replacement filters.
That is considered enough for a few weeks or months, but that would depend on how often you need to replace them and how often you use the mask.
What users found as a drawback is that these filters are hard to replace.
That is the reason why this mask is not the first on our list, but is still worth consideration.
Check current price on Amazon >>
Pros
Dual exhalation valves
Five filters
Lightweight
Shop Now
---
#3. 3M Rugged Comfort 6503QL Respirator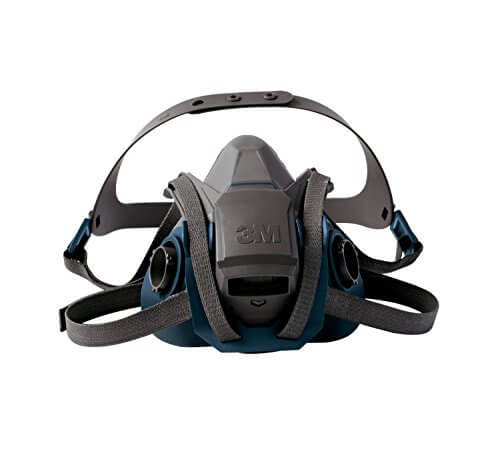 Check Price on Amazon
The 3M Rugged Comfort 6503QL is a mask designed for people with limited budgets.
It is true that it is the mask that works well which can be bought at a low price, but you have to have in mind that the price usually equals quality.
This model comes with a low-profile design, which is considered positive, as it maximizes your range of vision and allows you to weak corrective or protective glasses. The quick-latch mechanism is there to let you lower the mask from your face without taking the straps off.
Furthermore, it comes with a great silicone seal, designed to create a seal against the contours on your face, while also feeling soft and comfortable.
Users found that the disadvantage of this model is that it is a bit bulky, but still a great dust mask at a better price.
Check current price on Amazon >>
Pros
Price
Quick-latch system
Silicone seal
Shop Now
---
#4. Muryobao Military Grade N99 Dust Mask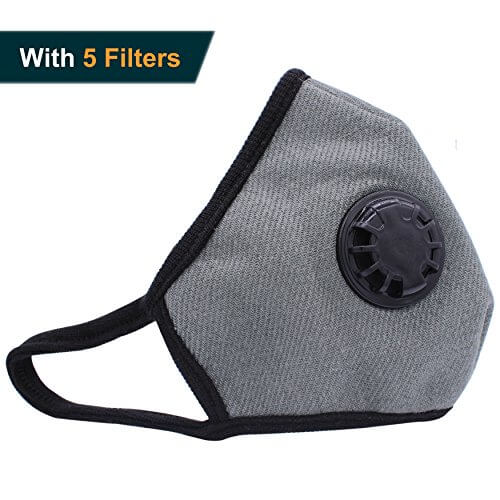 Check Price on Amazon
As we go down the list, you are aware that the qualities and features of the models are not that great.
The Muryobao Military Grade N99 is a differently-designed dust mask which comes with five filters and that is considered to be enough for a period of time.
Even though it is in the fourth position, it is not among the cheapest models on this list. What makes it attractive is that this model is produced in 8 colors, and this is not available when other models are in question.
The weaknesses of this mask are that it is very small, suitable only for people with smaller faces.
Being that it is on the small size, it is hard to use it.
The users also noticed that its filters are much less efficient than the producers claim to be.
It is a good choice for people who do not look for a heavy-duty mask.
Check current price on Amazon >>
Pros
Affordable
Five filters
Multiple color options
Cons
Size
Not the most effective
Shop Now
---
#5. Axsyon Dust-Mask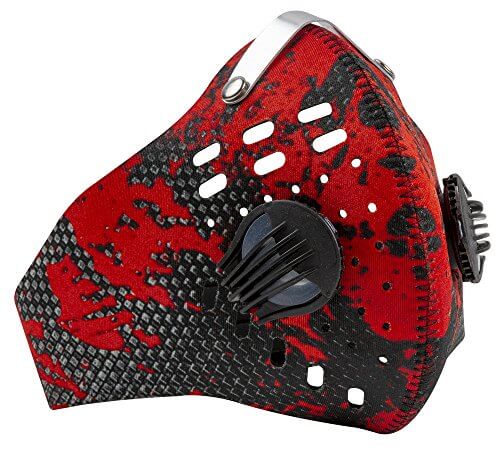 Check Price on Amazon
The last one on our list is the Axsyon Dust Mask.
What makes it attractive is the numerous color options, but the previous model is much better solution if you are getting this mask because of the colors.
What you get are three replacement filters, which is not enough, being that this model does not work very well.
It is not designed to filter smells, so it can be used only for woodworking.
Being that it is on the small size, it will probably be too small for most people.
It does not come with a good seal meaning that you will not get good value out of this model.
The size makes the mask to be too tight, so you would want to take it off as fast as possible.
Spending your money on this model would be considered the waste of it.
Check current price on Amazon >>
Pros
Three filters
Palette options
Shop Now
---
---