Those people who work with wood and metal or any other materials know how important it is to have a bench vise in your workshop.
Bench vises are used to enable the user to fix a piece of material in one place.
What is the most important related to bench vises are to be safe and secure.
It is designed to offer stability and grip, so that your work can be much quicker, easier and of better quality.
To people who are not into that field, there would not be too many differences among bench vises, as they look pretty much the same.
However, a more experienced eye would notice the material from which vises are made as well as the features it has.
The features, such as the swivel, represent big variance between products.
Now, you guess, the more models, the tougher decision which one to buy.
You are right, so we have gone through various reviews and created a list of top bench vises to help you make your decision quickly and easily
Spoiler Alert - Check out my top choice here >>
Top Rated Bench Vise for 2019
* Ratings are based on Editor's own opinion.
5 Best Bench Vise Reviewed
#1. Wilton 11106 Bench Vise
Check Price on Amazon
The first one on our list which definitely rightfully deserves this position is the Wilton 11106 Bench Vise.
This is certainly the best workbench vise on the market.
The material of which the Wilton 11106 is made is high strength steel.
Being that most vises are made out of cast-iron or forged iron, this is considered a huge advantage.
The strength is of crucial importance when bench vises are in question and some models are simply not that strong.
The stronger material has made the Wilton 11106 Bench Vise heavier and its weight is 38.8lbs.
However, the weight is not such an important factor.
Its great features, such as a double lock down swivel base and a large anvil work surface, make the Wilton 11106 the best.
The tool is both sturdy and versatile, but what some users found as its weakness is the fact that it only swivels 90 degrees.
Its clamping capacity is 6-inches by 6-inches which is enough to grip big objects.
Furthermore, the vise jaws are replaceable and the lifetime warranty offered by its producers is highly appreciated and taken as its major plus.
The producers are sure of the quality of this product, due to the solid build of this vise which ensures its longevity.
Its easy installation and the overall quality justify why it is our top pick.
Check current price on Amazon >>
Pros
Made of an excellent materials
Jaws can be replaces
Lifetime warranty
Shop Now
---
#2. TEKTON 54004 Bench Vise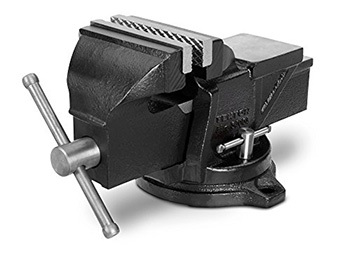 Check Price on Amazon
When people see the low price of the Tekton 54004, our second best bench vise, they often question its quality.
Sometimes, people make a mistake buying a cheap vise in the past and having to replace them in a short period of time.
However, the Tekton 54004 is the best bench vise for the money.
When it comes to its construction, it is made of 30,000 PSI cast iron which ensures its durability and longevity.
It has a replaceable serrated steel jaws offering non-slip grip which makes your work easier and more efficient.
One of the greatest advantages is the 120-degree swivel base which is not the case with our top pick.
Three mounting holes which hold the vise to your workbench ensure security, as well as  dual lock down nuts.
If all the advantages are taken into consideration, this is a good vise for DIY projects.
The only disadvantage is that mounting bolts are not part of this kit.
Check current price on Amazon >>
Pros
Non-slip grip
Swivels to 120-degrees
Shop Now
---
#3. Yost Vises 750-DI Multi-Jaw Rotating Bench Vise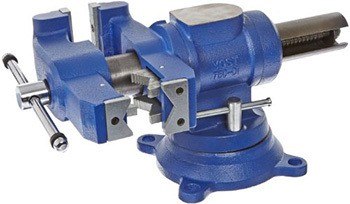 Check Price on Amazon
The third place is taken by a high-end bench – the Yost Vises 750-DI.
This bench vise offer great performance and is definitely a great choice.
Its quality lies in its construction, as the vise is made of heavy-duty 60,000 PSI ductile iron.
This makes it the heaviest bench vise on the market, estimated to weight 63-lbs.
Besides its weight, what you get is a very durable product with an impressive 9,000 PSI of force.
Its great advantage is the self-align pipe jaws made from hardened steel that offer multiple contact points, durability and longevity.
The increased pressure is achieved by the large size of the screw and nut.
Furthermore, the vise head can rotate 360 degrees with 12 different locking positions making this vise even better.
This means that you can work on various angles.
How, the only disadvantage of this vise is the cost.
Check current price on Amazon >>
Pros
360 degrees rotation
Great clamping pressure
Shop Now
---
#4. Yost LV-4 Home Bench-Vise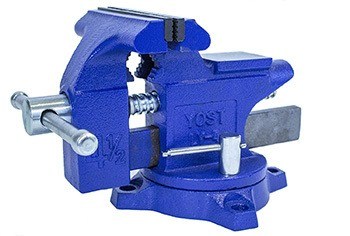 Check Price on Amazon
As the above mentioned one was too expensive, and you need to loom for the one which will be in line with your budget, then you should deliberate on the Yost LV-4.
This is a good option for the money.
It is the cheapest 4-inch bench vise in this list which has an O swivel base.
The versatility when working is achieved due to the fact that the vise can be rotated up to 240 degrees.
Even though it is cheap, the Yost LV-4 has a strong construction, being that it is made of cast iron, while the jaws of this bench vise are made of steel.
Installation is easy and if your plans are to use it in home workshops, do not hesitate buying it as you will get great quality for a low price.
However, make sure not to use it for heavy-duty projects.
The LV-4 vise has some drawbacks and one of them is that the center hole is too big for the bolt that runs through the unit, causing the locking of the vise into position.
Check current price on Amazon >>
Pros
Excellent price
Strong construction
Cons
Not designed for heavier projects
Center hole too big for the bolt
Shop Now
---
#5. IRWIN 226306ZR Bench-Vise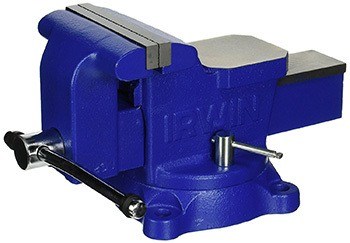 Check Price on Amazon
The Irwin 226306ZR is a 6-inch heavy-duty bench vise which is the last one on our list.
Its longevity is achieved by the fixed main jaws made of steel.
It is a 6-inch bench vise equipped with the captured safety jaw which prevents the slide from falling out during the work.
Anvil and pipe jaws which can be found on this tool provide a strong grip while the 30.6 lbs weight is a solid base for larger pieces.
Its clamping pressure is up to 3000 lbs which is considered quite strong.
What users emphasize as its greatest characteristics are the smooth action, the rotating base and reliable locking feature.
After all the positive reviews, there has to be something justifying why the vise is not better positioned.
The first weakness is thattThis is not a heavy-duty vise and there were some issues related to durability of this bench vise.
The cast iron body is not as strong as the material that more expensive bench vises are made of.
Check current price on Amazon >>
Pros
Great operation
Designed for light to medium use
Cons
Lacks durability
Difference in the products that users get
Shop Now
---
---