Every worker knows how important it is to have a good lunch cooler when you have to have lunch at the working place.
That is why so many manufacturers started making various models and they are all available on the market today.
Furthermore, not only workers at a construction site use these lunch boxes, but also children and office workers.
The difference that you can make between models can be based on your needs, whether you need a heavy-duty one that can keep food cold in the heat and stand abuses that happen on the jobsite, or you need less effective one for not so hot places.
Manufacturers tend to tell you everything that is great about their product in theory but they do not speak about the negative sides of their products.
So, we gathered both positive and negative reviews of the products in our descriptions and offered you a buyer's guide which covers details so that you can ensure you get a great deal for your money.
Spoiler Alert - Check out my top choice here >>
Top Rated Lunch Coolers for Construction Workers for 2019
* Ratings are based on Editor's own opinion.
5 Best Lunch Coolers for Construction Workers Reviewed
#1. Stanley 7QT Heritage Construction Lunch Cooler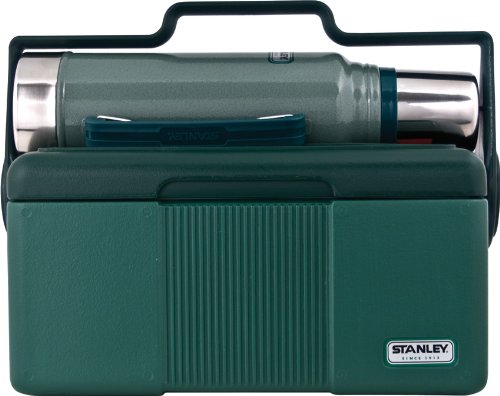 Check Price on Amazon
The first model is always the best one and that is the Stanley 7QT Heritage Cooler.
The model has simple green coloring which was used for these kinds of boxes in the past, but is updated with modern tech that keeps food cold for long period of time.
Additionally, it is quite lighter model which comes with a vacuum bottle to keep hot beverages hot and cold beverages cold for up to 24 hours.
What is even better, it can keep iced drinks iced for up to 120 hours.
What users appreciate is the fact that the bottle and the cooler are leak-proof extremely useful when transporting food and drinks.
The manufacturers believe in this model so they offer a lifetime warranty.
It has a good size, neither too large nor so small.
Some users take it as disadvantage the fact that it is not as large as other lunchboxes and that the inner compartments are small.
All in all, this is an amazing box which delivers exceptional quality at a good price.
Check current price on Amazon >>
Pros
Vacuum bottle
Leak-proof
Amazing warranty period
Good size
Shop Now
---
#2. Klein Tools Work Lunch Cooler 17-Quart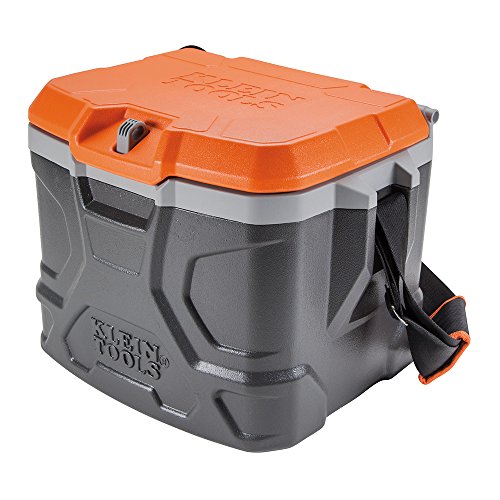 Check Price on Amazon
The runner-up on our list is the Klein Tools Work Cooler 17-Quart.
This model is more than a lunchbox, being that you can carry dinner and breakfast and with its large capacity you can also carry a lot of drinks in addition to the food.
Everything will be kept cool for up to 30 hours.
This model can support up to 300 pounds and has an interior compartment which can be used to hold small items separate from the food and drinks.
Generally, the cooler is well made but what users complain about is the poor quality of the strap and the point where the strap attaches to the cooler.
If those parts are improved, this model would be the best on the market.
All in all, if you do not expect the straps to last forever, this is ideal model for you.
Check current price on Amazon >>
Pros
Capacity
Keeps cool up to 30 hours
Can stand 300 pounds
Inside storage compartment
Shop Now
---
#3. Igloo 14.8 Quart Playmate Lunch-Cooler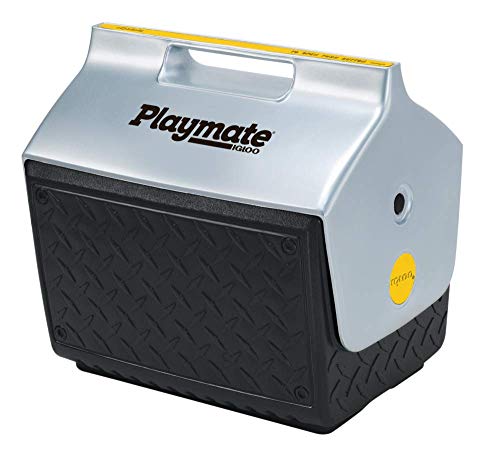 Check Price on Amazon
The best for the money position is taken by the Igloo 14.8 Quart Playmate cooler.
The model has nearly 15 quarts of capacity, so that you can store an entire meal and even more.
Inside of it, there is diamond-plating made from impact-resistant plastic.
This means that this model is a good choice for construction work where it can be harmed.
The lid swings either way so you can use it in tight spaces.
What users appreciate the most is the price of this cooler.
Actually, you can get this cooler for about half of what you would pay for the top two models.
So, you will get great quality at low price.
Being that it is not among top two models, we need to mention its downside.
This model's insulation is only average and will not keep things cool for more than a day.
For those who need something to keep their lunch safe at a great price, this cooler would be a wise choice.
Check current price on Amazon >>
Pros
Capacity
Impact-resistant
Lid swings both direction
Price
Shop Now
---
#4. IceMule Classic Insulated Lunch-Cooler Backpack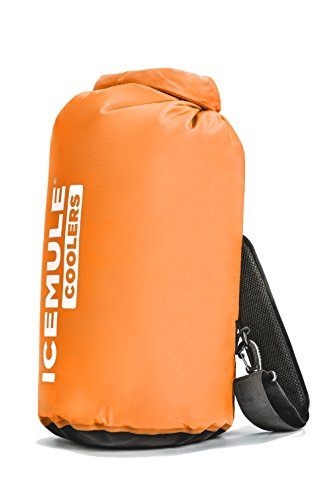 Check Price on Amazon
The IceMule Classic Insulated Backpack Cooler Bag is actually a flexible and collapsible bag that you can fold and put it away in your toolbox when you're done eating.
The bag comes in three different sizes, and it is up to you whether you need the smallest one to carry just your meal or you will get the largest one for both meal and drinks.
The positive characteristics are that it is leak-proof and it does not sweat in the heat as some coolers do.
You should know that this model will keep things cool through lunchtime, but not more than a day of coolness is available with it.
It is soft-sided, so do not expect you meal to be protected if something falls on it.
Check current price on Amazon >>
Pros
Collapsible
Three sizes
Leak-proof
Cons
Does not last all day in summer
Does not protect contents from crushing
Shop Now
---
#5. Carhartt Insulated Cooling Lunch Box for Construction Workers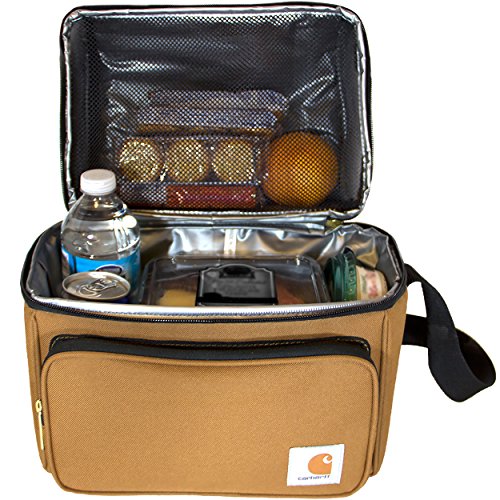 Check Price on Amazon
The Carhartt Insulated Lunch Cooler Bag has a simple design, but there is a number of significant disadvantages that affect its usefulness.
But let's first speak about the positive side of it.
It is rainproof and your meal will not get spoiled by any kind of water coming from outside.
The weight is just 7.2 ounces which is considered great.
Unfortunately, this model will not protect your meal from getting crushed if something falls on it.
It is not the biggest cooler and has some issues with quality control.
The users liked that it is not an expensive lunch cooler, but when you take into consideration the poor quality, it is better to invest some more money and get a model with which you will be satisfied.
Check current price on Amazon >>
Cons
Does not protect contents from crushing
Size
Poor quality control
Shop Now
---
---