The necessity of a knife was discovered in prehistoric times.
At that period, having a knife determined whether you will be alive and dead.
Nowadays, the importance of knives is not that great, but still the necessity for having a good knife has not gone away.
As you want to have a good knife, you might be in need of a belt grinder.
This is a tool designed to save you a lot of time and are meant to be used in knife making.
In order to see the characteristics of belt grinders, we are offering you a list of the best belt grinders currently available at the market.
Spoiler Alert - Check out my top choice here >>
Top Rated Belt Grinders for Knife Making for 2019
* Ratings are based on Editor's own opinion.
5 Best Belt Grinders for Knife Making Reviewed
#1. JET J-4002 Disc Belt Grinder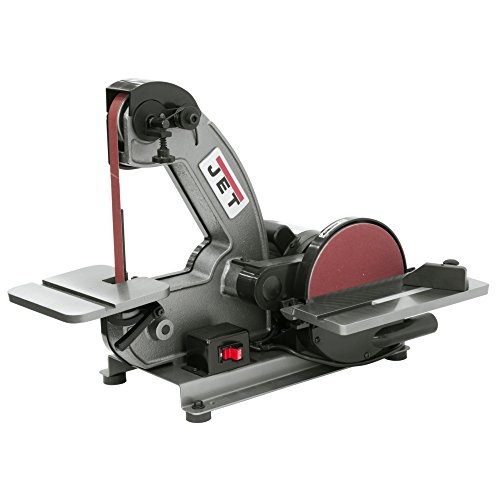 Check Price on Amazon
Number one on our list is the JET J-4002.
This model is out of competition in almost all categories.
It comes with a 1" by 42" belt.
This belt is narrower than the belts in other grinders, allowing for more precise work.
The precision is very important when working with smaller objects.
As you are going to wear out the belt, the amazing thing is that the 1" by 42" belts are cheaper than competing sizes and you will spend less money on changing it.
When the changing is in question, the JET-4002 has a simple and easy belt changing and assembling, making it ideal even for the beginners.
The model boasts enough power to handle even the toughest knives, making this tool less stressed and more quiet
This is a high quality model that you would not regret buying.
Check current price on Amazon >>
Pros
Easy assembly and belt changing
Precise belt size
Belts are cheap
Powerful
Quiet
Shop Now
---
#2. Porter-Cable PCB420SA Disc-Belt Grinder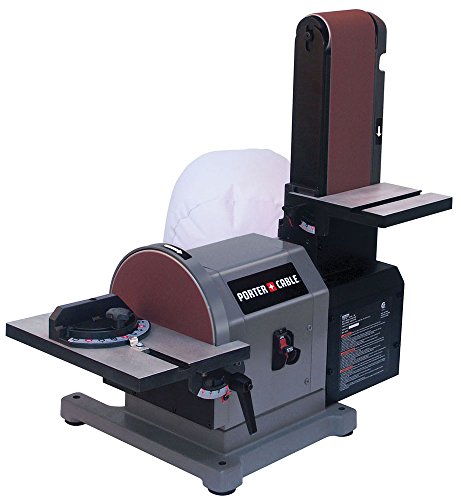 Check Price on Amazon
The second one on our list, but also worth considering is the Porter-Cable PCB420SA.
When the power is in question, it can be said that it is quite powerful and almost equal to the JETmodel.
Furthermore, it possesses a cast iron base which is there to reduce vibrations.
Now, there has to be something which keeps it out of the top position.
The first thing is that it uses a 4" by 36" belt which is not good enough if you are planning to work with smaller or more delicate knives.
The narrower belt results with more precise work.
Other great features are that this belt grinder does come with a dust bag and the ease of changing out the belt is amazing.
Check current price on Amazon >>
Pros
Power
Dust bag
Belts are easily changed
Shop Now
---
#3. WEN 6502 Disc Sander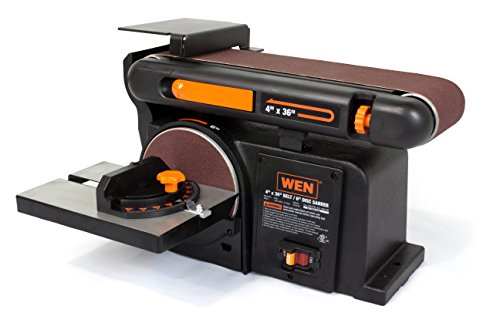 Check Price on Amazon
When we have the budget in mind, we cannot go for the most expensive tools.
That is why we have to mention the WEN 6502.
This is definitely the best belt grinder on our list for the money.
Its design is quite similar to the Porter-Cable, it uses the same 4" by 36" belt and has a cast iron base, but you get it at quite lower price.
The cast iron base is excellent feature as it is designed to prevent the grinder from moving around while you use it.
Getting this feature at affordable price is not frequent.
The drawbacks of the WEN 6502 are the weaker motor and slower belt.
For some users, having a weaker motor is an advantage as less mistakes canbe made, but if machine is slow you will have to spend much more time working.
If you want to save time, a higher speed and stronger motor should be your choice.
Another disadvantage is the difficulty with which the belt is changed.
It is complicated and would take up more of your time.
Check current price on Amazon >>
Pros
Price
Construction
Good for beginners
Cons
Messy
Difficult belt change
Shop Now
---
#4. Grizzly H6070 Belt & Disc Sander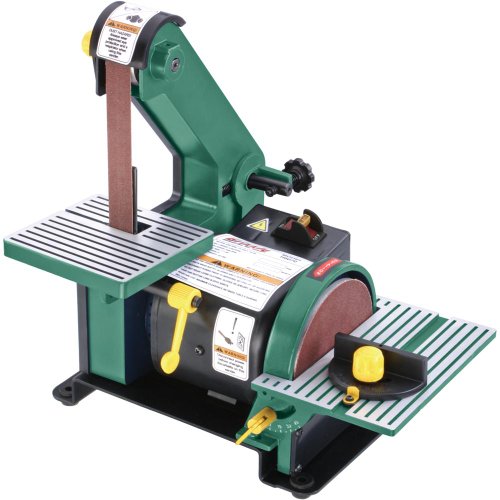 Check Price on Amazon
The Grizzly H6070 model would offer you enough power to get the job done.
Even though it uses 1" by 30" belt, which is good for knife making, there are drawbacks which put it on the forth position on our list.
One of them is the underpowered motor which is not in line with the price, there is not the cast metal body, causing the tool to be lighter and vibrate more.
It would also make the precision work more difficult.
Additionally, it is a very loud model for a grinder of its size and some pieces are made from cheap plastic which can easily break.
Among so many weaknesses, we have to mention that it is difficult to change out both the belt and the disc on this model.
Our suggestion is to find better value elsewhere.
Check current price on Amazon >>
Cons
Cheap
Belt is not easily changeable
Noise
Vibration
Shop Now
---
#5. Kalamazoo Industries 2FSM Belt Grinder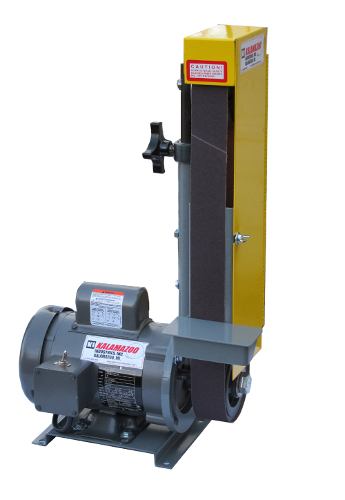 Check Price on Amazon
The last on our list is the Kalamazoo Industries 2FSM, even though it has one of the best motors.
But, too much strength is not good, as there is a higher potential to wear down knives faster.
The stronger and faster models require far more care than other machines.
There are additional drawbacks of this model, such as difficult setup and belt changing.
Being that the motor is of high-quality, it is expected that the rest of the parts are quality as well, but this is not the case with this model.
Quite contrary, the parts are not as durable as those within other units on this list.
Another disadvantage is that the 2FSM is also quite expensive.
Check current price on Amazon >>
Cons
Not easily setup
Too powerful
Cheap parts
Pricey
Shop Now
---
---