People believed that they do not need an impact wrench because they did not have an air compressor.
But this was in the past.
Now, the producers have made a ton of electric, corded impact wrenches which are able to deliver similar performance.
Being that there are so many models on the market, it is not clear which models provide good value for money and this makes shopping even worse and more time consuming.
So as to make you more confident and well-informed buyer, we gathered all the important information related to impact wrenches and made a list of the best corded impact wrenches.
We believe that by reading this article it will be easy to find a model that suits your needs and budget as well.
Spoiler Alert - Check out my top choice here >>
Top Rated Corded Impact Wrenches for 2019
* Ratings are based on Editor's own opinion.
5 Best Corded Impact Wrenches Reviewed
#1. DEWALT DW292 Corded Impact Wrench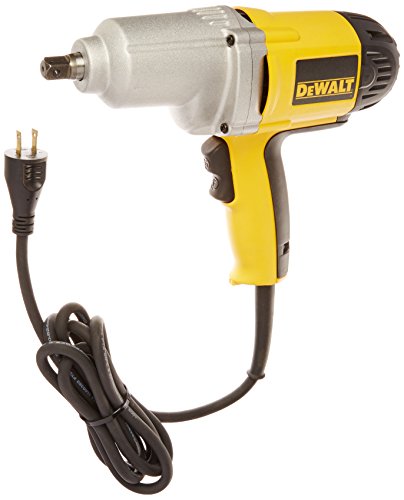 Check Price on Amazon
DEWALT could not but make one more excellent tool, and our top choice is the DEWALT DW292.
This model is a powerful impact wrench delivering 345 foot-pounds of force.
This makes it ideal for the wide range of household tasks.
The fact that it works with AC or DC power is a great advantage as you will be able to use it at home and out in the field with a generator without any modification.
The tool boasts a rocking switch so you can easily switch between forward and reverse directions.
What users appreciate a lot is a soft grip handle, very useful when long hour of work are in question.
There is one thing that they found bad about this model.
This is an odd ball socket mechanism, used for attaching the sockets.
The users noticed its tendency to get stuck instead of releasing properly.
But, this cannot diminish the fact that this is one of the best corded impact wrenches on the market.
Check current price on Amazon >>
Pros
Power
AC or DC compatible
Easy switch
Soft grip handle
Shop Now
---
#2. Makita 6952 Impact-Wrench (Corded)
Check Price on Amazon
Another great producer made a great model of this tool.
This is the Makita 6952 and it is a tool which gives more power around the house than a drill, but it is not an extra-powerful impact wrench.
Those people who work long hours appreciate the lightness of this tool.
The weight is only 2.9 pounds, due to the very light aluminum housing.
What people also found great about this tool is a variable speed trigger, allowing up to 3,200 RPM for a great driving experience and a reverse button.
Even though its power is not that great making this model out of first place, it can be said that it is ideal for household tasks and for those who do not need it for heavy duty tasks.
Check current price on Amazon >>
Pros
Variable speed trigger
Reverse
Light
Impact driver
Shop Now
---
#3. HAMMERHEAD HDIW075 Corded Impact Wrench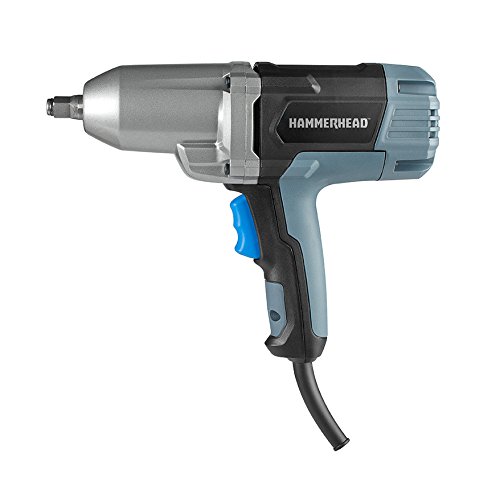 Check Price on Amazon
The third one is the HAMMERHEAD HDIW075.
Usually, the third model is our choice for best for the money and this is the case with this tool as well.
What you get with this tool is 240 foot-pounds for torque, well-made model which boasts durability.
It has high-quality parts and it is heavier than average, which some might find as disadvantage.
There is a rocker forward/reverse switch, to enable you to alternate between directions and you get all these features at a very reasonable price.
This model is so well-made that you are probably wondering why it is not among the first two.
The weakness that users found with this model is that it lacks a ball socket.
During the operation sockets are held in place by friction.
However, once you try to pull the tool away, you leave the socket behind.
Check current price on Amazon >>
Pros
Power
Durable
Forwards/reverse switch
Price
Shop Now
---
#4. Topcraft B07D75Q1BY Corded Impact-Wrench Tool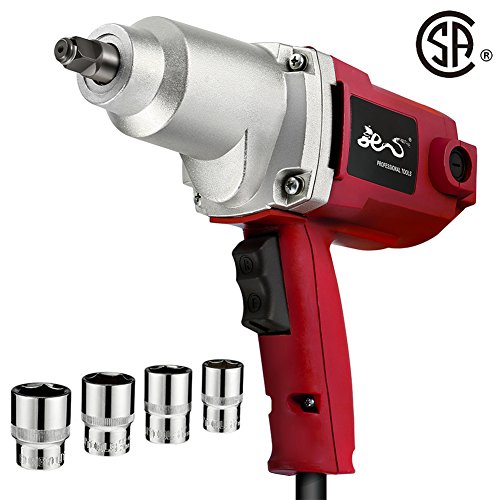 Check Price on Amazon
The Topcraft B07D75Q1BY is the model worth considering as it has certain positive and negative sides.
There are reasons why it is on the fourth place on our list.
First, let's speak about its advantages.
It comes with an easy-to-use rocker switch so you can easily switch between forward and reverse.
Additionally, you get a few great extras that improve its value – four sockets, 11/16", 3/4", 13/16", and 7/8" and a case.
The case is not common to get with the impact wrench and this is taken as a positive feature.
Even when the price is in question, it is pretty good, but the price is not the thing that should be crucial when making a decision.
It is important to get a powerful tool and it only produces 230 foot-pounds of torque.
This is not enough for the majority of tasks, and being that is it quite heavy for an electric impact wrench many people would avoid buying it.
We can conclude that there are good reasons to buy this model, but it is not the best value you can get for the money.
Check current price on Amazon >>
Pros
Rocker switch
Four sockets
Case
Price
Shop Now
---
#5. TruePower 730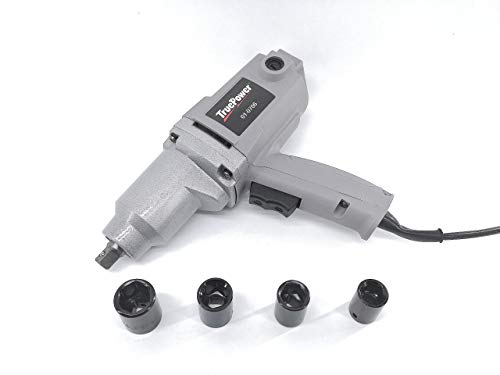 Check Price on Amazon
The TruePower 730 is quite similar to the previously described model.
The fact is that it comes with four sockets – 11/16", 3/4", 13/16", and 7/8".
This improves the potential value of this corded impact wrench but this is not the only feature to be considered.
We have to mention that it has the lowest price of all the models on our list, but you should know that all cheap tools usually do not offer high quality work.
What makes it different and even worse than the previous model is the max 220 foot-pounds of torque and its weight.
You do not get a case with it which explains the difference in price.
You will not get the power you need to get most jobs done and we do not recommend buying this model.
Check current price on Amazon >>
Shop Now
---
Conclusion
What we can conclude is that the DEWALT DW292 is our top pick and the reasons for this are its great power, AC and DC compatibility and soft-grip handle.
Another great tool is the Makita 6952 as it has a variable speed trigger and it is a lightweight model.
The HAMMERHEAD HDIW075 has to offer good power and durability at a very affordable price, while the Topcraft B07D75Q1BY includes four sockets and a case but lacks power.
The TruePower 730 is rightfully at the bottom of our list as it is the least powerful of all the tools mentioned.
If you have gone through our reviews and our buyer's guide , we believe that you should be able to find a model that will match your needs and budget.
---