What Does a Landscaper Do?
Aspiring landscapers do a number of different things, but most importantly, they spend time outside working in a hands-on-way.
Landscapers work in both rural and urban areas performing a variety of tasks within landscapes in order to keep them clean, safe, and beautiful.
Landscapers must be fit and healthy, as they'll participate in tasks like planting, weeding, installing landscape features, land gradient alterations, improving draining, laying turf, and improving landscape overall.
Some landscapers specialize in architecture, design, and implementation of the landscape.
Being a landscaper requires flexible skills, learned technique, experience, and mentorship.
Duties
Landscapers are often responsible for:
planting
seeding
mowing
lawn management
landscape feature implementation
draining system implementation and maintenance
use of heavy equipment and machinery
weeding
laying turf
improving landscape design
and more..
---
Let's Talk Salary
While landscaping is a rewarding job, it's typically not an incredibly high paying job.
The median wage for landscapers as of May 2017 was about $14.28 per hour, with the lowest ten percent of landscapers earning about $9.59 per hour.
At the high point, earners earned about $20.61 per hour.
These numbers, of course, depend on where you work, what kind of landscaping you do, the size of your business, and how many clients you serve.
Average National Salary:
$27,670
*Salary information last updated 2020
Average Annual Salary by State
| State | Avg. Annual Salary |
| --- | --- |
| Alabama | $23,690 |
| Alaska | $37,110 |
| Arizona | $25,760 |
| Arkansas | $23,890 |
| California | $29,650 |
| Colorado | $30,310 |
| Connecticut | $33,190 |
| Delaware | $27,950 |
| Florida | $24,710 |
| Georgia | $27,140 |
| Hawaii | $32,440 |
| Idaho | $27,780 |
| Illinois | $28,410 |
| Indiana | $25,700 |
| Iowa | $26,490 |
| Kansas | $27,380 |
| Kentucky | $25,300 |
| Louisiana | $23,810 |
| Maine | $29,880 |
| Maryland | $29,240 |
| Massachusetts | $34,340 |
| Michigan | $26,330 |
| Minnesota | $31,650 |
| Mississippi | $23,560 |
| Missouri | $27,580 |
| Montana | $27,660 |
| Nebraska | $28,670 |
| Nevada | $26,630 |
| New Hampshire | $30,710 |
| New Jersey | $29,500 |
| New Mexico | $25,010 |
| New York | $30,680 |
| North Carolina | $26,390 |
| North Dakota | $30,360 |
| Ohio | $26,350 |
| Oklahoma | $25,030 |
| Oregon | $30,880 |
| Pennsylvania | $28,270 |
| Rhode Island | $31,660 |
| South Carolina | $24,440 |
| South Dakota | $25,820 |
| Tennessee | $25,720 |
| Texas | $25,710 |
| Utah | $27,670 |
| Vermont | $30,440 |
| Virginia | $27,350 |
| Washington | $32,130 |
| West Virginia | $23,070 |
| Wisconsin | $27,950 |
| Wyoming | $32,490 |
Annual Average Salary: Top 5 States
The top earning state in the field is Alaska, where the average salary is $37,110
These are the top 5 earning states in the field:
---
How to Become a Landscaper
Step 1
Understand the Requirements in Your State
As we mentioned, every state has a different requirement for prospective landscapers.
Some states require that you become certified to work with certain pesticides and chemicals and must pass a state board exam.
Other forms of landscaping specialties (like landscape design or arboriculture) might require certain licenses or courses.
Make sure you know what requirements are necessary before you begin your landscaping journey.
Step 2
Earn Your Requirements and Explore Your Options
After you've checked every box on the requirement list, try to explore your career options.
Instead of outright finding employment as a landscaper, look into your options for contract landscaping, architecture for landscaping, groundskeeper, nursery managers, grounds supervisors, and more.
Don't settle on a single job before you know what you're interested in.
Step 3
Gain Experience
Try working with a mentor, become an apprentice, or land an internship working with your local landscaping company.
If that wont' work, try to find a company that will provide you with plenty of on-the-job training.
This is going to be where you learn the most and what will make you the best landscaper you can be, so ensure that you're investing time and effort into your training.
Step 4
Pursue Certification
While certification and licensing is typically not required to work as a landscaper, earning these can help you landscaping career immensely
Try taking courses and exams with The Professional Landcare Network, the Professional Grounds Management Society, and more!
---
How Much Education is Required to Become a Landscaper?
For most jobs in landscaping, a formal education is not required.
Most of the education you need for a landscapers position will be learned on the job, through certification programs (should you choose to enroll in them), and via a mentor.
In most cases, prospective landscapers will likely need a high school degree or a GED equivalent, but this is not always a requirement.
Should you choose to pursue a more lucrative landscaping career with special education in horticulture, arboriculture, or landscape design, you might need to complete courses, formal knowledge, and further training.
Video About The Career
---
What Certifications or Licenses Do You Need to Be a Landscaper?
Education levels and requirements will vary per state to work as a landscaper, and according to the BSL, many states will require that you are licensed and certified if you plan to work with pesticides and chemicals.
Typically, you'll need to pass a test on the safe use of landscaping chemicals.
Depending on your employer, you might be required to have a driver's license.
Though it's not required, you might consider earning voluntary professional certifications from associations like The Professional Grounds Management Society and the Professional Landcare Network.
Certification Example: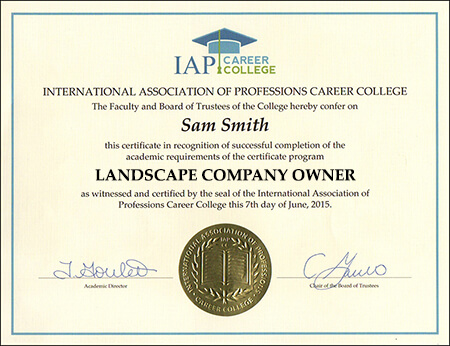 Average Training Program Duration:
0-6 Months
There are typically no certifications required in order to be a landscaper, but if you plan to take professional certification courses, expect to spend 6-10 weeks completing coursework.
---
Popular Degree Programs
---
What is the Job Outlook for Landscapers?
The wonderful thing about Landscaping as an industry is that it's an ever-growing and ever-in-demand occupation.
People will continue to need landscape design, landscape architecture, maintenance, and more, and as those needs increase, the demand for people who can do these tasks will increase as well.
The BLS projects that between 2016-2026, the landscaping industry will grow by about 11 percent, this is listed as faster than average for all occupations in the United States.
Employment Growth Projection:
11%
That's a higher than average projected growth of 146,300 jobs.
Landscaper: Interest Over Time
---
Should You Become a Landscaper?

Overall Satisfaction:
Medium
Overall, being a landscaper is a rewarding, but challenging, job.
The physical demand is quite high, meaning you'll need to remain healthy and in shape in order to do your job correctly.
You'll also need to be prepared to work in tough climate conditions.
The salary is relatively average but the job outlook is quite positive.
Overall, the general satisfaction score is rated as medium, but will be a rewarding job for folks who like to be outside, like a challenge, and don't mind physical labor.
Average Salary:
Medium
Landscapers typically earn hourly wages of about $13, but receive an annual salary of about $27,670 per year.
On the high end, landscapers can earn up to $21 per hour, but on the low end, can anticipate making about $9.66.

Job Growth Outlook:
High
The BSL reports that the landscaping industry is set to grow faster than most occupation in the United States.
By 2026, the job outlook will likely grow by 11 percent for landscapers.

Education Duration:
0-6 Months
There is usually no formal education requirement for the landscaping industry, however, for specializations, you might need to take courses, earn certification, or earn formal education.
Personal Skills Needed
Here are a few personal skills you will need to be a successful landscaper:
ability to learn and grow
dedication
persistence
mental toughness
ability to work as a team member as well as independently
project deadline management
focus
safety focus
---
Frequently Asked Questions
Q. How Much Can You Make with a Landscaping Business?
Typically, landscapers make about $28,000 annually with hourly rates of about $13.51 on average.
Q. What Do You Do as a Landscaper?
As a landscaper, you will be expected to work outside in all climate conditions to care for, manage, and design outdoor spaces.
You will likely work with heavy machinery, chemicals, and sharp objects. Typically, you will weed, mow, water, build, fertilize, do seasonal clean up, and a myriad of other things.
Q. How Many Hours a Day Does a Landscaper Work?
Landscapers can typically count on working long hours, meaning, if the sun is up, they're likely outside working.
Q. How Much Does a Landscaper Make an Hour?
On average, landscapers make about $13 per hour.
Q. Do You Have to Have a Degree to be a Landscaper?
No. In most cases you do not need a degree.
If you are looking to specialize in horticulture or arboriculture, you might need a degree.
Q. What Skills Do You Need to Have to be a Landscaper?
If you're looking to be a landscaper, it helps to be:
dedicated and hardworking
a good team member and independent worker
physical toughness
fit and healthy body
the ability to work with heavy machinery
the ability to work in bad weather
---
Similar Careers