Bench grinders are machines designed to grind almost every item.
The number of its possible usages is great and it depends on which wheel you add.
A bench grinder can shape, sharpen, polish or clean any metal  or wooden object.
Bench grinders are standard equipment in any woodshop or metal industry.
If you have already made a decision that you want to get a bench grinder, then you are on the right place, where you can find all the necessary information leading to the perfect choosing of a bench grinder.
What we offer you is a detailed list of top bench grinders available on the market as well as a buyer's guide with things of vital importance to consider prior to purchasing your new bench grinder.
Spoiler Alert - Check out my top choice here >>
Top Rated Bench Grinders for 2019
* Ratings are based on Editor's own opinion.
5 Best Bench Grinders Reviewed
#1. Metabo DS 200 8-Inch Bench Grinder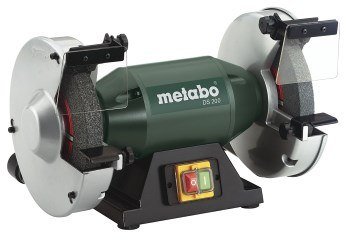 Check Price on Amazon
The Metabo DS 200 is number one on our list.
Its weight is 35.9 lbs, so it is considered a heavyweight bench grinder.
This 8-inch bench grinder has aluminum high quality protective covers designed to reduce the vibrations, which is not the case with many of the budget models.
Even though bolting to the bench is suggested, some workers do not bolt this unit. Furthermore, this machine is not noisy at all.
Its motor runs surprisingly smoothly up to 3,570 RPM while the grinder wheels can take a minute or two to a stop after switching off.
It boasts with an easy and quick setup, a dual push on/off button which are in different colors – green and red.
What is even better, the red button is raised slightly so that it can be pressed easily in case of emergency.
The high price is the only disadvantage of the Metabo DS 200, but it is well worth it.
Check current price on Amazon >>
Pros
Quality
Little vibration
Quiet
Power
Shop Now
---
#2. DEWALT DW756 6-inch Benchgrinder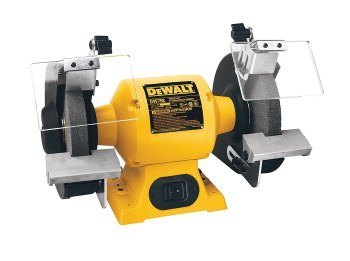 Check Price on Amazon
As it is a very famous brand, DeWalt could not avoid producing one of the best bench grinders as well.
The DeWalt DW756 model is a 6-inch bench grinder, easily used and nicely designed. It comes in the yellow and black colors, which are the colors of the DeWalt brand.
The first and foremost, when choosing a machine, it is important to look for a high quality motor. The DW756 has a 5/8 hp induction motor which produces a high RPM of 3,450 causing very little vibration.
This model has a very competitive price and it is for sure the best bench grinder for the money.
Additional characteristic that is taken as advantage is that this bench grinder has 12.5 inches of distance between the wheels which results in its flexibility to stand longer and larger projects.
DeWalt brand is famous for making high quality devices and this one is not an exception.
Its base is made of cast iron and other parts of aluminum.
This unit is not high-end one so you cannot expect too many features to have but there is a possibility of buying additional accessories and expanding your options.
The only drawback of this device is that the instructions are not provided which can make the setup difficult to be done.
Check current price on Amazon >>
Pros
Price
Motor
Wheels distance
Shop Now
---
#3. DEWALT DW758 Bench-Grinding Tool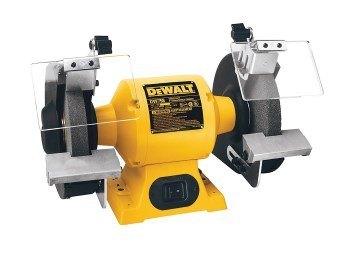 Check Price on Amazon
DeWalt was not lazy, so it has produced another great bench grinder model, which is almost as excellent as the previously mentioned one.
The DEWALT DW758 Bench-Grinding Tool has a 3/4 hp induction motor which makes it a powerful unit for home and commercial use.
Its greatest advantage is that it can run at a very impressive 3,600 RPM.
As it is De Walt's product, quality and durability are not in question.
If you take care of it and maintain your bench grinder well, it will last and work efficiently for many, many years.
The model is equipped with the overload protection, making the life of the motor longer. Additional feature is the tool-free adjustable guard used for quick guard installations.
The quality construction of this model, being that it is made of the rugged cast iron base, results in a very long-lasting bench grinder for all grinding operations.
What makes it even better is a 12.5-inch distance between the wheels, which enables more flexibility.
We mentioned just the advantages of this 8-inch bench grinder, but the fact is that it is not on the top of our list, and with a reason.
Its price is competitive, but the vibration which is produced when in operation is excessive and it even makes the wheels wobble which can be irritating and make your work more difficult.
Check current price on Amazon >>
Shop Now
---
#4. POWERTEC BGSS801 Bench Grinder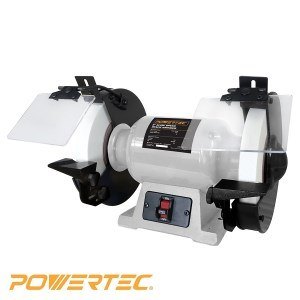 Check Price on Amazon
The next one of the top five is the POWERTEC BGSS801.
This model is the unique 8-inch unit which belongs to slow speed bench grinders.
Being that its RPM of 1725 is slow, this is attributed to the fact that they designed it that way so as to stop tools from overheating which is not the case with other models.
It has a 1/2 hp motor, which is quiet when in operation which is not easily found in other bench grinders.
Due to these great features, the BGSS801 is supposed to be a long lasting device. What makes grinding with this unit easy are the wheels which are 1 inch wide and made of white aluminum oxide, so as not to produce much heat.
Additional advantages are the minimal vibration, reduced by the heavy gauge steel base, but it can only be used for sharpening and light grinding.
It does not have enough power for heavy-duty tasks.
What consumers have notices are problems with unbalanced wheels, but still it is a great bench grinder for lighter applications.
Check current price on Amazon >>
Cons
Unbalanced wheel
Not good for heavy-duty tasks
Shop Now
---
#5. JET 577102 JBG-8A Bench-Grinder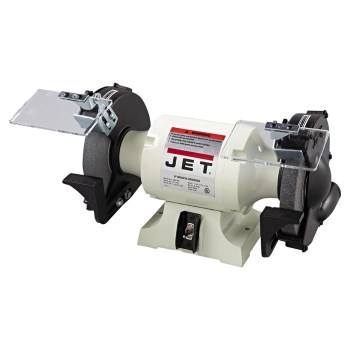 Check Price on Amazon
The steep price of the JET 577102 can come as a surprise to you, but it is designed for industrial grade use as this 8-inch grinder can easily complete a wide range of projects. It boasts with the motor which is 1 hp and provides 3450 RPM which is the power for heavy duty tasks.
When you think about its power, you believe that it does not run smoothly and that vibration it produces is great, but you are totally wrong.
The rubber feet on the unit make the level of noise surprisingly low and the vibration level as well for a bench grinder of its power.
The JET 577102 weight is 56 lbs which is neither light not heavy for this kind of machine.
The long lasting life is ensured by cast iron wheel guards, dust vents and pre-lubricated and sealed ball bearings.
Now, you are wondering why it is the last on the list.
This is due to the fact that its wheels can wobble and require adjustment.
Check current price on Amazon >>
Shop Now
---
---