The more serious your work is, the greatest is the need for a random orbital sander.
You can postpone the purchasing in order to save some money and get the more expensive, thus the high-end one, or you can take a look at those low-cost orbital sanders and determine which one suit you best.
Being that you are reading this article, you are probably considering buying one, so keep on reading and find out everything you need to know before making the right decision.
Going through the official websites of different brands with the aim to ideal random orbital sander can be troublesome, so we offer you the list of top quality orbital sanders available on the market.
Spoiler Alert - Check out my top choice here >>
Top Rated Random Orbital Sanders for Woodworking for 2019
* Ratings are based on Editor's own opinion.
5 Best Random Orbital Sanders for Woodworking Reviewed
#1. DEWALT DWE6423K 5″ Random Orbital Sander
Check Price on Amazon
If you are looking for a top quality random orbital sander, then you are at the right place.
The DEWALT DWE6423K 5″ Random Orbital Sander is the leading one among the most popular brands, such as Bosch and Makita.
The producers have achieved an ideal balance among price, performance, and purchase protection in the DWE6423K model and it rightfully deserves the first place.
The DWE6423K comes with a 3 A variable-speed system which makes it run between 8,000 and 12,000 orbits per minute.
Its great power does not affect the experience as this tool is virtually vibration-free, due to the rubber overmild grip and low-profile design.
Additional advantage is definitely a reliable hook and loop system, too.
All these factors contribute to this product's great quality and performance, but the best reason for its top place among random orbital sanders is the 3-year warranty.
The buyers get free service for a year and a 90-day money back guarantee which is an amazing offer.
The only drawback that users have noticed is that the detachable dust collection bag does not do its job as well as in some other models.
Check current price on Amazon >>
Pros
Great motor
Durability
Excellent hook and loop system
Purchase protection
Cons
Dust ejection port
Price
Lack of Shop-vac adapter
Shop Now
---
#2. Black & Decker BDERO100 Random Orbit Sander
Check Price on Amazon
If you cannot afford buying the quite expensive DEWALT DWE6423K 5″ Random Orbital Sander, you should be aware the fact that buying low-cost power tools would entail some weaknesses and you might not gain as much as you expected from the sander.
One model whose price is in line with is quality and can be considered a good buy is the Black + Decker BDERO100.
It is a fully-functional random orbital sander with a 2 A single-speed system that runs at 12,000 orbits per minute.
However, this sander is only designed for light sanding and relying on it as your main sander cannot be taken as an option.
The users have noticed two noteworthy drawbacks of this model and those are the poor dust collection system and necessity to add your shop-vac, and the fact that hook and loop system wears down sanding pads quickly.
As you will have to fix these issues, your initial saving would not be worthy.
The producers offer a 2-year limited warranty which is not expected for the low-budget products.
Check current price on Amazon >>
Pros
Durability
Economical
Great warranty period
Cons
The power of motor
Lack of shop-vac
Poor loop and hook quality
Shop Now
---
#3. Bosch Random Orbit Sander ROS20VSC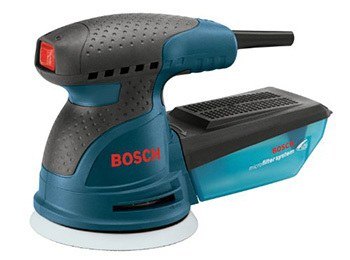 Check Price on Amazon
The third on our list – the Bosch ROS20VSC – was the leader when it comes to random orbital sanders before DEWALT came along with its awesome warranty period.
However, the Bosch ROS20VSC still deserves a high place among the powerful and quality random orbital sanders.
The ROS20VSC comes with a 2.5 A variable-speed system that runs at 7,500 to 12,000 orbits per minute which makes it less powerful than the DEWALT one.
This model is easy to use and it can boasts with great durability.
One weakness is only a year's limited warranty.
The dust collection system on the ROS20VSC is efficient, so you will not need to have a shop-vac.
These two companies are trying to achieve perfection and the only reason why you should decide to buy the ROS20VSC rather than the DWE6423K is the budget.
Check current price on Amazon >>
Pros
Price
Motor
Shop-vac adapter
Shop Now
---
#4. PORTER-CABLE 382 5-Inch Random Orbital Sander
Check Price on Amazon
The PORTER-CABLE 382 found its place as the fourth on our list, and this does not mean that it is less worth mentioning.
It is another excellent low-cost orbital sander with 1.9 A motor which might be less powerful than in some pricey models, but comes with a 3-year warranty, a year of free service, and a 90-day money back guarantee.
And when we take a look at the price, this is a real bargain.
Even though the 382 is a low-cost model, it is amazing how durable its motor is.
Furthermore, its dust collection system works well, but you will still need an adapter to hook it to your shop-vac, due to the fact that it fills fast
The main drawback of this model is the lack of power as it is designed only for light sanding.
If your needs are greater than that, you are advised to choose a more powerful and high-end random orbital sander.
Check current price on Amazon >>
Pros
Durability
Easy usage
Purchase protection
Cons
Bad dust collection system
Power
Shop Now
---
#5. Makita BO5041K 5-Inch Random Orbit Sander Kit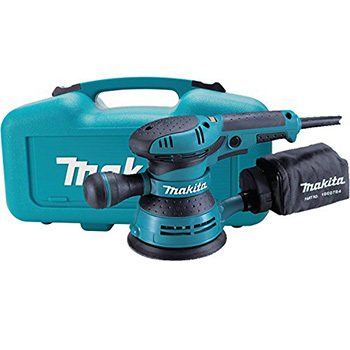 Check Price on Amazon
Even though it is the last on our list of top five random orbital sanders, the Makita BO5041K is definitely the model worth mentioning and discussing.
Its performance and functionality makes it everyone's wish, so many people choose exactly this model to buy.
This device quality can be contributed to the 3 A variable-speed motor which runs between 4,000 and 12,000 orbits per minute.
There is the extended low-speed range enabling precise control over sanding operations.
Additionally, there is two-finger trigger switch with lock-on mode.
You do not have to worry about the dust, as this model has high-capacity dust collection system and what is even better, the built-in shop-vac adapter.
So as to make it more efficient when you do one handed operation, the producers made possible to remove the front handle.
Furthermore, the large 1/8-inch orbital action enables a smooth finish.
As we spoke so much about all the positive characteristics of this amazing device, now we have to mention the reason why it is not in the first place of our list.
The price and the warranty.
Such an expensive price tag is justified by its quality, but the producers offer only a year's warranty for the Makita BO5041K which definitely should be longer.
Check current price on Amazon >>
Pros
Great motor
Durability
Speed
Amazing dust collection
Shop-vac adapter included
Removable handle
Cons
Price
Short warranty period
Shop Now
---
---