In the past, portable workbenches used to weigh a lot causing the portability to be quite an issue.
On the other hand, they were not able to handle that much weight themselves which caused another types of problems.
However, manufacturers invested a lot of time and effort to make modern models which are lighter and stronger.
They need to be light in order to be portable, as the name suggests.
Now, if you are buying a portable workbench for the first time, we are offering you a detailed guide with all the advantages and disadvantages of top five models currently available on the market.
As manufacturers tend to advertise features that are not useful so as to cover the downfalls, we went through the reviews of both satisfied and dissatisfied users when making this list.
Spoiler Alert - Check out my top choice here >>
Top Rated Portable Workbenches for 2019
* Ratings are based on Editor's own opinion.
5 Best Portable Workbenches Reviewed
#1. Kreg KWS1000 Folding Portable Workbench
Check Price on Amazon
The rightfully deserved first place is given to the Kreg KWS1000 Folding Workbench.
This is a workbench ideal for those who are looking for a durable, portable workbench which can handle quite a high weight and beating.
The features that make it great are quick and easy folding, resulting in easy moving around the workplace, as well as multiple configurations.
These configurations are there to make the workbench be used as a sawhorse, or you can add a second unit and create a very large workbench.
Additionally, there are built-in storage trays where you can put your hardware and carry them.
The value of this workbench is greater due to the clamp and bench dogs included.
These are designed to make easier holding wood in place during a cut.
When it comes to disadvantages, the only one is the fact that it weighs around 40 pounds.
This is too heavy and it is difficult to move it, but this is due to a clear case where the manufacturer added strength so that the workbench is long-lasting.
Check current price on Amazon >>
Pros
Great folding
Multiple configurations
Storage trays
Clamp
Bench dogs
Shop Now
---
#2. WORX Pegasus WX051 Portable Work Bench
Check Price on Amazon
The great runner-up is the WORX Pegasus WX051.
This is a good choice being that the table is quiet similar to the previous model, but much lighter.
This model weighs about 30 pounds, making it easily carried around the workplace.
When we speak about the similarities with the previous model, we have to mention that it can be used in multiple different configurations as well, including as a regular table or as a sawhorse.
Its sturdiness is great as the bench can hold up to 300 pounds in table mode, or 1,000 pounds in its sawhorse configuration.
There are two built-in clamps, and some bench dogs to help holding the pieces well.
The drawbacks make this unit less excellent than the top pick.
The tabletop is plastic, meaning that it can shake if there is too much pressure on it.
If you are planning to do much clamping, you may want to choose a different model.
Check current price on Amazon >>
Pros
Multiple configurations
Clamps and bench dogs
Heavy
Shop Now
---
#3. Keter Folding Portable Workbench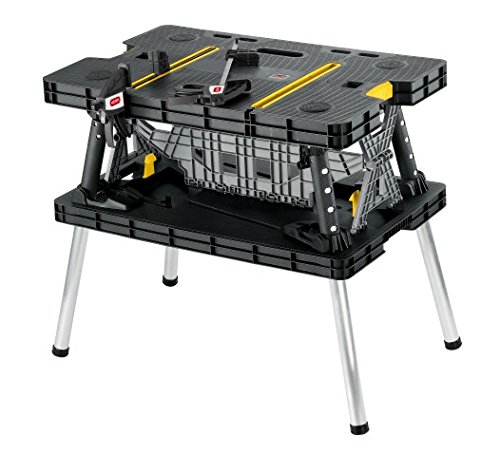 Check Price on Amazon
The Keter Folding Workbench 197283 is an affordable workbench which can be bought by the majority of people without worrying about the quality.
Being that it supports up to 1000 pounds, it is the sturdiest portable workbench on the market.
Additionally, when you fold it, you get the smallest form of any of our selected models.
There is a carrying handle on it which is great feature for a portable device.
Other great features are that it comes with two clamps holding the pieces secure while you are working on and all this is available to you at a great price.
Even its overall durability is considered great.
Now, you are wondering what is wrong with this bench that caused it not to be our top pick.
The handle has failed and given that it only weighs 30 pounds that is a problem.
However, this is still a good choice for those looking for a deal.
Check current price on Amazon >>
Pros
Supports up to 1000 pounds
Easy folding
Two clamps
Affordable
Shop Now
---
#4. BLACK+DECKER WM125 Workmate Portable Work-Bench
Check Price on Amazon
As there are good deals meaning that you get a good value for not so much money, it is difficult to make a right choice.
The forth model on our list is the BLACK+DECKER WM125 Workmate 125 which boasts a wooden top and steel frame.
These features are amazing as they make the bench hold up well to most kinds of use and abuse.
It weight is less than 20 pounds, so it is the greatest option when the portability is in question.
The folding is easy, making it ideal for transport or you can even mount it on the wall when you are not using it.
So, storing is not the problem with this model.
Being that it is quite cheaper than the precious models, there have to be disadvantages of this bench as well.
We have to mention that its work surface is a bit on the small side and its maximum weight capacity is 350 pounds.
This means that its potential is lower than with other tools in this category.
Check current price on Amazon >>
Pros
Weight
Folding
Steel frame
Bargain
Shop Now
---
#5. Goplus Portable Folding Workbench 11AA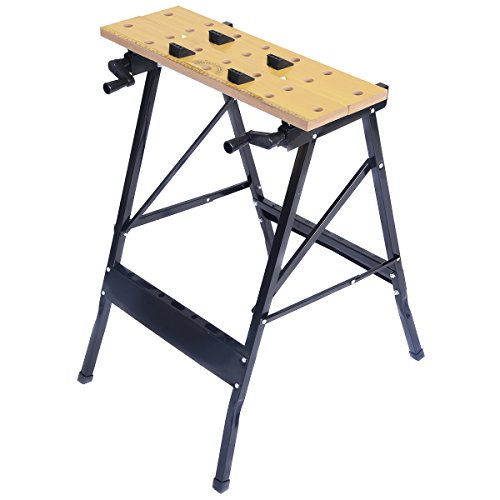 Check Price on Amazon
The last one, but also worth mentioning is the Goplus Folding Work Bench 11AA.
It is a traditional-style portable workbench, which is not only very inexpensive, but surprisingly has some unique features.
This model boasts a ruler down one side of the table, four bench dogs and 24 different pre-drilled holes for placing them.
Besides these advantages, we have to say that there are reasons why this model is on the last position.
There are quality control problems and users claim that the holes for the bench dogs are not always properly drilled.
These causes that the bench dogs do not fit the holes and are not held tightly.
Sturdiness is also questionable so it is only useful for lighter tools and woods put on top of it.
Additional problem is its stability, and unstable workbenches can cause you make small mistakes that result in the final pieces not fitting together correctly.
If you are looking for a worry-free experience, then we suggest avoiding this model.
Check current price on Amazon >>
Pros
Affordable
Has a ruler
Includes bench dogs
Shop Now
---
---